WantUBad – We Review the Popular Dating Sites of 2020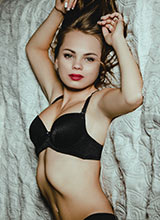 Wantubad.com is a network where you can make quick casual connections and even convert them into real love. Although the member singles won't back down from hookups, there are many committed to relationships.
Looking for a Dating Site? Read a Review of WantUBad.com
Five facts about WantUBad
65,000 weekly active users
Male and female users have different subscriptions options
Most members aged 25-34
Users can browse in incognito mode
Male members dominate the site's user database
The Idea Behind WantUBad.com
WantUBad is a dating website which navigates as other more adult-orientated websites, and owned by Together Networks Holdings Limited. The site users aren't simply looking for a quick no-strings-attached hookup as they are looking for a serious relationship and true love. You will also find that there are two separate subscription packages offered to male and female members – usually, female users tend to benefit from free premium access, but this is not the case on WantUBad.
The website does offer a cheap three-day trial priced at £2.97, so you can test the waters as it were before going all-in on purchasing a subscription. WantUBad is a very easy to use dating platform that does exactly what it says on the tin. Communication options are limited for free members, which you come to expect from dating websites as standard practice, but you can search and browse through the profiles of other users which will give you a good idea as to whether you believe you could find a potential boyfriend or girlfriend on this website.
The Pros of WantUBad
Pros
Easy sign-up
Simple website design
Flirty message suggestions
Like Gallery
The Cons of WantUBad
Too many automated messages upon sign-up
Numerous prompts to upgrade to a paid membership
Pop-ups
Member Structure
The members on WantUBad are relatively younger in age than many other dating websites, with the most popular demographic being the 25-34s. Males hugely outnumber female users by almost 2-1 in the ratio, but that doesn't mean that you shouldn't expect to be able to find an ideal match. With 65,000 weekly active members, primarily based in English-speaking nations such as the United States of America, the United Kingdom and Australia, there are plenty of users to get to know. Here, the community is looking to find a meaningful relationship that they hope will progress into something serious such as marriage further down the road. If you are only looking to find someone for something a little more casual, you should consider some of the other dating sites owned by the same company that brings you WantUBad.
Registration
Signing up is a simple process without having to enter too much detail, especially when compared with some other dating website. With the option to skip several steps and enter in your information at a later point, all you have to do is verify your email address to start browsing through what the site has to offer, which can be done either by clicking through the activation URL or entering a four-digit code sent within the email. However, if you do not upload a picture then you will not appear in search listings, meaning that you have little chance of meeting someone willing to engage with you.
Once you have completed the form, you will be prompted to activate your profile by entering the four-digit code that has been emailed to you, or by clicking through the link in the same email. As soon as you complete your registration and enter your user area, your dashboard will feature numerous prompts to upgrade to a premium membership, which can be a little annoying after a little while.
Functionality
Search tools
The home section of the site doubles up as a search function where you can easily view members that match your search criteria, switching between all members, online members and new members. There is an advanced option to refine your results based on variables such as age, body type, location and more.
Making contact
Members can make contact in one of two ways on WantUBad. Users can either send a message via the instant messaging function if a member is online or by sending a private message if the person they are contacting is offline or, alternatively, they prefer not to send an instant message. Users can also send flirts to other members as a way of showing their interest, which is ideal if you are not quite sure of what to say to break the ice at first.
The App
WantUBad does not offer a mobile app available on both iOS and Android devices. Despite this, there is a dedicated mobile website that takes away the requirement for an app.
Special Features
Like Gallery

The site offers a feature similar to Tinder which is called the Like Gallery that works on the same premise of either 'liking' or 'disliking' presented members and forming matches with those that have 'liked' you.
Pricing Plans
Three-day trial - £0.99p per day billed as a single payment of £2.97
One-month subscription - £29.99 a month
Three-month subscription - £21.79 a month billed as a single payment of £65.37
Six-Month subscription - £13.52 a month billed as a single payment of £81.14
Female-Only Subscriptions
Chataholic (top search rankings) - £0.64 per day
Extra Security (HTTPS encryption, incognito mode and other security benefits) - £0.46 per day
Premium Date (Chataholic and Extra Security rolled into one) - £0.93 per day
Free services
Like Gallery feature
View thumbnails of profile pictures
Basic search
View online members
Premium Services
View full-size pictures
Unlimited messages
View all search results
Video chat
Premium support
Safe browsing mode
Payment Methods
WantUBad accepts payments via credit and debit card.
Common questions and their answers
What is WantUBad?
WantUBad is a website that introduces men and women looking to find true love and a serious relationship. Although there is no dedicated mobile app, most users browse the site's dedicated mobile website, so you can easily chat with eligible single whilst on the go.
Who Owns WantUBad?
WantUBad is owned and operated by Together Networks Holdings Limited, which owns and operates a number of other dating websites.
Is WantUBad Legit?
WantUBad is a legitimate dating site with a support team that independently verifies new users and checks all photos uploaded to the website. More than 65,000 members are active on the service each and every week, meaning that users who register on the website should find no difficulty in contacting real people online.
Is WantUBad a Free Dating Site?
While you can sign up to WantUBad for free, to get the most out of the online dating website you do have to be willing to sign up for a premium membership. Without this, your membership will be limited in terms of searching for matches, making initial contact, sending and receiving messages as well as viewing full photos.
How Much does WantUBad Cost?
New male users can sign up for a three-day trial for as little as £2.97 (working out at 99p a day), although you can only sign up for this once. After this, users have the choice of one, three and six-month options starting from a one-off payment of £29.99 for one month and £81.14 for six months, the longest subscription package offered. Female users can sign up for premium options from just 46p per day.
How to Delete WantUBad Account
To delete your account on WantUBad you have to follow a five-step process. Find the 'remove account' option under account settings and follow the instructions shown on the screen to delete your account and all information connected with it.
How to Cancel WantUBad Subscription
To cancel your subscription, you must first ensure that you are using the web version of the dating platform. Then you should access 'My Settings' from the drop-down menu which is presented when you click on your avatar in the top right-hand corner of the screen. Once you have done that, access 'Billing History' and then 'Deactivate Subscription'. Your subscription will remain active until its expiration date and will not automatically renew.
How to Contact WantUBad
Members can contact the website either by emailing support@wantubad.com or by calling 1-800-867-3170.
Summary – do we recommend WantUBad.com?
WantUBad is a good platform for anyone looking to find a meaningful relationship online, although it's approach to offering separate subscriptions to male and female, which is obviously designed to tempt more women onto the platform, hasn't quite worked. With that being said, we found many good profiles (well detailed, too) that came up when we used the website's search function and, add to the fact over 65,000 users are active on WantUBad weekly, you won't ever be without someone to talk to. We would recommend at least taking out a three-day trial on WantUBad to sample what the website has to offer, giving you a better idea to whether it is for you or not.
Most Popular Sites

Benaughty.com lets you get right into the fun dating experience. It encourages a naughty community of singles and couples. Its selling point is simplicity and delivering results with its search functions and communication features.

Cupid.com is one of the leading gay dating sites that successfully brings single gay men together around the globe. If you are searching to date or love a lifetime partner, this is the best platform for you.

A large chat dating site, QuickFlirt is like a speed dating service for online flirting!