Quickflirt – We Review the Popular Dating Sites of 2020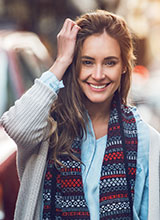 A large chat dating site, QuickFlirt is like a speed dating service for online flirting!
Looking for a Dating Site? Read a Review of Quickflirt.com
Five facts about Quickflirt
The website has over one million profiles registered
Plenty of security measures are in place
The site welcomes LGBT people
A few social media aspects are present
Great search features allow you to pick potential dates
The Idea Behind Quickflirt.com
Quickflirt.com is a major dating website that has been operating for well over a decade. Yet, there are still hundreds of thousands of people joining the ranks to find partners. That's why we're going to look at how does Quickflirt.com works and the different experiences that you can have while using the website.
If you've ever wanted to know about the LGBT community on Quickflirt.com, then this is your chance to learn everything that you need before you begin to meet people from your area. We're going to start with a basic look at the site and then go in-depth.
Pros and Cons
All websites have some factors that are very good and make people want to join as well as some things that could use some development. Quickflirt.com is the same in that respect, so it is important to know the good and not-so-good about the dating service, including the following.
The Pros of Quickflirt
The website is a proponent of LGBT dating, giving everyone a chance to find love
There are over a million registered profiles on the website
The site is very easy to use
Safety features on the site are cutting down on scam accounts
People join from all around the world
The Cons of Quickflirt
Despite being an older site, there is no app available at present
Every photo and video have to be approved by the site before it's posted
As you can see, there are many reasons to like the site as well as a couple of things they need to work on if they want to keep their customers engaged in the site.
Member Structure
It's always important to look at the members on the dating sites before joining, too. On Quickflirt.com, you'll notice that there are over a million members. According to the members' geography, most of the users of this site are coming from the United States, which is not a surprise. There are over three hundred thousand profiles of people from the U.S., and many people that log into the website every week.
Another interesting thing to notice is the number of people that come to the website throughout a given week. Based on the information that is presently available, there are over 100,000 visitors on the website every week. At least, that is the number of people that sign into their profile. Yet, you also have to consider the balance between men and women on Quickflirt.com. It's clear that there are quite a few men on this site, partially because the site emphasizes haste, but also because the site has LGBT dating. So, you'll find more men, but also plenty of women.
Registration
When you're signing up on Quickflirt.com, there is a very clear path to follow. To start, you get your member login on the website by signing up with an email address, your gender identity, your date of birth, zip code, and your password you wish to use for the website.
From there, you'll have to go to your email to complete the activation to ensure that you are using a proper email, and then you're ready to date on the website. After your basic registration, you can start to upload photos and then fill out your dating profile. There are no long-form answers on the profile generation screen. You'll simply say your dating status, what kind of relationship you are looking for on the website, and give some personal info about your physical appearance. You'll get to add some information about your lifestyle, too. After that, you're all set up to date.
Functionality
Search tools
When you want to find partners on Quickflirt.com, you need to have the right search tools. On this website, you are basically in charge of your destiny. That means you will be the one that does the majority of the legwork by using the search filters on the site. Fortunately, that gives you the chance to look for people according to many things like their dating preferences, location, and a whole lot more. The filters are very helpful in helping you discover precisely what you want in a match.
Making contact
Making contact with a special someone can be achieved in a couple of ways. For starters using the wink system on Quickflirt.com to let someone know that you are interested, is a smart idea. Another great way to make contact with someone is just to message them, even though it is restricted to the premium level on the website. The bottom line is that you can make contact with ease.
The App
One of the downfalls of Quickflirt.com is that they don't have an app on the app store for you to download just yet. That means you have to use the mobile form of the website, and that is optimized, fortunately.
Special Features
Several special features are on Quickflirt.com that make it better to use. For example, the website has video uploads that you can make use of to let your potential dates get a better feel for your personality. They are between a few seconds and two minutes, giving you more than enough time to tell people all about you.
Another special feature that you can count on seeing on this site is FlirtCast, which lets you send a message out to a bunch of people that you choose from, so you don't have to message each one individually. Finally, one of the best features is the Safe Mode, which allows you to cut back on certain types of people messaging you. It's a great feature for people that want to reduce their chances of meeting someone that doesn't have their best interests in mind.
Pricing Plans
Quickflirt.com is a website where you can sign up for free, but you need a premium account to do most of the things on the site.
Free services
Signing up
Searching for partners
Adding people to favorite's list
Paid services
Messaging with complete access
Share your pictures
Upload videos
View all messages and photos
Here are some of the expected prices for you to pay:
One Month is $28.80
Three months are $69.30
Six months are $111.60
Payment methods: The only accepted payment method is a credit card.
Common questions and their answers
Is Quickflirt.com legit?
Yes, Quickflirt.com is a safe and legit website that has a history going back over a decade.
How can I cancel the Quickflirt.com subscription?
Canceling your Quickflirt.com account requires you to go to your account management. From there, you can remove your account. But some of the data remain, so remove as much as you can before you leave.
How to contact Quickflirt.com?
You can contact them at support@quickflirt.com or their phone hotline number.
Who owns Quickflirt.com?
Quickflirt.com is owned by Together Networks Holdings Limited.
Summary – do we recommend Quickflirt.com?
Quickflirt.com is a popular online dating service that seeks to help people have various dates and flirting with people from their local area. This website excels in many areas, such as giving people the tools they need to find a partner. Still, there are some things that the website does a lot better than others, and a few that they could improve to bring in more people. Based on our look at the site, Quickflirt.com would be even better if they developed an app.
Most Popular Sites

Benaughty.com lets you get right into the fun dating experience. It encourages a naughty community of singles and couples. Its selling point is simplicity and delivering results with its search functions and communication features.

Cupid.com is one of the leading gay dating sites that successfully brings single gay men together around the globe. If you are searching to date or love a lifetime partner, this is the best platform for you.

A large chat dating site, QuickFlirt is like a speed dating service for online flirting!