Enjoy our Detailed Review of Dating on BeNaughty.com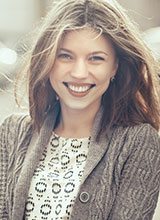 Benaughty.com lets you get right into the fun dating experience. It encourages a naughty community of singles and couples. Its selling point is simplicity and delivering results with its search functions and communication features.
Five facts about BeNaughty.com
Using Instant Messaging is the safest way to contact new people on BeNaughty.com as there is no need to share your email address
A 'Trusted Member' is a member of the site who has had their identity verified by the customer care team
BeNaughty's chat rooms are a great, safe way to have lots of conversations with potential dates
You can chat with dating experts to discover how to impress the dates met on BeNaughty.com
Virtual gifts are a fun way to impress people in your 'Like' Gallery
About BeNaughty.com
BeNaughty.com is a site on which you could find either a casual date or a long-term relationship. They aim to provide a safe, simple, and fun place for singles to meet.
The Pros of BeNaughty.com
Identity verification is important to the team at BeNaughty and helps members to feel confident in the people they meet
We liked the quirky list of gifts that can be sent
The search filters are all free to use
You can upload videos as well as photos to your profile
It's easy to see who is around and available to chat
The Cons of BeNaughty.com
Subscription is needed to get the most out of the site
Many profiles have a lack of info – though you can request extra info and photos on a member's profile page.
There are quite a few bots and fake accounts due to the ease with which you can sign up; avoid responding to the first, very quick 'Likes' you receive
There are lots more men than women active on the site
Member Structure
Geography
Location is one of the vital search parameters, and your 'Like Gallery' will consist of people within 50km of you.
If you want to connect with people further afield (for a holiday or business trip), then it's easy to change the geographical area you'd like to search for dates.
Activity
Here's the list of activities to be enjoyed on BeNaughty.com:
Instant messaging
Video chat
Creating a profile with video as well as profile pictures
Chatting to other members and dating experts in the group chat rooms
Send virtual gifts to the members you really like
Search and browse member profiles to find your perfect match
'Like' the people who you fancy and wait to be 'Liked' back so you can start a conversation
Gender
Each gender and sexuality are welcomed on the site
How you identify yourself can be altered at any time on your personal profile
Most of the members are heterosexual men and women
Registration
The registration process is super simple; you just need a valid and active email address. BeNaughty will send you an activation email that will contain a code. Input this code, and you're in!
There are a few basic details requested, but this can be skipped. That makes it a fast sign up but also leaves the site open to dodgy customers. Location, age, name, and gender will all help with the matching service, so it's a good idea to fill in theses at least.
Logging in
Dating is a personal and private activity for most, so we recommend logging out of your account. Choose a password that is strong, memorable, and different from all your others.
Changing your password and retrieving one that has been forgotten is a function available in your account settings.
Creating a profile
Profile questions and details needed
Basic stats are needed for the matching service to suggest other members that would be compatible with your wants and needs. The more detail you share with other BeNaughty members (Remember! No address, email, phone numbers, or workplace info though!), the more fun you will have, the more you will be trusted, and the better your matches will be. Share hobbies, what you look like, your quirks, and the type of relationship you're seeking on the BeNaughty dating site.
Photos
The team at BeNaughty.com is rigid in their guidelines about which photos appear on member's profiles.
The rules:
No nudity or pornography
No celebrity photos
Original photos, no repeats
They will check photos against email addresses to make sure members aren't setting up duplicate accounts
Only full membership allows you to see someone's full profile album and enlarge photos
Our advice:
Smile
No silly filters
No-one else in the photos
Choose a head shot, body shot, and action shots of you having fun
Functionality
Search tools
The site allows you to do an advanced search for free so you can find someone who really suits you. Physical appearance, personality, sexual orientation, and relationship expectations are all covered.
Searching by profile/username
You can find an individual profile after adding them to your 'Like' gallery.
Searching by city
Location is a vital search parameter as BeNaughty will show you the compatible members within 50km of where you are.
This can be changed so that you can arrange dates with men and women in the city you're travelling to on business or for a holiday.
Making contact
How to send a message:
Messages can be sent for free by all women. Men must have a full subscription. The Chat icon can be found on the Bio of a member, and through that an Instant Message (the safest way to communicate with someone new), a video or photo can be sent.
These chat rooms are a great way to have conversations and get to know all the people you think are attractive a little better before asking them out on a date.
'Winks' can be sent to members who you love the look of but don't have the time or confidence to send a message to. A 'Flirtcast' can be sent to lots of people at a time for maximum attention and chat opportunities. It's a pre-set question that requires a cheeky answer.
First message tips
Use instant messaging rather than email or text
Be honest, fun, and friendly
Don't give out personal information
The matching system
BeNaughty will show you an array of people who they think suit you based on your basic info, profile, and search parameters. 'Like' them to show interest and, hopefully, they will respond positively.
Gifts
One of the quirky features that BeNaughty.com is the ability to send fun virtual gifts to people who you think are amazing. They aren't free to send, but it will help you stand out in the crowd and secure a date.
App
Availability
The app is currently only available on Android via Google Play. It's free to download.
Features
The app gives access to all the same features as the website. In some areas, it is a better option than the desktop site. For example, profile photos are much clearer on the app.
You can play 'Cute or Not' on the app. It's a cheeky game that we thought could be a little demoralizing for some.
Design
Clear, clean, and easy to use.
Pricing Plans
1 Day: 0.99 USD / Day - 0.99 USD
1 Month: 36.41 USD / Month - 36.41 USD
3 Months: 20.41 USD / Month - 61.24 USD
6 Months: 16.50 USD / Month - 98.99 USD
Free services
Winks
Messaging for women
Additions to your Favorites list
See who is online
'Flirt Casts'
Access to the chat rooms
Paid services
Messaging for men
Gifts
Seeing profile photo albums and profile photos enlarged
Share videos and photos in the chat function
See where the people who are online are from
Payment Methods
Credit card, direct debit or PayPal at £27.99 a month for full membership
Common questions and their answers
What is BeNaughty.com?
A site on which to search for flirty chat, hookup dates, or love and romance.
Who owns BeNaughty.com?
The site is part of a large group of dating sites with offices all over the world.
Is BeNaughty.com legit?
Yes. It's a site that has lots of members and can be downloaded as an app from Google Play.
Is BeNaughty.com a free dating site?
Yes, it is free to join and download the app. To fully enjoy all the site has to offer, we would recommend signing up for full membership.
How much does BeNaughty.com cost?
£27.99 for full membership or free for basic services.
How to delete a BeNaughty.com account?
Contact a member of the customer care team to delete your account.
How to cancel an BeNaughty.com subscription?
Go to your account settings and access the subscription page. Click 'unsubscribe,' and it will cancel the auto-renewal function.
How to contact BeNaughty.com?
Head to the 'Contact Us' area and fill in the feedback form. This will send an email.
Summary
Yes. It's a simple and easy-to-use site. We would recommend the app over the website as it has greater functionality and is more discreet and convenient.
There are several bots and fake accounts, so use your common sense and focus on the real members.
Most Popular Sites

Loveaholics.com is a platform for casual online daters and hookers. In terms of communication features, users can directly message a potential hot date or use the flirty Wink, Like Gallery or the Favorites features on the platform. Its search functions are also efficient.

Meetwild.com chat room is wild with naughty conversations. With the search filters rewarding you with adult dating members, naughty friends, married individuals and even singles mums, your options are broad.

Wildspank.com has many locals looking to connect and shag for quick satisfactions. Those willing to build long-term relationships can still succeed on the site as it offers such supportive features.