All Types of Fun Games to Play When You're Bored
If you're at home alone and looking for something to do, there are lots of games to play when you're bored. You might not have played games since you were a child, but there's a whole host of adult games with an enormous fan-base.
Rather than just idly surfing the Internet next time you're at a loose end, take a look at these games to play inside the house when you're bored.
Fun Games to Play When You're Bored Online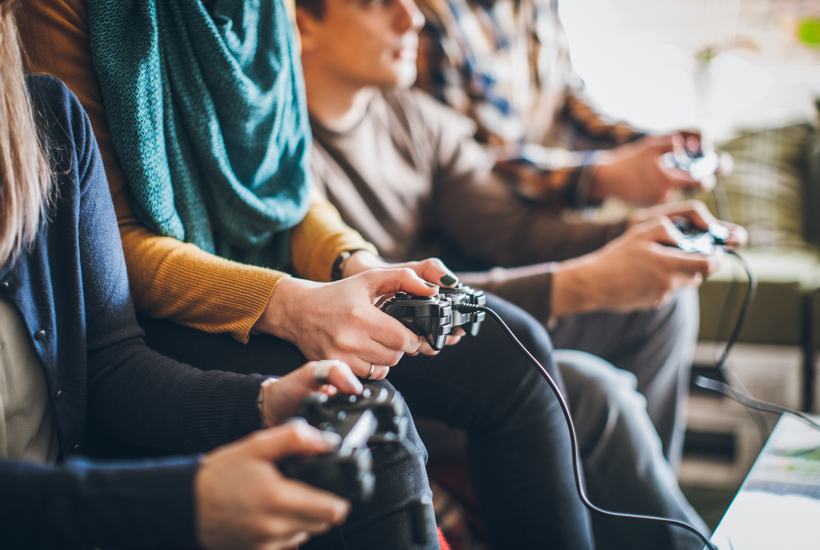 Let's ditch traditional options for now and take a look at games to play online when you're bored - it's the age of technology, after all. These can be games to play on your own or those to play with friends (co-operative). There is more or less every genre of game you could possibly ever imagine, so there's no excuse not to find one you like! Here's a selection of random games to try:
Mario Kart Tour. Who doesn't love the famous plumber with the red cap? You can now play Mario Kart online, in a retro throwback to the Nintendo consoles which were around before the PlayStation. You'll need a Nintendo account to be able to access it, but the game itself can be played online for free.

Spyfall. This game is a race against time, with one person nominated as the spy who must try and guess the secret before the others identify the undercover agent by asking questions.

Remote Insensitivity. Cards Against Humanity is a controversial, adult game that delights in being offensive. If this is your thing, you will enjoy Remote Insensitivity, an online game where you can gather everyone virtually for another round of dark humor.

Psych. With this game, you're trying to trick your friends into picking the wrong answer to trivia questions. For every correct answer you get, you'll receive a point. But you'll also get a point for every time you trick a friend with one of your made-up trivia answers. Play with a few friends for maximum fun.

Plato. Unlike the others, Plato is an app that hosts a collection of classic games that you'll know and love already. With more than 30 games included, there's an enormous amount of choice with favorites such as Battleship, UNO, and Ludo. It's excellent for parties as you can have up to 100 friends playing together, a much bigger number than on many other online games.

Quick, Draw. This game is part of the Google Neural Network and is fun, quick, and easy. You can play it on your own, and the idea is to challenge Google. You'll be given a subject to draw, and you'll only have a limited amount of time to do your sketch. Google tries to recognize what you draw, and at the same time, it improves artificial intelligence.

Drawful 2. If you like the idea of a sketching game, but you'd rather play with friends than Google, Drawful 2 might be the answer. Very similar to Pictionary, you'll need to create pictures for your friends to guess. The option of playing online or downloading it to an app on your phone makes it particularly flexible.

Time Heist. You'll be playing in teams, and only the captain is permitted to look at the screen during the game. Both teams will be time-traveling, and you'll need to answer trivia, which is based on descriptions, categories, and different centuries. Imagine Trivial Pursuit with a few twists, and you'll get the idea!
Classic Board Games When You're Bored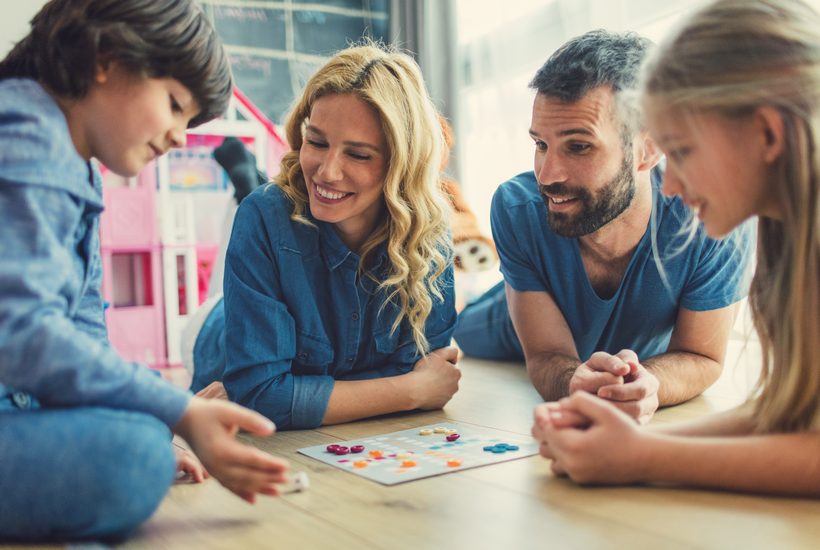 If you're searching for fun offline, then why not break out the board games you have stashed away? Most homes have some board games in the cupboard, so blow off the dust and get everyone around the table!
Scrabble. One of the most iconic games of all time, which is also available online, Scrabble is based on forming words using the letters you draw out of the bag and scoring points. You'll need to find spaces on the board to place your word, using letters that have already been laid down. The winner is the one who scores the most when all the letters are used up.

Operation. This is a game you'll probably remember from your childhood, where a steady hand was needed to avoid setting off the buzzer! It's just as challenging as an adult, and you'll find yourself just as addicted to removing body organs without touching the sides. (Hint: a great party game to play after a few drinks!)

Monopoly. Monopoly has spawned a whole dynasty of follow-on games online, but the original board game is still arguably the best. The idea is to move around the board, buying property and accumulating cash while simultaneously trying to get other players to pay you. You'll need a ruthless streak to build a property empire and patience, too, as this is a game that can last for hours!

Backgammon. Combining dice and counters, the goal of backgammon is to move all your pieces into your home zone. Using luck and skill, you'll need to plan your moves as there are strict rules about how many pieces can move into certain positions. Simple yet curiously addictive, this is a game that's been around since 3000 BC (in one form or another).

Connect 4. Although this is another children's game, it's one that adults will enjoy too. One of those really fun games to play when you're bored, Connect 4 is for two people. The aim is to get four of your colored counters in a row before your opponent by dropping them into a grid and planning ahead. Sounds simple, but it's trickier than you might think!

Cranium. The winner of this game is the one who arrives at Cranium Central and is able to complete the final activity successfully. To get there, you'll need to complete more activities along the way, picking a card and carrying out whatever the instructions say. Only by doing this will you be able to roll the dice and move closer to the winning spot.

Jenga. One of the simplest games of all time but loved nonetheless, Jenga is just about trying to keep the wooden blocks standing. Every person who takes a turn must remove a piece and hope that they don't make the tower tumble down. One of the cool games when you're bored, Jenga is also hilarious played after a few drinks!
Non-Boring Games Which are Different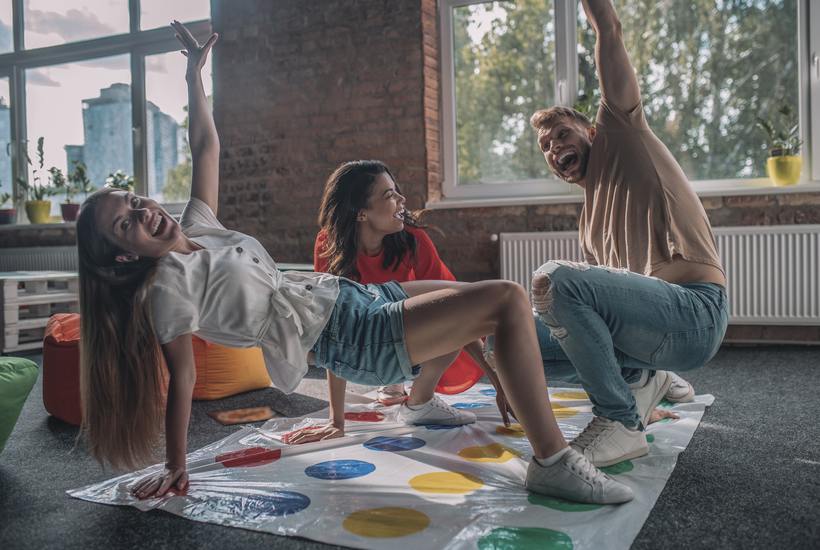 There are many games to play when you're bored, and it doesn't have to mean traditional board games or online games with friends. There are other types that provide an entirely different kind of entertainment. You'll need to be game for a laugh to get involved, but they're guaranteed to offer lots of fun!
Sticker Stalker Game. This game can be played over the course of a whole evening, and it's one that typically causes lots of hilarity. Everyone is armed with a pad of post-its, on which they must write their name. The goal is to place as many of their stickers onto unsuspecting opponents without getting caught. When the game is finished, the winner is the person who has managed to place the most stickers onto other people.

Pieface. Although this is technically a board game, it's so different than the usual dice or cards that it's more suited to this category. Load the throwing mechanism up with either a soggy, wet sponge or a paper plate covered in whipped cream, then place your face into the frame. You must twist the handle the number of times the spinner shows and hope that you're not the one to get a pie in the face!

Twister. The classic party game that always promises a fun time, Twister never fails to raise a few laughs. Played on a large mat covered with colored discs, each player must spin the wheel and place their hand or their foot wherever the pointer lands - with hilarious (and disastrous!) results.

The Floor is Lava. This is one of those random games to play when you're bored, and you want to have a laugh with the people around you. Walk into a room and shout, "the floor is lava!" - the occupants only have five seconds to get both feet completely off the ground, with nobody part touching the floor. If anyone is still touching the floor by the time five seconds are up, they lose. This is a great recurring game to play at the most unexpected times. For a twist, play it while you're in the supermarket - the same rules apply!
Some of the classics that you've already heard of are really fun games to play when you're bored. Get a few friends round or rope family members in, and before you know it, you'll all be engrossed in the game!
The great thing about games is that there are all different types. Whether you like word games, drawing, trivia, or chasing other players around, there's a huge variety of titles available.
So even staying at home, alone or with your friends or family, you can have ultimate fun, especially if you try these ideas we thoroughly picked for you!
Check out related articles: