TGPersonals – We Review the Popular Dating Sites of 2020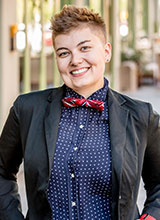 TG Personals is a transgender dating app for users looking mainly for casual sex and hookups with transgender people.
Looking for a Dating Site? Read a Review of tgpersonals.com
Five facts about TGPersonals
Easy registration process
Allows interactive tracking of friends' activities
Various convenient ways to communicate with other site users
Profiles can be amended and updated at any time
A versatile app version is available
The Idea Behind TGPersonals.com
So how does TGPersonals work? This TGPersonals dating site review will review its functionality and services so you can get an excellent idea of what to expect should you decide to sign up. We'll examine the various pros (and cons, if there are any) and provide you with our assessment of the TGPersonals experience.
The Pros of TGPersonals
It's free to register as a new member
Equality amongst all site users
Membership is not restricted to transgender people. Gays are made to feel welcome, and there are also considerable numbers of straight site users.
Members tend to be vocal and candid about what they are seeking
The Cons of TGPersonals
Because of its freemium status, there is a possibility of fake accounts
Member profiles are lacking in detail
Member Structure
The membership for TGPersonals runs into the hundreds of thousands, with an estimated 200,000 from the USA alone. The male to female gender split is 50%-50%.
Registration
Registration process is a matter of minutes
Provide basic information about yourself
Fill in all the required fields
Signing up to become a member of TGPersonals is straightforward and can be accomplished in a matter of minutes. The site asks you to provide some basic information – the name to be displayed, your email address, username, gender, and state. You are also asked to input the sexual orientation of your preferred partner, as well as to outline whether you are seeking friendship, love, sex, or roommates. A separate field invites you to compose a captivating headline that will stand out from the crowd when site users are browsing through availability and a paragraph of more detailed information about yourself. Unlike some sites offering this option, there is no character limit, meaning you go into as much depth as you wish. After completing the signing up process, you verify your email address.
While it is easy to compile your TGPersonals profile, the downside is that many of the profiles on the site contain limited information since these are populated by the fields you complete during registration. They do enable the basics to be shared – whether you're seeking friendship, love, sex, or roommates, as well as the all-important gender preferences.
Your profile will also contain links to any blog posts you've shared with the community, a list of your friends, photo albums, and activities on the site. On the left-hand of your profile, you'll find various action buttons where you can begin getting more interactive during your visits to TGPersonals. Here you can add a crush or a friend, or block/report users who are impairing your full enjoyment of the site. At the foot of this sidebar, you'll find the option to send a message.
Functionality
Search tools
Searching TGPersonals for an ideal partner is straightforward. You narrow down the parameters by selecting your preferred option from a variety of drop-down lists. Firstly, are you interested in searching for a female, a male, an MTF, or an FTM? Then specify your preferred age range and whether you are seeking.
Then you can identify your location, starting with the USA, then Canada, then onto the rest of the world. You can further drill down your catchment area by being specific about your catchment area – how many miles from particular zip code (for US zip codes only.)
A tick box allows you to state whether you would rather interact with members with pictures available. A further filter lets you select either the newest members or those you conferred with on your last visit. Finally, you can input some of your keywords before selecting 'find profiles' or 'load matches.'
Nearer the foot of the page, you'll see galleries of newest members and recently active members. These are merely thumbnail photographs, so there is a heavy reliance on instant attraction. Unfortunately, the quality of these images varies considerably. You might be treated to a glimpse of someone's torso or a selfie where the flash has struck a mirror and is obscuring the subject's face. Others are random snapshots of a sunset or some other eyecatching piece of scenery – these might be interesting photographs, but they hardly say 'please drop by and check out the rest of my profile.'
Making contact
You can contact other site users using three methods. Firstly, you can add people as a 'crush.' This means they are added to your crush list. If this is reciprocated, you'll be added to each other's match list. Secondly, you have the facility to send a message. Thirdly, you can add someone you are interested in as a friend. You will be updated on aspects of their activity when you check out your activity dashboard.
The App
The app version is known as Transgndr. It possesses the same features as the website and is available for download in Google Play and the Apple App Store. The main features are consistent with the desktop version, although there are obvious concessions to the available screen size. You'll be presented with a collapsible menu bar.
Special Features
When you download and then activate the app, you are automatically taken to the Matches tab, where your matches will be displayed in the style of a roulette-wheel. Here you have the option to add users as a crush or flip to the next profile. A similar set-up exists on the website version, but it is particularly convenient on a hand-held device.
Pricing Plans
TGPersonals itself as a 100%-free dating site.
Common questions and their answers
What is TGPersonals?
TGPersonals is a dating site aimed at the transgender community, founded by a New Yorker, Mike Kasper. He was inspired to create a safe place for likeminded individuals after experiencing bullying and public humiliation when his dating preferences were leaked to his whole college. He designed a site that was free in every sense of the word – in terms of fees, but more importantly, for members to be free to express themselves and celebrate their identity without fear of prejudice or judgment.
Who owns TGPersonals?
Mike Kasper founded TGPersonals in 1999.
Is TGPersonals legit?
Yes. TGPersonals is a legitimate and extremely popular website, enjoying hundreds of daily logins.
Is TGPersonals a free dating site?
Yes. TGPersonals was initiated to provide a free social service.
How much does TGPersonals cost?
How to delete the TGPersonals account?
After you log in, click on Account then Settings and finally, Delete My Account.
How to cancel the TGPersonals subscription?
There is no subscription to TGPersonals.
How to contact TGPersonals?
You complete a webform, and this will be forwarded to the site administrator.
Summary – do we recommend TGPersonals.com?
TGPersonals is a user-friendly dating resource, primarily for (but not restricted to) transgender people who are seeking friends or partners. You can specify whether you are searching for love, friendship, or casual sex, as well as indicating your preferred sexual orientation or prospective partners.
Once you have set your heart on communicating with someone, in particular, there are various straightforward ways of communicating. The overall ambiance of the website is of a haven where people identifying in a variety of ways in terms of their sexual orientation can interact.
The interface could do with a little more thought in terms of the overall design, but the layout is user-friendly. The blog posts are so much more than the random thoughts of trans site users. They present members with a free facility for engaging with prospective partners after poring over those details of their personal lives they have chosen to share with the community.
Most Popular Sites

A large chat dating site, QuickFlirt is like a speed dating service for online flirting!

Together2night.com rewards singles looking to get frisky for a night. It's a viable platform that offers good search and interactive features that help you connect with like-minded people.

Onenightfreind.com is best for the bisexual singles searching for both quick hookups and long-term relationships. It claims that about 82% of its users are educated, thus are precise about what