Xpress – We Review the Popular Dating Sites of 2020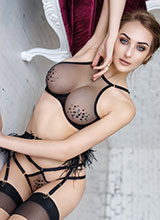 Xpress.com looks pretty fancy for dating site. Get your free profile to chat and flirt with local hotties.
Looking for a Dating Site? Read a Review of Xpress
Five facts about Xpress
Offers a 100-day 'get-laid guarantee'
Video profiles
Over 58 million members
Two-tiered membership subscriptions
Facebook-style web design
The Idea Behind Xpress
Xpress is an adult dating website that offers its members the promise of hooking up with other like-minded users for casual sex. The website is well designed with a Facebook-like theme that allows for a positive user experience, as well as a 100-day 'get-laid guarantee', meaning that users who do not successfully hookup with anyone via the website can seek a refund from the website. The platform claims to have more than 58 million members signed up to its service, with users able to browse the members on Xpress with either a free, silver or gold account, depending on the level of access and features you want.
While the dating site does offer members to set their preferences to find a serious relationship, the reality is that very few members - if any - are interested in anything of the kind. The message is a simple one; Xpress is the dating site of choice if you are looking to indulge in no-strings-attached casual fun with other members either one a one-off basis or as friends with benefits. Equally, with many members uploading videos and hosting cam sessions, you need not even have to leave the comfort of your home to get your kicks.
The Pros of Xpress
Live cam sessions
Facebook-like web design
Plenty of users online at any one time
100-day 'get-laid guarantee'
The Cons of Xpress
Long-winded registration process
Top-tier membership is expensive
Annoying pop-up adverts
Member Structure
The website is one of the few sites that features a userbase consisting of more women than men, with a 57-43% split in favour of the ladies. Over 235,000 users are active on the website every week, with around 1.2 million members registered on Xpress based in the United States of America, with other English-speaking countries such as the United Kingdom and Australia also featuring amongst the countries with the highest number of users.
You will find a lot of females aged between 25 and 34 on Xpress, many of which broadcast live webcam shows and/or feature explicit photos and videos on their profiles. This has all the makings for the ideal hookup site for any heterosexual male that holds no interest in settling down any time soon. You may come across a handful of users that are looking for a long-term relationship on Xpress, but the large majority are interested solely in indulging in casual adult fun with like-minded members looking for a fling.
Registration
The registration process is too long-winded and could easily be cut down by a step or two, requiring prospective members to answer question after question just to get through to the user area. Eventually, you can choose to skip some questions and details that you can complete at a later time, but this isn't until after you have already clicked through several steps in the process. When we signed up to Xpress, we experienced issues with the activation of our profile, constantly having to request a verification email to be sent which was not being sent (despite checking the junk folder as advised).
Once we got into the website, we were then plagued by pop-up after pop-up which quickly became very frustrating. Xpress pulls out all of the stops to tempt you into signing up for a premium account which, while commercially this is something the website has to do from a business standpoint, it can quickly discourage you from wanting to sample the platform.
Functionality
Search tools
Free users do not have the option to use the advanced search feature on Xpress, instead only benefitting from basic search criteria such as location, new and popular members. With many profiles featuring a good amount of detail, the advanced features (available with both silver and gold membership subscriptions) make for a fantastic experience. Members can be as picky as they like, helping them to find the perfect match to suit their interests. Premium members can then view the full profile, whereas free users cannot, which further helps the search for an ideal partner.
Making contact
Free users cannot make contact with other members on the website without signing up for a premium account. This means that, without paying for access to premium features, free members can only perform a basic search without seeing the full profile - and neither can they take part in live video chats with online users. Premium members, however, can send and receive unlimited emails with other users that they find through the search function and/or on their friends' list. Live webcam chat is also available to premium members on Xpress, with users being able to communicate in real-time with online users. While making for a fun and, potentially, x-rated means of chatting online, it does also help to verify the identity of who you are speaking to, reducing the risk of being fooled into communicating with a fake profile and wasting your time.
The App
Xpress does not offer a mobile app available on both iOS and Android devices. Despite this, there is a dedicated mobile website that takes away the requirement for an app.
Special Features
100-Day 'Get-Laid Guarantee'

Xpress offers its members what it calls a 100-day 'get-laid guarantee', where any user that is unsuccessful in hooking up with any member through the website is eligible to receive a refund.
Pricing Plans
Silver
One-month subscription: $24.99
Two-month subscription: $39.99
Six-Month subscription: $59.94
Gold
One-month subscription: $29.99
Two-month subscription: $51.99
Six-Month subscription: $77.94
Free services
Basic search features
Limited profile views
Premium Services
Send and receive emails
Advanced search options
Live webcam streams
Send friend requests
100-day 'get-laid' guarantee
Payment Methods
Xpress accepts payments via credit and debit card.
Common questions and their answers
What is Xpress?
Xpress is an adult dating website aimed at users looking to find casual fun with like-minded members. While some of the 58 million worldwide members are looking for a long-term relationship, the vast majority are only interested in no-strings-attached adult fun.
Who Owns Xpress?
Xpress is owned by a company called Quad Strategy Ltd.
Is Xpress Legit?
Xpress is a legitimate dating website with more than 58 million worldwide members signed up to the service, averaging around 20,000 new users every week. The support team are constantly reviewing all activity and new members joining the site to ensure the highest quality product to both free and paying members.
Is Xpress a Free Dating Site?
While you can sign up and use Xpress with a free account, you are severely limited in what you can do without premium access. For example, you will not be able to send or receive messages to other members on a free account and neither will you be able to watch live cam shows. We recommend signing up for at least a silver membership that will grant you the ability to communicate with other members.
How Much does Xpress Cost?
Members can sign up to a silver Xpress membership from just $24.99 for one month. Other options include two months ($39.99) and six months ($59.94), while the more expensive gold package is available at $29.99 for one month, $51.99 for two months and $77.94 for six months.
How to Delete Xpress Account
Members can delete their Xpress account by accessing their profile settings through the user area of the website. Follow the instructions on-screen to delete your profile or email the support team on support@xpress.com.
How to Cancel Xpress Subscription
To cancel your membership you should access your subscription options via your profile settings. Alternatively, you can contact the website's support team by emailing support@xpress.com with your query.
How to Contact Xpress
Users can get in contact with the support team either by emailing support@xpress.com or by accessing the help and support page on the website.
Summary – do we recommend Xpress?
Xpress is a good dating site for anyone that is looking to find casual fun with local members, as well as those content with explicit online chat. While the website can be difficult to register and actually sign up for, once you are in it is well worth it. From our review, there doesn't seem to be too much difference between the silver and gold membership options, so if you don't want to feel limited in what you can do whilst not wanting to pay out for a gold subscription, the silver membership options should serve you just fine. Users on the website are certainly not shy, making for a fun experience without feeling as though you have to breakdown many barriers that you may have to on more traditional sites. With a month's silver membership costing $24.99, we recommend signing up to this initially just to test the waters of the site to see if it is for you.
Most Popular Sites

Benaughty.com lets you get right into the fun dating experience. It encourages a naughty community of singles and couples. Its selling point is simplicity and delivering results with its search functions and communication features.

Cupid.com is one of the leading gay dating sites that successfully brings single gay men together around the globe. If you are searching to date or love a lifetime partner, this is the best platform for you.

A large chat dating site, QuickFlirt is like a speed dating service for online flirting!