Cute Things To Say To Girls
There is no doubt in your mind that you love your girlfriend and yes you tell her so from time to time. But the thing is, your special someone needs to hear the words "I love you" often that is a sweet thing to say to a girl. So even if cheesy lines or love sayings are not your forte, you must learn to make her swoon with happiness and feel giggles with best things to say to your GF. And when you finally master the art of formulating cute quotes to say to a girl, your sweetheart becomes happier than ever.
What To Say To Girls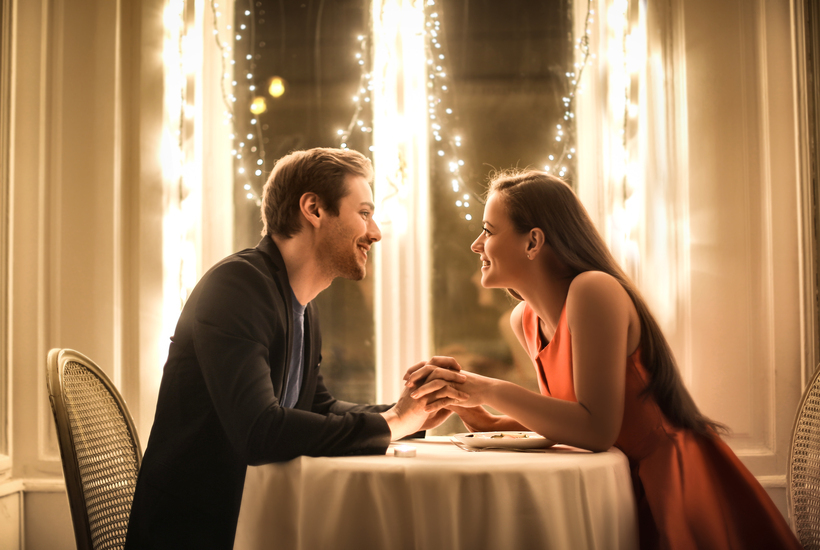 Are you always at a loss for cute things to tell your girlfriend? The best thing to say to a girl involves your heart. And when you find the right words to profess to a special someone, you are taking a huge step for your happiness. It is indeed priceless to discover the sweetest line to say to a girl to make her joyful for a long time.
Your voice is my ultimate favorite sound, your name is my favored noun, and your smell is my choice of perfume.
There is not a moment when I do not think of you. You're in my thoughts before I call it a night, and you're still there every waking second.
Thoughts of you flood my mind, and I'm scared I will drown in my own mind.
Spend time with me and I'll be the happiest man in the world.
Your smile makes my day brighter, and your sweet messages keeps me going.
I simply love everything about you, and I will never tire of caring for you.
When you're with me, I can only see your beautiful face and harmonious voice. Nothing else exists.
They say no one is perfect. But you're perfect in my eyes.
Tell me your favorite food and I'll cook them for you. So have dinner with me tonight.
I want to spend my days with you. Just say where, and I'll be there.
Kissing you is all I can think of when we are temporarily apart.
I love you and I will keep you safe at all times.
Do you feel fatigued? Because you keep on running and popping through my mind every minute of the whole day.
I'd love to meet your mom. I just want to thank her for raising the best girl I ever knew!
Do you like white or red wine? I would like to open a bottle with you tonight.
I learned from our past, I love our present, and I look forward to our future together.
Your laugh fills my heart with glee. Your smile makes my day. And your love completes my life.
I love the way you are, but I will never ask you to stop evolving as a human being.
Your beauty is blinding my poor eyes, but I cannot stop looking at you.
Goodnight. I will surely be dreaming of you and wake up with a smile.
Now that you have an idea about something sweet to say to your beloved, you can start formulating your own cute lines. Send her heartily phrased words through texts or chats, or simply read the lines to her. The most important thing is you made an effort to make your girl happy.
What To Say A Girl You Like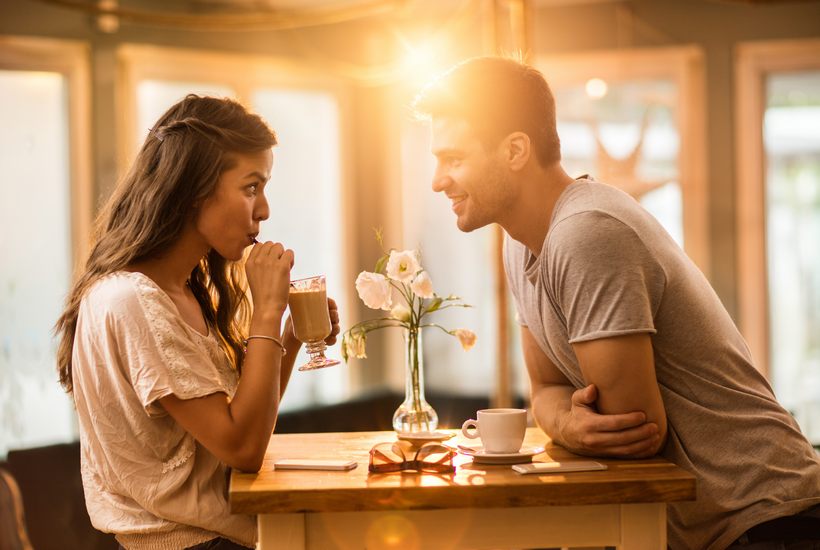 The cutest thing to text your girlfriend is of course the words "I love you", but you must not stop there. Find ways to convey sweet stuff to say to your sweetheart that will make her day and scare away her worries. After all, the smooth words to tell a girl can melt her heart and make her fall for you even more. So what are you waiting for? Learn how to compose the cute things to say to girlfriend now and discover the things to express to your GF to make her happy.
Your sweet giggles are melody to my ears. I love your smile, your laugh, and your pretty face.
My mom always tells me to count my blessings. And when I start with 1, I name you.
I can't stop thinking about your smile, your laugh, your tantalizing eyes, and sweet demeanor. Overall, I miss you all the time.
My friends are often teasing me because I always daydream about you.
I must have been an important person in my past life because in this life I'm blessed to have you.
Even if I try, I cannot stop smiling. And you put that smile on my face.
When I first laid my eyes on you, I knew at that instant that I will love and adore you forever.
No matter how busy I am, if you call or text me, I will have time for you.
You're simply amazing! I can't stop thinking about your bewitching smile.
I can't wait to spend forever with you. I hope you'll say yes.
Whenever you have a bad day, I am here to give you a hug.
I heard you like pizza. Wanna share a box with me?
Our first kiss was imprinted in my mind in unfading ink.
You always look great in a pink dress. You take my breath away every time.
This may sound cheesy, but you're always occupying my mind.
Lean on me whenever you feel tired. My shoulders are always ready to cry on.
I hate it when we fight. I'm sorry for the misunderstand. I love you. Please forgive me.
Hi there. Just want to tell you that I'm crazily thinking about your sweet lips right now.
You're my most favorite person in the whole universe!
I can be your knight in shining armor, or anyone you want me to be. Just say the word.
Once you figure out the cute things to say to a girl over text, you start to become an expert in making your loved one smile. So go ahead and teach yourself the good things to tell a special someone.
Sweet Line To Say To A Girl
During the courting stage, you always try to write sweet things to say to a girl you like over text. And so deep inside, you already know the basics regarding the sweetest phrases to utter to your girlfriend. Simply use that seldom-used skill and let your mind work on finding the really cute words to say to your darling. And if you are not confident yet to use your own creation, then read through the quotes about the sweet things to profess to your girl friend. Keep in mind that you need to choose your phrases carefully on what to tell your sweetheart to make her happy.
I'm the luckiest man in the universe because I have you by my side.
Your smile warms my heart too much, coldness never had a chance to seep in.
My love for you makes me giddy with happiness. I've never felt this way before.
Falling in love is only great when it's you in my heart.
I always look forward to more adventures with you.
Please allow me to hold you for eternity.
I don't need a lucky charm because I have you with me.
Your presence alone makes my day fruitful.
Hey babe. I'm driving to work and I heard our relationship song. Made me smile.
You stole my heart and I let you hold on to it forever.
The strength you have inspires me to work on my career goals. Thank you for that.
I love our cuddling moments.
My phone never runs out of battery so I never miss a call from you.
No matter crowded the room is, my heart feels where you are.
A vitamin "me" is definitely what you need.
No one in this world can give me a meaningful life more than you can.
I wish someday soon, I wake up and see your face first.
You are the rainbow in my life.
The treasure I found is you.
My heart seeks only your love.
In your quest to find cute words to say to your girlfriend, you realize how much she means to you. So the effort of formulating good things to tell your special someone is actually an eye-opener of how deep your feelings are. And when the sweetest things to tell your GF is out in the open, the words have the power to strengthen your romantic relationship.
Cute Phrases To Say To Your Girlfriend
Do you often wonder about the things to tell your girlfriend to make her happy? Worry no more. You always have something nice to say to your sweetheart even if you fail to realize it. You utter cute things to say to your GF often, whether intentional or not. And since you love her, the cute things to write to your girl flow easily in your mind.
Your smile is the highlight of my day. Your laugh melts my heart, and your love fills my soul.
If our paths did not cross, I would never know that this kind of happiness exists. So thank God every day for bringing you to me.
The love we have is stronger than a tsunami. It sweeps us from our feet and drowns our heart with happiness.
Without a doubt, you are the most special human being in the world to me. I love you and will always do.
You saw the worst in me and still stayed. From now on, I will be better, and turn into someone whom deserve you.
Our love became the inspiration of our friends. That's how great we are together.
Now that you're my girlfriend, all the romantic music finally made sense.
You make me so happy, and I will do everything to reciprocate your kindness.
I used to hate cheesy phrases but now I find myself composing love quotes just for you.
Every time my phone rings, I always smile and wish it's you calling.
I don't know how to cook, so how does food take out sound? I just want to spend all my dinner times with you.
Girl, you make my eyes hurt with your beauty. Allow me to bask in your gorgeousness or I'll perish.
Good morning my queen. I'm so excited to see you later. I wish to spend all my days and nights with you.
My cheeks need surgery. It hurts from smiling all the time because of you, my dearest girl.
Hello there. I just want to remind you that you own my heart. You know, just in case you forgot.
I know I said I liked you, but I lied. Actually, I love you.
Whenever we are not together, I can feel my heart constrict so bad with missing you.
Babe, I got lucky tonight. How about we hit the malls and buy you some expensive clothes?
Any plans for the weekend? How about a short vacation at a cabin with our own private Jacuzzi?
I still can't believe my luck! I found you, and there is nothing else I need but to see you happy.
A cute stuff to say to your girlfriend goes a long way in terms of solidifying your relationship. Though it is not your style to compose love quotes and stuff to say to your beloved, it is essential for the success of your affair that you know what to say to your girlfriend to make her happy. Start with the hearty things to say to your GF, and gradually hone your skills in love quotes making.
Check out related articles: