Blued App – We Review the Popular Dating Sites of 2020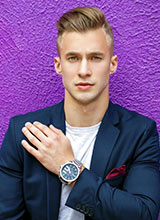 Blued is a gap dating app available only for mobile use, aimed at gay male dating.
Looking for a Dating Site? Read a Review of Blued App
Five facts about Blued
Exclusive dating app for gay man
Fast sign up process with optimal verification
Free chat service
Private chat and private live chat options
Free to download and register
The Idea Behind Blued App
The Blued experience is dedicated to gay men seeking men and makes the Blued app a great choice for guys without the inconvenience of other more general apps. The optional verification helps this app to perform well in terms of security; whilst the process is not mandatory if you verify your account via face matching you receive a verified tick in your profile to demonstrate that you are an authentic member! In our Blued dating site review, we found that most users are between the ages of 20-35 bracket, although the service is not exclusively for younger users. If you are new to dating and would like to check out how Blued works, this is a modern and interactive app designed solely for mobile use. Functions such as QR scanners and live chats bring Blued to the forefront of providing a modern solution with extensive features for modern online dating.
The Pros of Blued
Easy and fast sign up process
Dedicated to male gay dating
Location tracker to find users nearby
Impressive membership of 40 million worldwide
Free download, messaging and search functions
The Cons of Blued
Verification is not mandatory, so vulnerable to fake accounts
Profiles tend not to contain much information
Available as a mobile app only – not suitable for desktop use
Member Structure
The members' geography at Blued is very diverse! One of the most international gay dating apps, the site will adapt to your native language and is available in English, Spanish, French, Portuguese, Chinese, Korean, Japanese, Indonesian, Thai and Vietnamese. With over 40 million users around the world and 390,000 visits per month, this is a huge database! The app is purely for gay male dating, so you won't find any other singles here, and has a very active membership. Blued has a 'social wealth' rating, which means the more active you are on the site (and the more paid features you use!) the more visible your profile.
Registration
To register with Blued is very fast; to create a member log in you just need to choose a user name, and enter basic profile information such as location, age, ethnicity, etc. There is no requirement to update a profile photo at registration, although you can return to your profile questions later and add an image and more details if you wish to. The verification process is optional, and it is possible to create an account without providing any contact details. However, it is advisable to enter a mobile number or email address, as this will enable you to recover your account information should you lose access or need to reset your password.
Functionality
Search tools
Learning how to search on Blued is very straightforward – as a dating app designed for mobile use, it is very simple to learn and similar in layout to many modern apps we all use. You can search by city or location and make contact with users in your local area, or search profiles and find members to follow. You don't like users as with many other apps, but choose to follow them in a format more similar to social media. You can also contact members and search by username to send them private messages, or search mobile for nearby users to start a private live chat. If you get stuck working out how to use Blued search, you can contact support through the app, via email, or directly through their Facebook page.
Making contact
Chatting on Blued can be done through group chats, private chats, or live chats depending on your preference. You can purchase Blued coins to send virtual gifts, and also redeem these to post flying comments on video streams both public and private. For any first message tips, check out the FAQs section or perhaps get started with a virtual gift! Blued does not have a matching system as such but offers an explore function where you can browse profiles, choose to follow users you are interested in, and find members nearby using the location tracking feature.
The App
Blued works across Android or iOS and is free to download. As an app designed for mobile devices, it works seamlessly on pretty much any handset, and the menus and functions are easy to navigate.
Special Features
Blued feels more like a networking app than a dating site but is very much geared towards finding dates and using the online chat function. Blued coins can be purchased to be able to send virtual gifts, and you can choose whether to post public photos to your profile or make them available only to private users.
Pricing Plans
Blued is free to download and use, and there are no paid subscriptions. However, you can purchase credits to convert to Blued coins to use some of the advanced features:
- 1 credit $0.02
- Credits can be purchased in bundles starting at 42 ($0.99) up to 4,116 ($89.99)
Free services
Downloading and registering with the app
Private live chat
Sending and receiving messages
Live video streaming
Following and connecting with users
Fee-based services
Sending virtual gifts
Posting flying comments on video streams – both public and private
Payment methods
Blued credits can be purchased through any mobile operating system, such as Google Pay or Wallet. Please note that credits cannot be returned for credit, and if you switch to another operating system whilst you still have credits in your account to be used, for example switching from Android to iOS, these will not be carried over in your account.
Common questions and their answers
What is Blued?
Blued is a gay dating app, available only on phones and mobile devices. It is a worldwide app, with multiple language options available, and is free to download from the Apple App Store or Google Play. The app is free to use, although extra features are available through redeeming credits, which can be purchased at $0.02 each. The app offers explore options to find nearby users and follow options as well as live and private chat functions, and public or private video streaming.
Is Blued a free dating site?
It is an app for mobiles, rather than a desktop website – but yes, it is free to use! One of the things that makes Blued a little different is the absence of any kind of paid subscription, so every messaging feature is free to use for everybody. However, you can purchase credits from 42 to over 4,000 at a time, which enables you to use extra features such as sending virtual gifts. Ideal if you find it difficult to find a way to get a new conversation started!
How to delete a Blued account?
Deleting a Blued account is easy, and can be done directly through the app. To do so, access the Settings once logged in, and choose to Delete my Account. Please note that you can change your mind and cancel the instruction to delete, but must do this within seven days. If you do not decide to log back in within this time, your account will be permanently deleted. You can also deactivate your account temporarily, but again have only seven days to change your mind before your account is deleted.
Summary – do we recommend Blued?
Blued is a modern, fun and intuitive mobile dating app, and has lots of features to make it feel more like a social media platform than a dating app. We like the options to follow users, which might help get to know a little more about them before diving in with a private chat! Almost all the functions are free to use, and you only need to purchase credits if you want to send virtual gifts or post comments on video streams, but the more you use these features the more social credits you receive and the more visible your profile becomes. The explore function is great for finding members in your local area, but we think that having a search function to be able to identify users who fall into a specific bracket or preference would be a good addition to make it faster to be able to find the kind of person you are looking to connect with.
Most Popular Sites

Benaughty.com lets you get right into the fun dating experience. It encourages a naughty community of singles and couples. Its selling point is simplicity and delivering results with its search functions and communication features.

Cupid.com is one of the leading gay dating sites that successfully brings single gay men together around the globe. If you are searching to date or love a lifetime partner, this is the best platform for you.

A large chat dating site, QuickFlirt is like a speed dating service for online flirting!