PlanetRomeo – We Review the Popular Dating Sites of 2020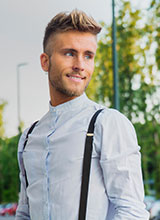 Planetromeo.com is a fast-growing gay dating website for all singles regardless of their age and sexual orientations. From the users' reviews it's one of the interactive dating platforms with burgeoning membership.
Looking for a Dating Site? Read a Review of PlanetRomeo.com
Five facts about PlanetRomeo
50,000+ men online every single day
Free account registration
Wide range of special features
Send free gifts
Facebook login available
The Idea Behind PlanetRomeo.com
PlanetRomeo is a hugely popular gay dating site used by thousands of men all around the world to find love, friendships, and hookups. The website and mobile app feature a bespoke design while being very easy to navigate. It costs absolutely nothing to make an account here, and this has rung true since the company was founded back in 2002 by friends Jens Schmidt and Manuel Abraham over drinks in a bar. Roll over the years to 2020, and here we are, with over 50,000 single men using the website every single day, with many happy guys returning time and time again. The contact features for singles on Planetromeo.com are excellent, similarly with the search functions available free of charge. If you are hoping to meet a guy online in a quick time frame, you have a fantastic chance of doing so upon signing up here.
The Pros of PlanetRomeo
Multiple language options available
Quick and easy to become a member
Men are online across the world, 24h a day
Free messaging
Mobile App for both IOS and Android devices
The Cons of PlanetRomeo
Limited Search functions on the mobile app
Most members are looking for casual hook-ups
No live chat support to deal with queries ASAP
Member Structure
98% of the users who comprise the member's database of Planet Romeo are gay and bisexual men, with the most common age range of singles being between 21-30 years old. It seems the website has more younger men, seeking casual hookups rather than serious, long term relationships. However, some men on the site are slightly older and are looking for serious relationships.
The countries in which Planetromeo.com is the most popular are the UK, Spain, Italy, and France. Planetromeo.com is most popular with men in Europe; however, over 30,000 men in the USA became members last year. All men are welcomed to use the site, with Bisexual, gay, and trans singles all featuring heavily.
Registration
Fast registration process
Free account registration
Facebook login available
Can be logged through Android or IOS App
Becoming a member on Planetromeo.com is quick and easy, and will take you no more than 5 minutes from the start of your application to you searching for your first male partner on the site. When you visit the landing page of Planetromeo.com, you are asked to input your name, date of birth, and email address. You are then asked which type of dating experience you are seeking, be that to find a relationship, friends, or a hookup as well as the age range of men you are willing to connect with. Upon completing this stage, you are asked about your gender, relationship status, height, ethnicity, body type, and are also required to input a profile headline, followed by any languages that you can speak. These questions can all be skipped upon your request stage; however, we recommend inputting this added information, to increase better the quality of partners you meet.
You can become a member via linking your Facebook account, which allows some information and photographs to be transferred from Facebook. We find that the more information included in your profile, coupled with a higher number of photos, the higher the chances that you will meet more men, sooner sustaining better connections. It can be majorly off-putting if there are no photos of you on your account, similarly to a lack of personal information.
Functionality
Search tools
Searching for men on Planetromeo.com is simple, and there is a wide range of different criteria that you can use to find different types of partners. If you have a specific username or name in mind, you can search the entire member's database by clicking the magnifying glass icon in the top right of the screen.
If you want to find different types of partners online, the criteria in which you can edit to do so is as follows:
Distance from you
Age range of partners
Men with/without a photo on their account
Men who are online now
New members
To best find partners using the search features available, it is highly suggested that you use the desktop browser version of the website rather than the mobile app. The mobile app on both android devices and IOS offers limited search functions due to a lack of available on-screen space.
Making contact
Unlike many other dating sites in 2020, Planetromeo does actually offer free messaging to all of its users without having to purchase a subscription package first, which is a great breath of fresh air. That means men can chat for as long as they want in a safe environment, which can be moderated.
Once you have browsed the site and found a man whom you have an interest in, we find the best way to make first contact it by being open and curious with your opening chat. Most men love to be asked questions about their personal life or their occupation, so these are great places to start if you are looking to break the ice and get that all-important first reply effectively. Adding a photo to your account is also a great way to gain exposure and meet more partners on Planetromeo.com.
The App
The mobile app offered by Planetromeo is available to download free of charge from both the Google Play Store and the iTunes Store. So, regardless of the device you own, you can access a portable version of the site and take your conversations with you on the go. The overall layout of the app is largely similar to the website; therefore, it is to navigate and get to grips with and features a sleek design. There are four main tabs on the app, which are located at the bottom of the screen for easy access: discovering, profile visits, messages, and travel plans.
Special Features
Picture Rating. This feature allows you to rate all newly uploaded photos of other members on Planetromeo.com to gain higher visibility on the site. You have five different rating selections to choose from for all photos:
Flower - this rating is given to photos that are suitable for all groups;
Lollypop - you can give this rating to photos that are showing chest, legs, but no pubic hair and emphasis on sexual innuendos;
Match - this icon is for erotic photographs;
Fire - For photographs containing explicit sexual activity;
Illegal - this rating is for images that need to be brought to the attention of the moderators. All images, which include minors, discriminatory, or private conversations, are excluded from Planetromeo.
QuickShare. This is your own private photo albums featuring xxx content. Other users can request to see your QuickShare upon request, and you can also do this with other users.
3) Meet the Romeo. Each week a different man is featured here. Planetromeo includes a short paragraph about what makes the user stand out from the crowd.
Pricing Plans
1 Month - $10.11
3 Months - $23.58
12 Months - $67.32
Free services
Unlimited Messaging
Adding Friends
Three requests per day for accessing QuickShare albums
Browsing Profiles
Fee Based Services
XXX Content
No Ads
Stealth Mode
Save your filters
Unlimited QuickShare
Unlimited Storage
Payment Methods
PaySafeCard
Credit Card
Debit Card
Common questions and their answers
Who owns Planetromeo.com?
The website is owned by Romeo BV.
What is Planetromeo.com?
Planetromeo.com is a gay dating site enabling men worldwide to find love, friends, and casual hookups.
How much does Planetromeo.com cost?
A premium subscription on Planetromeo.com will cost you from $5.61 to $10.11 for a month.
Is Planetromeo.com a legitimate dating site?
Yes, Planetromeo is owned and operated by a legitimate company with a license to operate a dating site. The site features very few bots and over 50,000 active men across the world each day.
Summary – do we recommend PlanetRomeo.com?
Upon reviewing PlanetRomeo in extensive detail, we have come to the firm conclusion that this is an exceptional gay dating site. After becoming a member, you'll be able to find a huge range of men from all walks of life for a variety of dating experiences. Whether you are looking to find friends, a relationship, or just a casual hookup, you're able to do so quickly and easily, aided by a huge range of special features available to streamline your experience while using the site. The overall pricing packages used by PlanetRomeo are highly competitive for the services offered, and the Mobile app available adds freedom to your dating experience. When all the positives are coupled with the fact that unlimited messaging is free without purchasing a subscription, we would recommend this dating site to anyone seeking some extra male company.
Most Popular Sites

Hornycontacts.coms is open to straight, gay, lesbian and bisexual singles to find and date other like-minded individuals for casual hookups, love and even lasting connections. With good search functions and interactive features, the platform is just full of fun.

Igetnaughty.com site is open for the singles and couples looking for bisexual relationships or any other types of connections that can quench their varied fetishes. It is known for being the most liberal dating site resource as it satisfies the needs of its members.

Naughtydate.com is a dating site where you can hang out, flirt and mingle with like-minded hot singles, whether gays or other sexual orientation. With a huge membership base, the website is just a hotbed for casual hookups and flirty encounters.