Onescene – We Review the Popular Dating Sites of 2020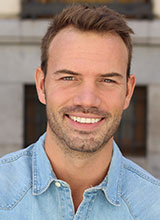 Onescene.com is an international dating community for hot gays, lesbians, transgender and bisexual singles. The site's search and messaging functionalities promotes quick connection with open-minded singles.
Looking for a Dating Site? Read a Review of Onescene.com
Five facts about Onescene
An appearance quite familiar to social media users
Several search filters available
The facility of using personalized bios and photo
A growing community of LGBT
Still new on the block
The Idea Behind Onescene.com
With a user base of over 100,000+ members, Onescene.com is quickly becoming a popular online dating site currently available for gays and lesbians out there. Even though it's gaining traction, it's still a new entrant in the online dating industry. Therefore, it's not possible to find many success stories from users who have tried this dating site. The good thing is that the numbers of profiles on this site are getting big with each day, and most of it is made up of fresh young people looking for serious relationships. Therefore, it may be a good idea to use your luck on this dating platform because the chances of finding a new date are becoming brighter with each passing day.
The Pros of Onescene
It uses a great navigation structure
It resembles Facebook and is easy to use
It has a growing community of young members
It comes with a dedicated mobile app
The Cons of Onescene
It's still not as popular as other mainstream sites
It may contain many fake profiles
It may be a bit expensive to buy premium plans
Member Structure
Onescene.com is designed for gays and lesbians mainly, so you're going to find people from the LGBT community looking for partners on this particular dating site. The member structure seems quite diverse, as you can find partners from different age groups. However, if you talk about the majority of users, it's going to be of young bisexuals looking for relationship opportunities online. Moreover, many users have confirmed that you're going to find more gay men looking for partners than lesbians. The site seems to have a good share of bisexual profiles, and that's also a good thing for those looking for this type of dating.
Registration
Registration won't be tricky, and that's a good thing about signing up on Onescene.com. You won't have to answer unimportant questions when signing up. Just the basic details will help set up your account. You need to complete a medium-length form, and it shouldn't take more than a few minutes to fill in 10 fields. To avoid wasting any time, you can consider joining through your Facebook account. The good thing is that the site never posts anything on your page, so it will all be quite private and secure.
However, you'll have to be more specific about your preferences when you create a profile. We find it a good thing actually because sharing details about who you are, how you live, and what kind of dating partner you'd want, can make it a tad easier to find the best matches. Once you've created your account, the site wants you to confirm the email address you've provided. This is an effort to discourage fake users from joining the platform. Moreover, your photos will be checked and approved by a moderator before you could see them live on the website. It means that photos of cartoon characters or not real people won't get passed on this site. Again, we appreciate it all because it goes a long way towards keeping the community free of fake profiles.
Functionality
Once registered, it's easy to create a profile, and then you'll be ready to use the search functions. Something interesting about this dating site is the availability of local searches. By using this feature, you'll be able to find people seeking friendship and relationships in your specified location. There's a special feature called GeoLocation, which comes in quite handy when you want to find a list of members living in your neighborhood. The site uses a strong search algorithm; in fact, it can also use your browser location to generate a list of members in your vicinity.
Using this site is easy because it resembles Facebook, so social media users are not going to face trouble finding potential dating partners. You can use different search filters, but it's easy to get to know more about each member by checking the details mentioned in their profile. This provides details about their physical appearance, character traits, lifestyle details, and what they want to see in their potential partners.
You can add people who look interesting to you. The good thing is that the site provides you with several modes of communication. It means that you can always start with an icebreaker and send a wave, a smile, or a wink to grab their attention. You can send messages to several members and keep track of them by adding to your favorite lists.
While you can access the website on your mobile devices with ease, you can also use its dedicated mobile app to stay connected on the go. There's no real difference in features you notice on their website or mobile app, but we believe that their instant chat feature becomes easier to use when you're using a mobile app. But, it doesn't mean you'll face any trouble while trying to connect with your potential dating partner in live chat using the desktop version of the website.
Pricing Plans
In terms of price, you won't find Onescene.com to be a very expensive dating site. However, it's also true that you can find many popular sites charging much less than what you end up paying for features you get to enjoy on Onescene.com. Quite like many other dating sites these days, registration is free of charge. However, there's only a 14-day trial membership available, after which you'll have to choose a premium plan. You won't be able to use all the features during your trial membership period, but you can still view profiles of members.
To fully unlock this site's potential, you'll need to buy a premium plan, which is going to cost you $10.95/month. You'll have to renew it after each month. However, you can save some money by going for a 1-year subscription, which is going to cost you $84.95. In terms of mode of payments, you don't have many options available, but you can always use a credit card to buy a premium plan.
1-month Plan: $10.95
1-Year Plan: $84.95
Common questions and their answers
What is Onescene.com?
Onescene.com is one of many dating sites geared towards gay, lesbians, and bisexuals. It helps you find a gay partner in different parts of the world, as well as in your local area.
Is Onescene.com a Legit Site?
Yes, it is, as they take steps to ensure proper safety and security of your profile. You may come across some fake profiles, but they're not so many to cause serious issues.
Can you close your Onescene.com Account?
Yes, you can. You can use different options, though. You can simply cancel your paid membership and let others see your profile. Alternatively, you can deactivate your profile as well, which means other members won't be able to access your profile. This way, you can get reactive your account anytime you like. But, you can also close your account and delete your profile, which means you'll have to go through the same registration process again to use the site.
Summary – do we recommend Onescene.com?
With its modern design, a quality mobile phone app, and a large user base, Onescene.com is gaining more popularity in lesbians, gays, and bisexuals looking for a way to start a new relationship. The simplicity of using the site and finding a partner is the big reason why it's getting popular and trying to compete with the giants out there. Social media users will find it quite convenient to use. While the site takes some measures to maintain safety and security, it seems that more needs to be done because you can surely bump into some fake profiles while exploring the site. Still, those profiles are not so many to disturb your dating experience. Overall, it's a good site that may help you find a lesbian or gay partner in your local area!
Most Popular Sites

Benaughty.com lets you get right into the fun dating experience. It encourages a naughty community of singles and couples. Its selling point is simplicity and delivering results with its search functions and communication features.

Cupid.com is one of the leading gay dating sites that successfully brings single gay men together around the globe. If you are searching to date or love a lifetime partner, this is the best platform for you.

A large chat dating site, QuickFlirt is like a speed dating service for online flirting!