Here's a Great Review for HornyContacts.com Dating Site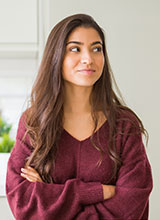 Hornycontacts.coms is open to straight, gay, lesbian and bisexual singles to find and date other like-minded individuals for casual hookups, love and even lasting connections. With good search functions and interactive features, the platform is just full of fun.
Five Facts about HornyContacts.com
The site is part of a successful group of worldwide dating sites
Member verification is available through Customer Care, and a 'Trusted Member' badge and status can be earned
Love and romance, as well as casual hook-up dates, can all be found on HornyContacts.com
Member blocking is possible if needed, and the site team is happy and able to help at any stage
There are lots of ways to communicate on Horny Contacts, you will never get bored
About HornyContacts.com
A fun and busy site that allows like-minded people to meet, chat, flirt, and arrange exciting dates.
The Pros of HornyContacts.com
The email activation step helps with the issue of Bots
Communication is quick and easy on the site
Trusted member badges on member profiles help you know who to trust
The Cons of HornyContacts.com
Subscription is needed to enjoy the site; basic membership is very restrictive
Most members are straight men
The design of the site can sometimes feel cluttered
Member Structure
Geography
Let the site and other members know where you are. Dating works best when it's with someone who doesn't live hundreds of miles away.
Activity
Enjoy searching for and browsing through member profiles to see who you'd love to date. You can also send out quick, experimental Likes or a Flirt cast to start a very busy evening sorting through the responses. Get involved in the chat room and make new friends. And don't forget to send cute virtual gifts to someone who you think is special.
Gender
People of all genders and sexualities are welcome on HornyContacts.com. Simply choose how you identify and your preferences at registration and chat about who you are and love in your profile.
Registration
Firstly, fill in a few basic details, including location, age, gender, and sexuality. Then input a valid and active email address and respond to the verification email.
Note: many people have an exclusive email that is only used for dating.
Logging in
We recommend that dating site members always log out of their account. It helps with privacy and security. To log back in, you will need a strong password that won't be difficult to remember. 'Change password' and 'Forgotten Password' functions are available in Account Settings.
Creating a profile
Profile questions and details needed -these are the things that will decide who you are compatible with according to the site, and they will be the pieces of information other, interested members will judge you on. That sounds brutal, but that's online dating!
Location
Gender
Age
Personality
Body type
Appearance
Career
Interests/hobbies
A personal statement in your own words
Photos
Photo verification is possible through the customer care team. This proves that you are a real person and will gain you lots more likes.
Erotic photos can only be shared via private message.
Consider the following to make your profile stand out to other members:
a photo of your face, a full-length shot, and action pictures of you having fun;
smile
don't post lots of photos will bunny ear or unicorn filters, potential dates want to see what you really look like;
for privacy, have a set of photos that are only used for dating sites; this means you can't easily be Googled and found through your Instagram or Facebook accounts.
Functionality
Search tools
Both basic and advanced search filters are available depending on how wide you want to cast your net. If location, gender, and age are your only criteria, then you'll see a lot more people than if you specify blonde, bubbly, and within 20 miles of home.
Searching by profile/username
The people who you've added to your Like gallery will be easier to find. There is no direct way to search for an individual, so send a quick message to someone you'd love to chat with. It would be said if they got lost in the site crowds.
Searching by city
Use and alter your location settings so that the site shows you the compatible members who are in your chosen area. This is a great feature for frequent travelers.
Making contact
How to send a message
Instant messaging – a safe and private way to chat with other members
Direct messages – when you trust someone a little more, DMs are a convenient way to get to know each other
Flirt Cast – send out a cheeky, flirtatious pre-set question to all the people who are currently online
'Likes' – let a sexy member of the site know you think they are gorgeous by Liking their profile and adding them to your gallery; gallery membership makes them easy to find in a sea of profiles on a large site
First message tips
Use the Instant Messaging service as it is the safest way to communicate with new people. Chatting through the site means you don't have to give out your email or mobile number.
Don't give out personal information when you first meet. Anyone who presses you for a home address, mobile numbers, or where you work should be avoided and/or blocked.
Being friendly, open, and honest is a great first impression. Ask lots of questions and, if appropriate, enjoy starting to flirt.
The matching system
HornyContacts.com will use your registration information and profile details to reveal to you a Gallery of compatible matches. They will appear on your site feed, and you can decide if they deserve a 'Like.'
Gifts
Full members can buy credits in order to send fun and flirty virtual gifts to other site users they want to impress. It's a great way to stand out in the crowd.
App
There is currently no HornyContacts.com app to download. The desktop site is your only option.
Pricing Plans
1 Day:0.99 USD / Day - 0.99 USD
1 Month:36.41 USD / Month - 36.41 USD
3 Months:20.41 USD / Month - 61.24 USD
6 Months :16.50 USD / Month - 98.99 USD
Free services
Registration
Profile creation
Uploading photos
Fee-based services
You need to be a full member to enjoy the site as you can't interact or even view profiles without paying. There are 'free trails,' but these will auto-renew to taking payment after a few days.
Payment Methods
A credit card is the main method of payment for full membership. It cost $34.99 per month on an auto-renewal basis.
Common questions and their answers
What is HornyContacts.com?
HornyContacts.com is a dating site for people who may be looking for either hook-ups or long-term relationships.
Who owns HornyContacts.com?
A company based in the British Virgin Islands owns the site, but it has offices and members all over the world.
Is HornyContacts.com legit?
Yes, it is a legitimate site, but the ease with which you can sign up means there will be bots, fake profiles, and some scammers. Use your common sense while on the site, and you should be fine.
Is HornyContacts.com a free dating site?
It is free to register and create an online profile, but a paid membership is needed to contact, search, and see member profiles.
How much does HornyContacts.com cost?
$36.41 is the cost of a monthly membership. Signing up for 3 or 6 months makes the cost slightly less.
How to delete an HornyContacts.com account?
The site will encourage you to deactivate rather than delete, so contacting the customer care team directly is a good idea if you want the process to be simple.
How to cancel an HornyContacts.com subscription?
Go to your 'Account Settings' access Subscriptions and cancel your auto-renewal membership option.
How to contact HornyContacts.com?
Go to the 'Contact Us' at the bottom of the site page and fill in the feedback form. This will send an email to customer service detailing your issue or question.
Summary
Yes, we recommend this site. It promotes a fun, convenient, and fast method of dating. The subscription services are required to be an active member of the site, but this is made clear from the moment of registration.
Most Popular Sites

Loveaholics.com is a platform for casual online daters and hookers. In terms of communication features, users can directly message a potential hot date or use the flirty Wink, Like Gallery or the Favorites features on the platform. Its search functions are also efficient.

Meetwild.com chat room is wild with naughty conversations. With the search filters rewarding you with adult dating members, naughty friends, married individuals and even singles mums, your options are broad.

Wildspank.com has many locals looking to connect and shag for quick satisfactions. Those willing to build long-term relationships can still succeed on the site as it offers such supportive features.