Swingles – We Review the Popular Dating Sites of 2020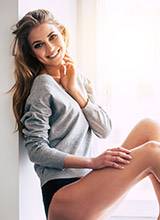 Swingles.com is a community of swingers who are looking for sexy singles for fun and spicing up their sex life. The site has free messaging and paid features for more erotic fun.
Looking for a Dating Site? Read a Review of swingles.com
Five facts about Swingles.com
An adult dating site for the swinger community
Upload unlimited pictures to your profile
Advanced search & browse functionality
Join private webcam and chat rooms
Date on the move with their mobile website
The Idea Behind Swingles.com
Swingles.com is aimed at swingers who want to explore their fantasies and find other couples or singles that partake in the swingers lifestyle. Enjoy swinging in an environment that is positive and exciting and meet open and like-minded singles that you can chat, flirt with and get to know better before you decide if you want to meet up and take your flirting to the next level with some adult, sexy fun. The site is designed to help you find couples, single men or single women.
The Pros of Swingles
A positive environment to get to know fellow swingers
Designed to make the whole process fun
Mobile friendly for dating on the go
Advanced search functionality to help you find what you are looking for
Profile verification and member validation to make the experience safe
The Cons of Swingles
No app for either iOS or Android
Not much information about the account structure/fees
Member Structure
In comparison to a multitude of alternative dating sites, the membership is low at only 50,000. While the profile screen does ask if you are looking for gay, lesbian or other sexual orientation, the nature of the site does suggest that it is highly leaning towards the heterosexual swingers community.
Registration
It is easy to sign up to Swingles.com but members must verify their profile and ensure that they validate their membership before using the site. It is a simple process to get started with a few details. The first screen asks for details about what you are looking for. It also wants to know some personal details – hair color, eye color, height, piercings, tattoos. It also asks for the kind of experience you want – are you separated, divorced, single etc. and what are you looking for? it won't let you skip a stage and if your description is too short, it will not let you continue to the next stage. You can choose to add photos at a later stage. There are some questions that could be deemed as quite personal.
Functionality
Search tools
Once you register with Swingles.com, you are immediately presented with local potential matches that match what you are looking for. You can then enter your search criteria to carry out your own search. Choose from the filters to decide if you want someone for a relationship, choose by age, by location and much more. The advanced search functionality allows you to search for potential matches without you being charged at this stage.
Making contact
Once you land on your initial homepage, you will see down the left-hand side a list of available messages and winks that you have to use before you are required to upgrade your account. Initially there are 25 messages and 25 winks. You also get free chat access so you can initiate contact and start chatting. It is a great selection of contact options with a standard account before you have to decide whether or not to upgrade.
The App
There is no app available currently for Swingles.com however they state in their FAQs that there is one in development and that you will be able to download it soon however the site is well optimized for mobile whether that be a phone or tablet, should you wish to arrange hookups on the go if you are working away for example.
Special Features
Winks, free chat, video chats and webcams are all features of this site that make it easy for you to make contact and get in touch with people. Their advanced search functionality could also be classed as a special feature. What we really liked is how accessible their member support is with a link underneath your chat options to get hold of someone. This seems to be a much higher level of support for members than some sites offer.
Pricing Plans
To join the site as a standard member doesn't incur any costs, however, to unlock all the benefits an upgraded membership exists. The confusing thing is that we signed up as a standard member and our account was automatically upgraded to that of a platinum member with no mention of payment or membership plans.
Free services
Register on the site
Profile creation
Send 4 winks a day to members
Reply to 4 winks a day
Fee-based services
While it is indicated that there is fee based services by the free features listed above, we were automatically upgraded with no option to pay for all of the upgraded benefits. The account automatically showed how many messages we had and winks available.
Payment methods
We didn't have the option to pay so this is not clear.
Common questions and their answers
What is Swingles.com?
Swingles.com is a swingers dating site that allows couples to find couples or singles to join in with their sexual exploits. The site is aimed at delivering a positive experience to its members.
Who owns Swingles.com?
Swingles is owned by Giga Pty Ltd and their terms and conditions clearly state that any agreements are between the member and this company.
Is Swingles.com legit?
While there is not a lot of information online about Swingles.com, they are a legitimate concern with a good 24/7 customer support and genuine members that are verified and validated.
Is Swingles.com a free dating site?
Swingles suggests that there is a paid for membership for using the site although we couldn't find any evidence of this. All we could find was a link to upgrade that encouraged us to join the site.
How much does Swingles cost?
At this stage, it is hard to say what the subscription costs are as we couldn't' find any information on the site either by following the sign up and upgrade procedure or in their FAQ section. That is not to day that if they grow over the coming months, they won't add a paid for option.
How to delete Swingles.com account?
It is quite easy to delete your account if you choose to. On the right-hand side of the site in the corner, simply click on the round profile icon – then you will see down the left-hand side of the page a link to pause or cancel the account.
How to cancel Swingles.com subscription?
Either take a break or cancel your account – your subscription will either be paused and unfrozen when you return or cancelled. Auto-renewals will also be frozen. This means that any money for renewal will then not be taken.
How to contact Swingles.com?
It is not hard to contact Swingles with various access points to do so. There are a whole host of FAQs so you can search the answers to your questions yourself or you can click member support or the contact link at the bottom of the page. Contact is made by submitting a support request.
Summary – do we recommend Swingles.com?
If Swingles really is a free dating site (and we could find nothing to the contrary to prove otherwise) then it really does offer great value. There is limited membership with only 50,000 worldwide which suggests that you may struggle to meet the right match in your area. Our matches were limited but we can't speak for every area. That said the site is dead simple to use, it is mobile friendly and it has all of the functionality of a dating site that you would expect. As a free site, there is nothing to lose if you want to give it a go.
Most Popular Sites

A large chat dating site, QuickFlirt is like a speed dating service for online flirting!

Together2night.com rewards singles looking to get frisky for a night. It's a viable platform that offers good search and interactive features that help you connect with like-minded people.

Onenightfreind.com is best for the bisexual singles searching for both quick hookups and long-term relationships. It claims that about 82% of its users are educated, thus are precise about what