TSDates – We Review the Popular Dating Sites of 2020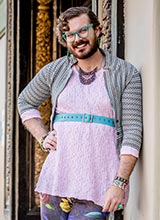 This third sex dating site is strictly adult-only and welcomes transvestites, transsexuals, and transgender singles to meet partners and find casual hookups.
Looking for a Dating Site? Read a Review of tsdates.com
Five facts about TSDates
Although this site was set up for trans people, straights and gays are welcome
Free to sign-up to, but there are paid membership benefits
Free to search
Chat room facility
Detailed profile information
The Idea Behind TSDates.com
How does TSDates work? This website is aimed at transsexuals, transgenders, and transvestites who are seeking to interact with kindred spirits. As this TSDates dating site review will explain, the site is open in its parameters, welcoming straights, gays, and couples. We will assess the good and bad points of this resource, and explain how we rate the TSDates experience.
The Pros of TSDates
Registration is convenient and accomplished with minimal hassle
You can begin interacting before you've uploaded a profile image
Strict verification
Search filters are detailed, especially for Gold members
The Cons of TSDates
You aren't provided with potential matches from the outset
No app version
Member Structure
TextThere are more than 80 million members across the globe, primarily targeting the trans community. Around one million users access the site every week, with the UK boasting some 100,000 daily users. The male to female gender split is about 75% to 15%, while the largest user demographic is males aged 35-44.
Registration
Easy and fast registration
You can postpone completing your profile
Email verification is required
It's easy to sign up for TSDates. The registration process is streamlined and can be undertaken in a few minutes. You don't have to upload a profile photo at this stage, so rather than fretting about which particular image to upload, you can get right into creating a profile and then browsing around to see what the site has to offer.
You can register as a man, woman, couple (straight, lesbian or gay), a group, or as a trans individual (either transvestite, transsexual or transgender.) You are then invited to stipulate the type of person (or couples/groups) you're hoping to connect with. After a few personal questions, you'll need to undertake the verification process. Once you have completed the verification check by clicking the appropriate button link forwarded to your email account, you'll receive an offer to immediately subscribe to the Gold membership, together with an enticing list of the advanced functions available.
Functionality
Search tools
The search facility on TSDates is straightforward and allows you to check out the hot talent that might be close by. You are invited to specify your status (man, woman, couple (man/woman, two men, two women), a group, or whether you're TS/TV/TG. Then you indicate who you are looking for, the age group, and your location. Nude photos will only appear in your search results if you are a registered member. A list of members fitting your search criteria will appear in the site's central panel, with profile photos, usernames, age, and location.
Making contact
TSDates is a sophisticated website offering various ways to contact other site users. You have the option of private messaging by email, instant messenger, or entering the chatrooms and interacting in the relaxing environment there. Before any interaction, you can initiate proceedings by sending a flirt for $1.00. The chatroom facility is also hugely popular, allowing you to mingle with a range of interesting characters, and all for as little as $9.95 per month.
The App
No app version available.
Special Features
TSDates offers its members the option of selecting from a drop-down menu headed Dating Forums. There are three choices here, Erotic Stories, Magazine, and Member Blogs. The stories are categorized according to Latest, Trending, or Most Viewed. The content covers an impressively diverse range of topics. Still, the common theme is erotica, and the need to both share personal stories and titillate fellow site users with lurid descriptions of sexual experiences. After each story, members can add comments or vote on their overall impression of the story. Currently, the most viewed story is entitled The House Painter, which has been viewed over 54,000 times.
The Magazine offers site users sex advice, adult information, and steamy erotica submitted by other members. You are also allowed to interact with polls and generally feel part of a dynamic community. As well as reading fiery articles with sexual content, you can check out dating and general relationship advice, pointers towards good health and wellbeing, and you can contribute your suggestions. The tagline below My Articles states: 'create your own articles and share your hottest experiences with our readers. Popular writers get more attention - and more messages from our members!'
The blog is crammed with posts from fellow site users, with new ones being added constantly. As well as keeping readers stimulated, all three of these areas provide members with the opportunity to add content, as well as interact with the writers and other site users.
Pricing Plans
1 Month $20.00 / Month $20.00
3 Months $12.00 / Month $36.00
12 Months $9.00 / Month $108.00
Free services
Access to the activity feed
Singular access to live member cams
Add sexy members to your Hotlist
Connect with Instant Messenger
Read and write blog posts
Fee-based services:
Advanced search filters
View complete profiles
Full access to private messages
View full-sized photos and videos
Unlimited viewing of cams
View your favorite photos and videos
Send flirts and friend requests
Add up to 1,000 members to your Hotlist
Payment methods:
Credit/debit card, cash, cheque.
Common questions and their answers
What is TSDates?
TSDates is a dating resource aimed at trans individuals, although it encourages visits from anyone seeking to interact in this playful but sometimes erotic social setting.
Who owns TSDates?
Various Inc., Campbell, California (US); Ventnor Enterprises, Colchester, England (Europe)
Is TSDates legit?
Yes, this is a legitimate website with millions of members.
Is TSDates a free dating site?
There are free functions, but the more you are prepared to pay, the greater access you will have to advanced options.
How much does TSDates cost?
The pricing is listed above.
How to delete the TSDates account?
You click on the My Account link, found under My Stuff tab or username. Go to the 'Manage Account' section and click on 'Close Account.' On the next page, click on 'Please Delete My Account.' Enter your password and select 'Submit.' You'll be asked about your reasons for leaving. There's a further 48 hour period before deletion when you can change your mind.
How to cancel the TSDates subscription?
Ensure your auto-renewal settings are disabled (refer to 'Billing History & Credit Card Info' in the Accounts section.)
How to contact TSDates?
You can message customer services via a standard web form.
Summary – do we recommend TSDates.com?
'More single, local transsexual hotties than any other site!' states the blurb on the landing page of this captivating and well-designed dating resource. Below this bold statement, there's an update of the membership stats, ensuring you get the picture that signing up to this website will mean joining a vibrant worldwide community. The number of members is a seriously impressive indication of how popular this dating outlet for trans (and other) individuals happens to be.
The site itself is in the way it represents the LGBT+ community, giving members a platform where they can feel relaxed and comfortable with meeting partners and generally interacting with kindred spirits. There are options for all sorts of relationships, from friendship to hookups to longer-lasting get-togethers. There are many free services available, and if you decide to upgrade to a fee-based membership, the prices are reasonable and tailored to individual activities.
Most Popular Sites

A large chat dating site, QuickFlirt is like a speed dating service for online flirting!

Together2night.com rewards singles looking to get frisky for a night. It's a viable platform that offers good search and interactive features that help you connect with like-minded people.

Onenightfreind.com is best for the bisexual singles searching for both quick hookups and long-term relationships. It claims that about 82% of its users are educated, thus are precise about what