Cute Winter Date Ideas Worth Trying
Make it a candle-lit evening
Why spend a small fortune at some pricey restaurant when you can have an equally romantic dinner at home? If you want to avoid the cooking, then call for a delicious takeaway meal. Why bother with the dishes later? Also, get a bottle of champagne, with your favorite music playing in the background. Set up a candle-lit table for two and enjoy a romantic conversation while peering into each other's eyes. Make it even more special by turning off the power and just let the candlelight add to the romantic experience! One heck of a way to spend a date in romantic bliss!
Cook a meal together
They say the best way to a man's heart is via his stomach! Hmm! Let's rephrase it and put it this way, the way to most peoples' hearts is via their belly! After all, who does not love a tasty meal? You could plan to cook a meal together, which is a very romantic way to connect and share the responsibility of making the venture a success. Someone would have to take the lead and try to choose a challenging but not over-complicated (unless one of you is a culinary wiz). Pair it with fine wine, and by dinner time, you will have a feast fit for royalty!
Have a spa night
How about giving each other some extra love and pampering? The kind that you get at one of those high-end spas. You could choose to have a spa professional pay you a home visit and give you the same experience as while visiting a spa. Alternatively, you could use any of those DIY spa packages available in the market to undergo a similar experience at a fraction of the price. From giving each other a sensual massage to using any of those exotic face packs, there so many ways by which you could enjoy a home spa experience together on a date.
Watch a movie marathon
When the mercury dips and things are cold and freezing outdoors, then staying at home on a date would be the obvious option. You could make it a lot more interesting for both by planning a movie marathon of all sorts. Choose two or three romantic movies that are classics and not seen by either earlier. Even if you have seen them, there is no harm in watching some classic again. Plan for an evening of uninterrupted viewing and accordingly get the right snacks and beverages to munch on while getting all mushy with each other. It will beat watching a movie at the cinema because of the intimate atmosphere of the home.
First Date Ideas for Winter Time
Hone your skills as a sculptor
Looking for a unique first date idea this winter? Ice sculpting is an art form that creates some of the most beautiful sculptures out of ice. While it takes a professional to create a masterpiece, you can make your first winter date special by signing up for an ice sculpting class conducted by a pro. The unique idea will floor your date, and you could learn the finer points of molding ice skillfully under the tutelage of an expert. It will be a one-of-a-kind winter date that few can lay claim to have accomplished!
Visit an ice-rink
Ice rinks are popular spots for first dates and if you fancy your abilities as a skater, then head over to the ice rink with your date. You could teach her the finer points if she is a novice ad impress her with your moves as you glide across the surface. On the other hand, if both are beginners, it will be a lot of fun with a few tumbles and plenty of laughs. There are classes generally offered for all levels, so both could sign up to learn the basics of ice skating from expert trainers as well. It could make for a very delightful first date.
Serve your local community
Are you someone that believes in giving back to the less fortunate people or those who are socially disadvantaged anyhow? There is no shortage of people living in poverty and going through tough times in any city or town. What is a better way to spend the first date than to head over as a couple to serve volunteering with your local charity or church relief group? Most of these organizations are always on the lookout for volunteers. Not only would you be doing your bit towards your hometown folks, but you can enjoy the company of each other and bond over a common desire to serve those that need help. From volunteering at a soup kitchen to helping veterans and the elderly, there are many ways to contribute to society.
Spend time hiking in the snow
If you are adventurous enough as a couple and willing to bear the chilly outdoors, consider going on a winter hike! While it not for those opposed to freezing weather, it is a wonderful way to get to admire the unsullied and incredible beauty of the winter landscape, clothed in its regal white winterwear. Yes, nature takes on a whole new mystical beauty when winter arrives, with snow bathing the land in beautiful layers. Head over to a wooded section of your area, and you will get to admire the amazing designs the plants and trees covered with snow create. Carry along some brandy or apple cider to keep warm while you stroll and explore the area at your own leisurely pace. Just make sure you are well padded up to be outdoors with good hiking boots.
Spend the evening gaming together
If gaming is something both of you enjoy, you could spend your first winter date doing just that! You could choose to do it outdoors at any game arcades or back at home on an Xbox console. Get competitive with each other and enjoy a variety of games accompanied by tasty tidbits much on. You need not go high tech but could even choose to play board games if you enjoy it. The main idea is to have fun, to enjoy each other's company, and get to build a rapport as a couple. Gaming is a great way to do just that as long as you do not mind if your partner is on a winning streak!
Cheap Winter Dates Can Be Fun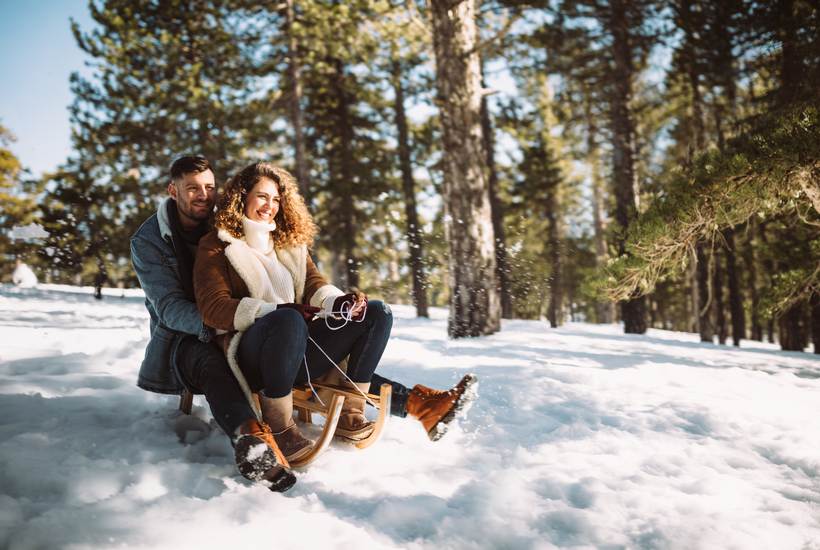 If you are looking for inexpensive date ideas this winter, read on:
Test your creativity
Okay, both of you decided to stay home on your winter date and wonder what to do? Apart from all the regular stuff like cuddling up and watching movies, having a fine meal, cooking together, etc., there is another way that you can be innovative and have a great time too. Yes, you can test your creativity and take up a DIY project. From assembling furniture to creating useful stuff for the home, there are many ready-made kits available in the supermarket. One does not need to be a rocket scientist to figure them out. It will be a nice way to work as a team, exchange ideas and have the satisfaction of having created something useful as a couple.
Cooking can be fun
Being a great cook comes with experience and knowledge. If both of you are foodies and open to the idea of brushing up your culinary skills, one of the best ways to spend a winter date is by signing up for a cookery class. If there is a particular type of food, you enjoy Japanese, Italian, Thai whatever join a class teaching how to cook just that. Learn from seasoned cooks how to turn out the most mouthwatering recipes while picking up the craft's finer points. All that knowledge will come in handy later when you rustle up the finest food together at home on other evenings.
Spend time thrift-shopping
Shopping is always fun, and it can even be inexpensive if you do not want to spend too much. There always are ways to economize, from using coupons to finding the best holiday deals around Christmas. Then there are the ever-dependable thrift stores where you can pick up great deals at drop-down prices. Go on a shopping spree with your date downtown and select some wonderful deals from various dealers. Put on your bargaining hat and be ready to haggle to get the best prices. Remember, it pays to bargain, so do not pay what they ask but try to beat them down in the price.
Spend cuddle time together by the hearth
A date does not always have to be busy with a whole lot of activities involved. It could just be quiet and peaceful with both partners cuddled up near the fireplace, just enjoying the warmth and comfort of each other's bodies pressed against each other. Perhaps there can be nothing quite as romantic and endearing as doing just that. Between intermittent periods of silence, you could soulfully look into each other's eyes and whisper sweet nothings in each other's ears. To make the ambiance even more sentimental have soft music play in the backdrop and switch off the lights so that the only light comes from the fireplace.
Head to the local theater
Another popular winter date with couples is heading over to the theater to catch the latest play or a musical. Choose a genre that interests you and watch a classic or something contemporary to spend an evening engrossed in entertainment. You could later head for a pizza or a meal. Look for last-minute deals to get low-priced tickets.
Romantic Winter Date Ideas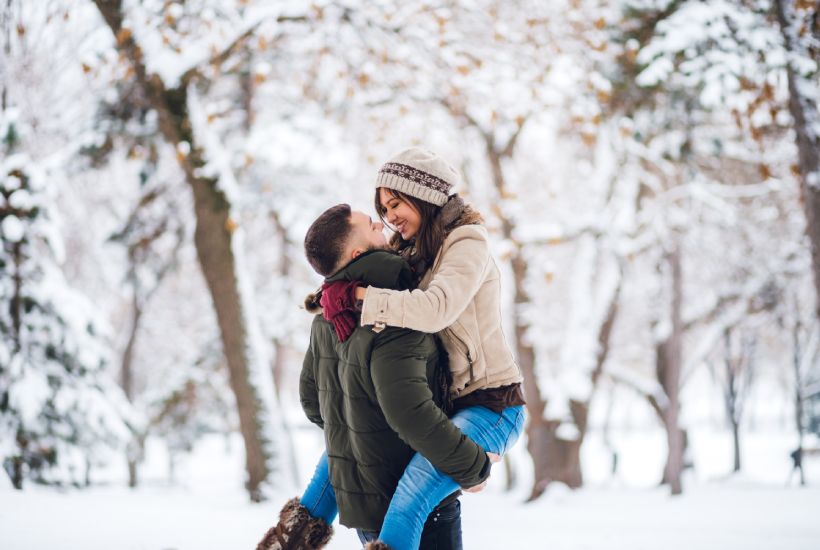 Consider a staycation
Looking for something different on your next winter date? Would you like to go on a holiday but do not have the time to spare? You could say bye-bye to the vacation and instead, hello to a great staycation! A staycation is when you need not leave town but check into a hotel or inn over the weekend or even for a night. You can enjoy all the luxury and comfort of staying at a hotel overseas without having to spend as much. Check-in on Friday evening and check out on Sunday morning or at noon. You get to enjoy a comfortable stay at a fraction of the cost of taking a holiday.
Have a sleepover at a museum
Many museums have introduced sleepovers as part of the late-night experience. It is an exciting way to tour the museum without the usual crowds and noise. There are themed tours among a host of other activities to get a unique tour of the place. Meals are included in most tours, along with a hearty breakfast in the morning fore you set off for home.
Go on a road trip
Among the more unusual winter date ideas is to take a road trip. If the road conditions are not too hazardous and the weather forecast is okay, going on a road trip would be a nice way to see the countryside and other areas you have not visited earlier. Book a table at a restaurant or food joint to grab a bite along the trip. You can always choose to get some food from home or even a takeaway along the route. Plan the ride and make sure your vehicle is in peak condition before starting the trip.
Check out related articles: