Some Cute Double Date Ideas for Couples Are
Visit an escape room
Looking for an activity that will keep all of you engaged and working as a team? Escape rooms are one of the newest gads trending, with new venues popping up almost daily in some city or town. The concept is simple the participants in a group must be at the ticking clock and get out of the room mostly in under 60 minutes. There are clues and hints found all over the room, and everyone must get innovative and focus on finding the right clues to help them get out. A race against the clock, the activity makes for a great double date idea with your best friend, and partners.
Cook a fantastic dinner together
If you fancy your culinary skills as a couple, then there could be nothing better than teaming up together to create a lavish meal. The same thing at a restaurant will cost a bomb, whereas if you cook together,, it will be economical and a fun thing to do. Plan a two or three-course meal together and take responsibility for the dishes you are confident of churning out like a pro. Those that are not too skilled at cooking could help with the ingredients and preparation and take care of wine to be served. Make it even more special with music and candles to create a romantic and cozy ambiance.
Take a road trip
Going on a road trip can always be a lot of fun, and doing it with the company makes the experience that much more special. Plan your trip to some new place that you have always wanted to visit and explore. Sightseeing along the various spots to stopping for a meal and drinks makes the itinerary lively and interesting. If you are lucky, you might even be able to do a bit of shopping and pick-up souvenirs of your visit to the local shops.
Bar hopping can be fun
Having a few drinks with an interesting company is a great way to unwind in the evenings. What better activity to choose than to go on a double date with your bestie and love partners? Hit a couple of bars in the area and enjoy a variety of drinks. Just make sure not to overdo it so that you can arrive back home in safety. Know your limits so that no one gets too drunk and messes up the evening either.
Plan an outdoor picnic
One of the most popular date ideas with couples is that of going on a picnic. This is even more enjoyable when done in great company! Who better to have with you than the two most important people in your life together? You could choose to cook a great meal if you visit a park or a garden with a dining spot with cooking permitted in the area. Or you could instead make it more convenient by getting a delicious picnic hamper with a bottle of champagne or fine wine to celebrate the occasion in style.
First Double Date Ideas
Okay, so you have decided to have another couple join you on a double date for the first time. When you choose to go on a double date, you need to choose the right person so that the dynamic between the couples is lively and fun. All those involved must feel relaxed in each other's company to make your date a success. A few cool first double date ideas include:
Visit a sports event
A sports event is great to go on a first double date for couples. Choose to get tickets for the latest basketball or college football games in town. While the dudes can chat about the finer points of the games and cheer the team on, the ladies can relax and have a couple of beers and enjoy the game or just have a great conversation about a variety of topics. The lively atmosphere and excitement all-around at a sports venue make it an incredible experience.
Enjoy a competitive sport
Playing a competitive sport together is another unique date idea worth trying. From teeing off for a few rounds of golf to having a tennis match where you can team up and play mixed doubles or in a team, it would be a nice way to enjoy each other's company and have a great time together. Being competitive is good, while it should not matter whether you lose or win. The main objective is to build camaraderie and bond together, doing something that everyone enjoys.
Do things you've never done in your city
You may live in a city all your life, but still, there are things you would have not done and places you have not visited. You can plan your first double date as if you'll are tourists visiting the city. Find out about the locations the others have not visited, including cultural sites, etc. Then plan an itinerary for the day with a bucket list of places to visit and things to do. Ensure you visit the places on the list and cover as many as you can without rushing it too much. After all, you should spend ample time at each location to sightsee and learn about the place.
Visit an amusement arcade or park
There is always an inner child within us all, no matter how old we may get. Channel your inner kid with your partner and the other couple by visit an amusement park or arcade to let loose. From riding roller coasters to playing retro games, just make sure you'll try your hand at everything. It is a terrific way to bond as a couple and as friends and can be such a refreshing change from behaving like stuck-up grown-ups. The bottom line is just to enjoy yourselves and get to connect in a non-habitual manner. A visit to such a venue will help to break the ice and communicate more freely.
Go biking around the city
We have become so accustomed to driving everywhere by cars that most of us have lost the habit of biking leisurely across the city or between destination. If the four of you already have road bikes, great, or else you can even rent them relatively cheap for a couple of hours. Go sightseeing around the city or just on a long bike trip out of town. Biking helps to see things with a new perspective, and you will get to have some very interesting conversations along the route. Apart from getting some needed exercise you also get to connect as couples with each other.
Creative Double Date Ideas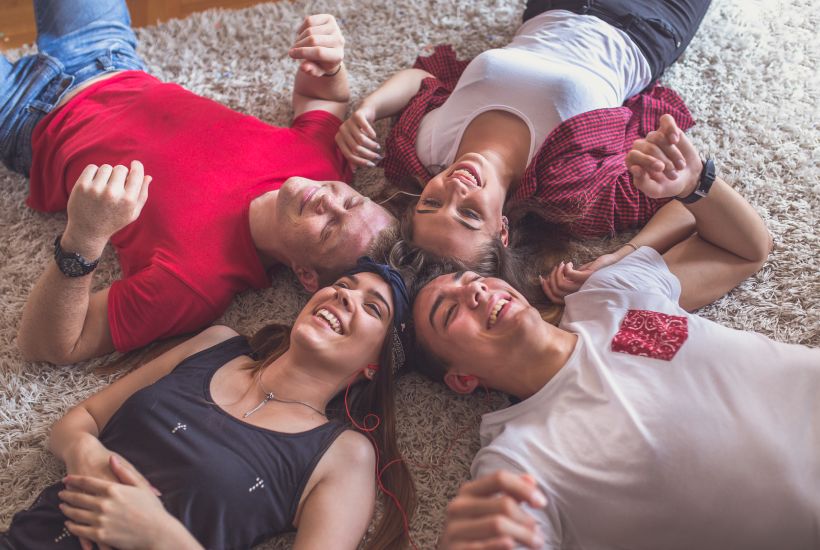 Head over to the beach
If you live at a location close to the sea, there is nothing quite like spending the day at the beach with your someone special, bestie, and partner in tow. When the weather is mild, then a refreshing swim followed by lounging at the beach is something to look forward to. Make it even more pleasurable by carrying food and drinks to enjoy a beachside picnic of sorts. Just make sure not to drink and go for a swim because it can pose a safety risk.
Make it a musical double date
If you are a great singer or just someone that enjoys singing off-tune in the bathroom, it does not matter. You could choose to visit a Karaoke bar where you can belt out your personal favorites to the accompanying background lyrics. If you want to make it more economical, host a karaoke night at home for the four of you and display your vocal talent (or lack of it). Either way, it will generate many laughs and be a great way to spend the evening together.
Enjoy an adventure activity
Doing an activity together will keep help to be engaged and help to serve as an icebreaker for couples' partners that may be meeting for the first time. Choose an activity that all four would be interested in doing, from rock climbing to hiking. Doing it together will build team spirit and strengthen the relationship with the possibility of doing more such activities together in the future.
Hit up the town during happy hours
Having drinks outside at a bar or club can be quite an expensive affair, and you could end up spending quite a large sum by the end of the evening. However, there is a more economical way to do it and have the same amount of fun. While you could still decide to share the tab at the end of the evening, choosing to go on a pub crawl during happy hours will help to buy drinks at half the price or even get a few free, e.g., buy two get one free. The only thing is you will have to adjust your timing to suit the happy hours of the establishment/s you plan to drink at.
Double Date Ideas for Married Couples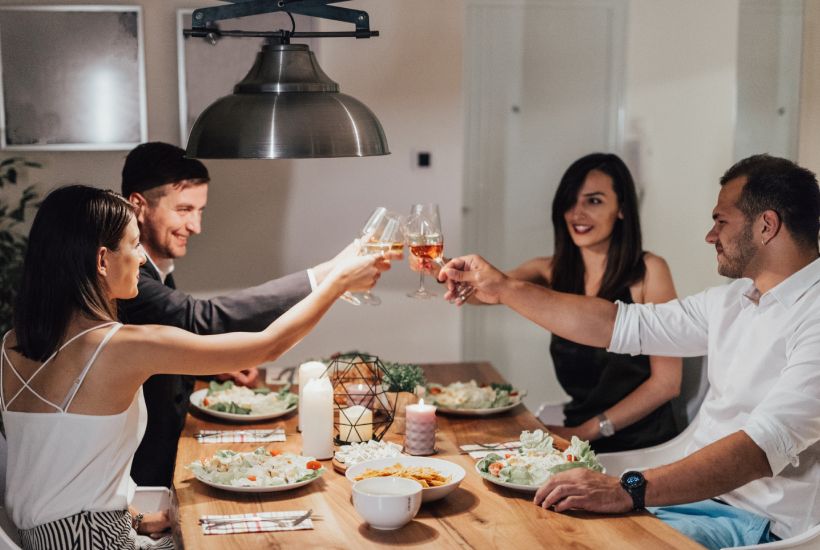 Go camping overnight
Remember the fun it was to go camping as kids with the family or with friends. Why miss out on all the excitement and fun just because you are now grown-up? You can have the same fun again with another couple as part of a double date. Plan a camping trip to a nice location nearby and spend a day or two at the weekend outdoors. Friday evening would be the best time to set out for the activity and carry your equipment, including tents and others. Another option is to rent out all the equipment from a camping rental company.
Enjoy a movie marathon at home
Movies are a wonderful entertainment source, and there is nothing better than watching a selection of movies together at home. If you intend to enjoy it as part of a double date, make sure you pick genres that interest all partners o that they remain engaged during the activity. After a marathon session of movie-watching, you can order food from your favorite takeout spot along with a few beers and wine to end the evening in high spirits.
Play board games at home.
There are so many boardgame options to choose from on a double date. You can save a packet on not going out and relive your childhood days once again by indulging in one of the favorite hobbies most of us had as kids - board games. From chess to monopoly, you can choose your favorites. Play against one another individually or choose to have a couple of teams, and soon you will travel back to time to when you were kids. In this time of social distancing, staying at home and enjoying a relaxing activity on a double date is highly recommended.
Check out related articles: