How to Set Up a Romantic Picnic?
But what should the picnic itself look like? What items should be on your romantic picnic list?
Romantic picnic basket food ideas
The main trouble with romantic picnics is you have to balance what's practical with something special. Submarine sandwiches are quite portable, but they're not exactly cute. (But hey, if you and your date like subs, go nuts.) Finger sandwiches are good; for some reason, sandwiches seem fancier when they're small. Charcuterie boards are very popular right now, but if you or your date are vegetarian, vegan, the meat is not a viable option. And if you or your date are Jewish or Muslim, then at least traditional charcuterie is out of the question as it's usually pork. (Avoid beef if your date is Hindu.) But picnics need not be heavy. Fresh fruit and vegetables are excellent. Grapes, watermelon, cantaloupe, or sliced apples are all great options. Oranges, while tasty, can be a bit messy. Cut vegetables and dip or hummus are also great. And if you're bringing dip or hummus, why not bring some crackers or chips as well.
What drinks should you put in your picnic basket?
For beverages, wine is an obvious choice if you and your date both drink and you're allowed to have a glass wherever you go. Red wine is great because you serve it at room temperature, and it pairs well with charcuterie. White wine would also work, but you'd have to find a way to chill it. This is true for sparkling wine also, but it's probably worth making the extra effort, especially if your romantic picnic is in celebration of something. But no rule says a romantic picnic must include wine; if you and your date like beer, get some nice craft beers. If you don't want to bring alcohol, sparkling water suggests all the sparkling wine's glamour but without any alcohol. Fruit juice would be a nice choice to echo youthful whimsy. Whatever you choose, soft drinks are probably a bad idea. You might love cola but save it for after the romantic picnic.
What else to put in a romantic picnic basket?
It's not all about food and drinks; don't forget the other essentials! A thick picnic blanket is imperative. You might even want to bring two if there's a chance you'll be sitting on damp ground. You can also get special, picnic-specific cutlery that's lightweight and very sharp. These are great for spreading condiments or soft cheese like brie or camembert. Napkins are also good. You might want to bring some paper towels or tissues just in case, but napkins are pretty important to create a proper picnic atmosphere.
What are Some Romantic Picnic Ideas for Couples?
Cute picnic ideas for couples are a dime a dozen. You need to decide what works for you and your lover. Packing a romantic picnic and then shuffling off to a beach when your partner hates sand is not a good idea. Furthermore, a good romantic picnic idea will be conditioned by your geography. If there's no beach nearby, but there is a great park in your city, then obviously, a romantic picnic for two in the park is more practical. To understand how best to have a romantic picnic, let's first look at your location options.
Romantic Backyard Picnic Ideas
If you have a backyard, you have more flexibility. Some might consider this to be a bit of a cop-out. After all, you're not going anywhere, so should it be on this romantic picnic list? It should! For one, you can put in the work to make it special. Second, not everybody has other options. Maybe you're a high school student with your first boyfriend, and you're not allowed to stay out late; a backyard picnic is a fun and practical option. The same is true if you're married with kids and you both work. Do you have time to go hiking off to a beach in the middle of the day, just the two of you? Probably not. But sitting under the stars eating a carefully crafted charcuterie board or fresh fruit and crackers can be very relaxing and romantic.
Romantic Park Picnic Ideas
If your city or town has some nice urban parks, you should make use of them. Try to find a secluded area or go at a time when it's not very busy. And don't forget the picnic blanket! The grass is often damp, and you don't want your clothes to get wet. If, your city, has a museum, government building, or a similar attraction, check out space around it. Many of these buildings often have public lawns on which you can have a picnic. And you can easily pair it with a museum visit; that's the perfect romantic picnic date for a lot of couples.
Romantic Forest Picnic Ideas
If you and your boyfriend/girlfriend/partner love nature, try to make it out to a forest or wood. A campground can work if it's not too far, but hopefully, you'll be able to go somewhere close by. This kind of picnic works well if you want to combine it with a hike, birdwatching, or other outdoor activity.
Cute Picnic Ideas for a Girlfriend
All women, men, boys, and girls are different. As a general rule, women tend to appreciate fancier, more refined items and activities than men. If you're concerned that your romantic picnic date ideas won't impress your girlfriend, all it takes is a little extra effort. It's not practical for all picnic ideas, but you could dress up for your picnic; wear a suit and encourage her to wear something nice. Just make sure to bring a thick picnic blanket. And get some special foods or drink you don't normally consume.
Cute Picnic Ideas for a Sporty Girlfriend
Some women are dainty and delicate, but others want to get into nature and get a little dirty. The perfect romantic picnic idea for her could be soft cheese and wine, or it could be a brief break in a mountain bike trek. Swimming, beach volleyball, rollerblading, hiking, and cycling are physical activities that go well with picnics.
Cute Picnic Ideas for Your Boyfriend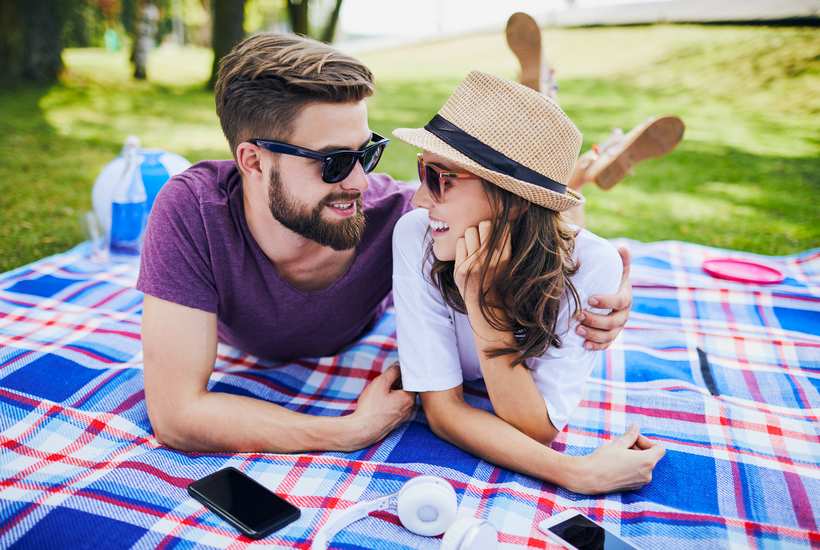 Hey, no rule says guys have to plan picnic dates for their girls. Maybe you want to surprise your beaux with an awesome romantic picnic. What should you do? Well, there's not that much different you would need to do for a boyfriend, to be honest. The romantic picnic list is largely gender-neutral. However, if it's early on in the relationship and your new boyfriend seems like he might not want to spend his day sitting under a tree and eating little sandwiches, you do have other options. You can bring cards or a small boardgame to play. Some guys love to talk, but others are a bit quieter. Maybe your new man is shy or is maybe the strong silent type. Sitting in nature with nothing to say can be nice. . .or it can be awkward. Try to think of what he's interested in and think of a way to talk about that. Or bring a trivia game or something similar.
The Perfect Romantic Picnic
There is no universal perfect romantic picnic. What's perfect for you and your date depends on your interests and where you live. The best thing to remember about romantic picnics is that they're supposed to be cute and fun, not serious affairs. You don't need to plan every single detail. Allow plans to change and be easy and breezy about it. Try to pick a day with good weather, figure out a least a few of the foods or drinks your date likes, plan for some kind of activity along with the romantic picnic, and you should be good to go! Romantic picnics aren't about being perfect, they're about enjoying each other's company outdoors and having fun. So, have fun!
Romantic Beach Picnic Ideas for Your Joy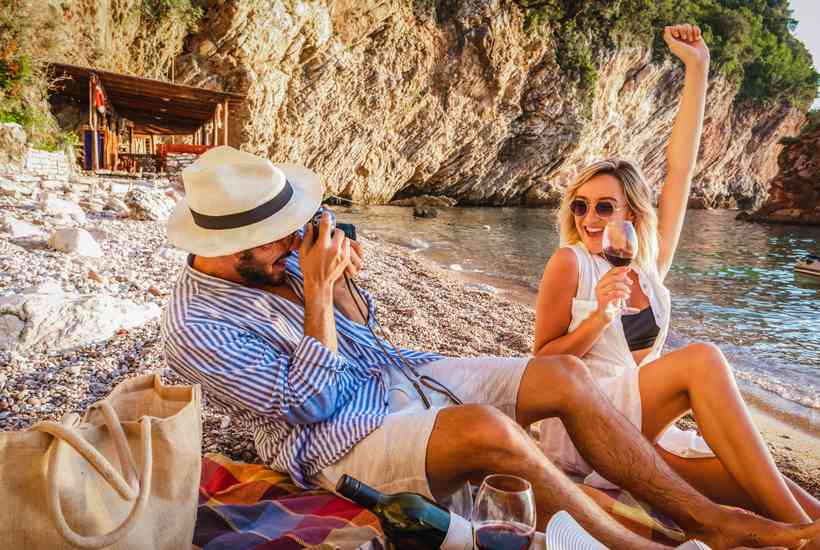 If there's a beach in your town or you have access to a car and can drive to one, a beach is usually a good place for a romantic outdoor picnic. A lot of people think the perfect romantic picnic should be a surprise. Surprises can be nice, but they're not always practical, like, say, at the beach. But here's what you can do. Tell your beloved that you're going to have a beach day and that they should bring their swimsuit and towel. If you have a vehicle, furtively pack a delectable picnic in the trunk. Then, after you've both enjoyed some swimming and they're looking for a snack, you pull out a full picnic basket full of sandwiches, fresh fruit, wine, chips, or whatever else you two like.
Romantic beach picnic idea
The surprise beach picnic idea won't work for everybody. Instead, you can be upfront that it's a picnic, but you can have a few other tricks up your sleeve. Bring a pale and spade and you two can rediscover your inner children and make sandcastles. Bring a deck of cards to play cards or maybe a board game. The great thing about this beach picnic plan is that you don't need warm weather to enjoy it (though you should bring a large parasol just in case it rains).
Romantic beach picnic idea
We generally think of beaches as they are in the daytime, but the beach is great for romantic picnic ideas at night. If anything, the beach is more romantic at night, isn't it? There are fewer people, for one. The crash of the waves in the dark is both peaceful and awe-inspiring. If you time it right, you can watch the sun go down over the water as you eat your meals. Then break out a bottle of wine, juice, sparkling water, or whatever is your drink of choice and enjoy it in the pale moonlight with the gentle sound of the water providing the soundtrack. What could be more romantic than that?
Check out related articles: