How to Take a Good Profile Picture
So how to develop this skill of taking mind-blowing photos of yourself that will make other people gasp? Everyone knows that the first step to creating an attractive profile is to post an eye-catching picture that'll make your profile irresistible! Because, let's be honest, first impressions definitely matter when talking about online profiles at any given platform. If the eyes are the window to the soul, then a good profile picture is the window to your personality! Since people online won't know anything about you at first glance besides how you look, your profile picture can make or break the connections you make on the Internet. So bring out your pad (or phone!) and take down notes from this complete guide on how to take the perfect profile picture.
How to Take the Perfect Profile Picture: Best Tips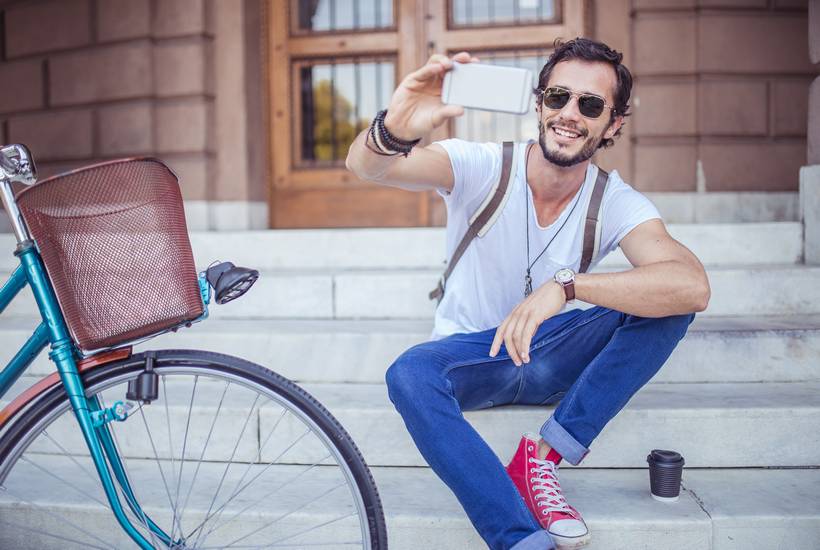 Whether you like it or not, making an impression on the Internet starts with a good profile picture. People can easily judge you based on your appearance, and that is true. Are you a fiercely confident chick or a cheerful and bubbly person? Your profile picture can totally expose a few hints about who you are. What's good about posting your own photos? Taking as many shots as you like, making a few tweaks here and there, and choosing only the best to post on your account.
Taking good pictures for your profile pic is basic science! With the right angles and a techy device to capture your smile, you will no longer need to hire a professional to take flawless photos. You can be your own personal photographer and snap a couple of profile-pic-worthy pictures with the help of these tips!
Show your face clearly
This may sound like an obvious fact for every person online, but some people do still make the mistake of using other images besides their face and call it "a good profile picture." Yes, you can show off your cute dog, your plant child, or your favorite movie character, but better save it for the likes and dislikes area and focus on showing a clear image of your face. That's what makes a good account picture.
Smile!
Another no-brainer for active people online, smiling is the best when taking a good profile picture. Your goal for creating an account is to meet people, make connections, or start relationships. Nothing speaks friendly more than a bright, inviting smile.
Use a simple background
It's natural to show a glimpse of your life in the background of your profile picture, but make sure it doesn't take the focus away from your pretty face. You are the star here! Whether you're in the middle of lush greens in the outdoors or sitting in your bedroom, keep the background simple.
Use a recent photo
You wouldn't want people not recognizing you once it's to meet face to face. A good profile picture is one that's taken recently, from your latest trip or from that party you attended last week, not from your cousin's wedding five years ago.
Use a high-quality camera
Investing in a good camera doesn't mean buying the latest equipment with the most expensive lens. It simply means to try using a device with a camera quality good enough to take clear, non-blurry photos. Your smartphone can work just as well as a bulky, expensive camera. If you don't have much choice, just try to amp up your photo using an editing application and some cute filters. But even with a good camera, you should still expect to spend at least an hour taking some good pictures.
Lighting matters
Bad lighting can hide your good features, make you look tired, or highlight your flaws. But plenty of ways can be done to achieve good lighting. Get one of those trending ring lights or purchase a professional lighting kit. Or if you've got a tight budget, go outdoors and make use of the best lighting source for good account pictures - natural light.
Avoid using too many filters
Getting ahead of yourself with filters and Photoshop can actually do bad to your profile picture. Over-the-top filters just make your photo unappealing and take away the focus from your face. Besides, those makeup filters can end up making you unrecognizable.
Strike a pose with your perfect angle
Figuring out your angle or good side can take time. You can only learn this by seeking outside advice or after taking hundreds of picture-perfect shots. Still, finding the perfect angle or pose will make your profile picture look natural and effortless. (Hint: The left side of your face is more likable!)
Edit before posting
No, we don't mean just adding cute filters and stickers to your selfies. The right editing will eliminate imperfections on the skin and enhance your most prominent features. Paid and free photo editing software applications are readily available through your smartphone or computer.
Follow These 5 Steps to Take Good Pictures for Profile Pic
There's no strict rule when it comes to capturing your beautiful look. But anyone who has taken photos of themselves knows that there are basic steps you can follow to make sure your profile picture turns out good enough to get posted.
1. Select a concept or theme.
Do you want to look a bit mysterious? Do you want to showcase your bright personality with rainbows and bold colors? Choosing a certain mood will give onlookers a glimpse of your unique personality. Anyone attracted to your vibe can immediately tell that you're one interesting gal!
2. Dress up!
Whether you're doing a basic selfie or want to show off your physique, a good outfit goes a long way. It's a good excuse to get all dolled-up without actually going out!
3. Find a cool location.
A part of choosing the location for a good profile picture is finding the right lighting. Look for a spot with an open shade where the sun doesn't shine directly on you. Consider the colors and objects in the background and see if they reflect your personality. Plain or patterned walls are good choices. Make sure the background doesn't overpower so that you remain as the focus of the photo.
4. Figure out your angle or strike a flattering pose.
Try all sorts of angles and poses until you find one that looks the most flattering. Play around with emotions and different smiles. Try out those poses you see from your favorite models and influencers and see how the pros do it. Looking at other people's profile pictures can be used as inspiration!
5. Set up your camera.
For the last step, you can do this all by yourself or ask for the help of a friend or your wannabe photographer partner. Having someone familiar with your best angles can make your profile picture shoot get finished on a whim. Or, you can set up the timer for a DIY photoshoot. After all, no one knows your angles better than you do.
Influencer-Inspired Ideas on How to Take a Good Profile Picture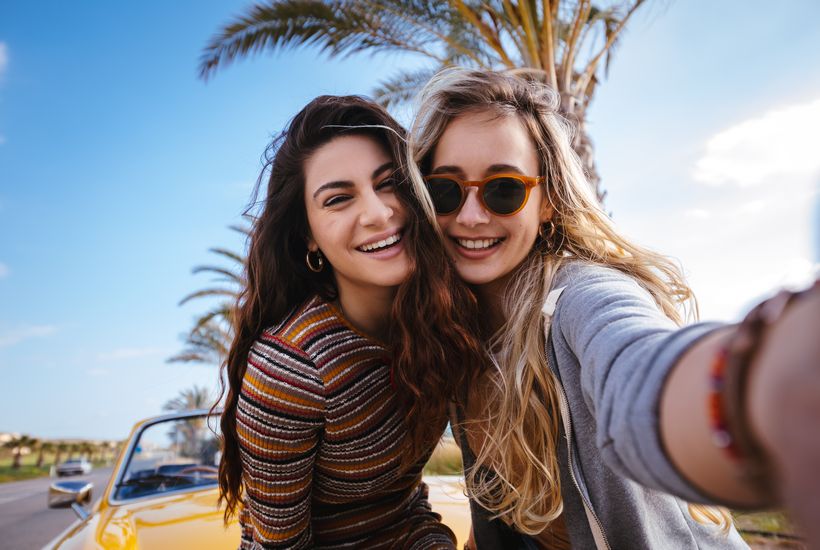 Ever wondered how celebrities take flawless pictures for social media platforms? They may have hired professionals to direct their poses or use high-quality cameras, but you don't have to go to great lengths to take a good profile picture. Take these ideas as inspiration, and you'll be looking like a model on your profile in no time!
Look away from the camera. This works for the shy type who wants to look cute.
Capture your candid laugh. Have your friend tell you a joke or a funny story right before clicking the camera button. Nothing is better than showing your real smile.
Match your outfit with your background. Try out different shades and patterns.
Make a collage of your best shots when you just can't choose one. This concept is great for showing your goofy smiles.
Show off your side profile to highlight your facial features. Your jaws and nose will be the star of your picture!
Look over your shoulder with a fierce look or a confident smile! This is a go-to model pose.
Show your foodie side and take a picture of you with your comfort food. You can be sitting beside a table with your cup of coffee or munching on snacks while standing up.
Surround yourself with flowers for a timeless, pretty look. It's all about the aesthetic.
Add some leafy greens in the background for nature lovers.
Pose with your pet! You will definitely catch the attention of other animal lovers.
Play around with different shadows to add drama.
Pose with a famous landmark from one of your travels. Show your adventurous side!
Take some daring bikini photos from your last trip to the beach. Or you can just lay down while getting a tan and sipping on a tropical drink.
Add a black and white filter for a sexy profile picture without having to show some skin.
Strike a pose in front of a bright, colorful wall. You can find some cool graffiti in hidden alleys.
Take a fancy photo of you in your outfit from a recent party to remember that fun night.
Play around with the flash feature and take a snapshot in a dark spot - vintage style!
Take a picture of your casual OOTD before going out.
Capture a mirror selfie when you're all dressed up for an event. Suit up!
So how is it feels now, knowing all the hidden tricks of taking perfect Insta-style pictures? Feeling inspired yet? Then dress up, choose the best location, grab your smartphone, and go take some awesome pictures now!
Check out related articles: