Interesting Text Messages to Get Her Attention
How do you get a girl's attention? One of the easiest ways to achieve this is through texting. You might need to first establish an online connection before proceeding to arrange a date to meet. For you to have the chance to secure a date with her, you must have gotten her attention and probably made her laugh and happy through your chats. Tons of guys lack this and don't know what to write to a woman to get her attention. If you belong to this category of men, you have come to the right place. You will learn some of the most useful tricks and tips you can utilize while texting.
Whether you just came across this attractive lady on a dating site or you have known each other for a while, you can always gain her attention if you follow the advice on this page. Once you text a girl rightly, you will get her attention, and she will be willing to go out with you. Read on to find out what you seek.
Text Messages to Spark Her Interest
People nowadays no longer have an interest in calling if it isn't something urgent. Guys prefer to text and enjoy a lengthy and interesting conversation instead of short phone calls. Also, some guys are shy and don't really know what to say while talking to a lady but somehow feel convenient while chatting with her instead. The probability of you chatting with a girl you like very soon is high. Also, there are certain texts that you may use to get a girl's attention and spark her interest. If you are interested in texts to send her to keep her interested. Some examples are;
You make me feel like I have a purpose in life.
I prefer being by your side to any other place else
Nothing brings joy to my heart than seeing you smile
Do you wish to know my definition of Perfect? You are
You are going to make a pretty mom
It hurts me that you don't know how awesome you are
I'm so happy to have come across you in this life
The above are things to say to keep a girl interested in you. If you are looking for text messages to spark her interest, try one or a combination of any of the above and watch how you gain her attention.
How to Get a Girl Happy Over Text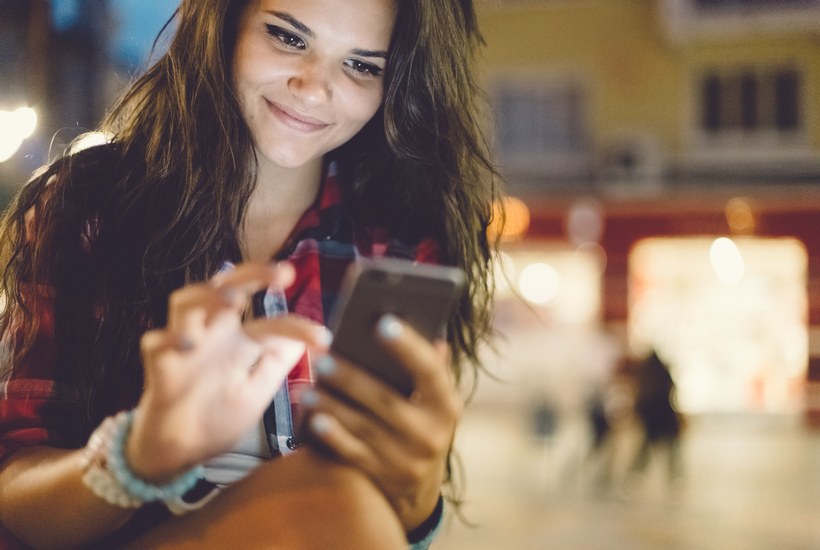 You might think it is hard to make a girl feel better over text; actually, it isn't. Some people find it easier to get a girl happy when they are with them in-person. However, doing this via text can be very simple if you know what to do exactly. You can send them one of your favorite jokes that don't fail or send memes or GIFs to cheer them up. If you do any of this, you will actually put a smile on their face, increasing the chances of getting their attention. To get a girl happy over text, you can do any of the following below;
Send Good Jokes
One of the best ways to make someone laugh, either in-person or via text, is by sending them funny jokes. You might have a beloved joke that usually leaves people rolling on the floor whenever you tell it; try to send it to the girl just to put a smile on her face. If you don't have a particular joke in mind, you can always google out funny jokes. Browse through the jokes and pick anyone you find hilarious and send it to her to make her feel better. If you do this from time to time, you will surely get her attention.
Send Funny GIF
You will find some hilarious GIFs on the internet, GIFs that will crack her up and leave her rolling on the floor. Find the appropriate ones and send them to her. You can also create your personal own if you can't find an appropriate one. Send to her after creating and wait for her response. Sending a hilarious GIF to a girl can make her feel better and develop an interest in you.
Offer Your Help
Girls are always happy when they find someone who shows concern and willing to help them. You can render your help to her by asking if you could assist her with any general errands she might need help with. There are lots of ways you can offer your assistance to a lady. It could be to help them fix a minor bug on their laptop or set up an app on their smartphone. Offering your help and time is one of the ways to make a girl feel better over text.
Give Sincere Compliments
Offering a sincere compliment is one of the best ways to make a girl feel better over text. If you want to make her smile and happy, you can say some nice things about her. For instance, you could compliment her smile. You could say she has an attractive smile. When you compliment ladies, it makes them feel loved and happy from the inside. Also, offering compliments is a way of letting her know you are interested in her. Making a girl happy over text is very simple; you don't have to see it as problematic. Say some true, obvious, and pleasant things about her, and she will definitely be happy.
Funny Texts to Get Her Attention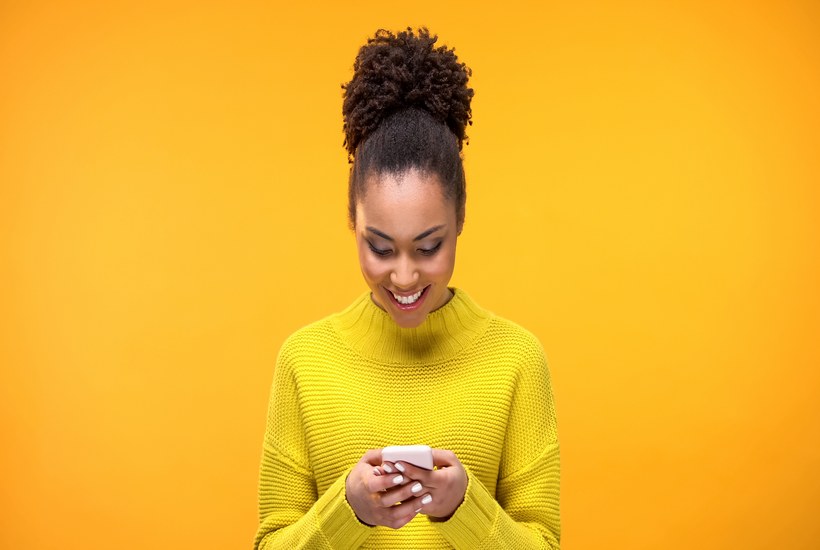 Whether you are in a relationship or looking to get the attention of an attractive woman you recently came across, it is crucial to have the right communication skills. You could say lots of things and some that you shouldn't say when it comes to getting a lady's attention. Ladies love a good sense of humor; therefore, sending funny texts can put a smile on her face and spark her interest. Do you know some funny texts to get her attention? Once you know the funny texts, you can text a girl, you can always use them whenever needed. Some examples include;
I always picture us together even though I'm not an expert photographer.
I find myself lost whenever I look at you; have you got a map?
Kindly call the ambulance because a cutie just fell from the sky.
You are so hot that you spoilt the thermometer.
Hey. Where did you learn how to drive because you keep driving me crazy?
Sending her any of these funny texts will surely get her attention. Then you can take it up from here. Getting her attention is the hard part. Once you have her attention, you are good to go.
Cute Things to Text a Girl You Like
The texting of perfect words, in the right manner, at the appropriate time, with the right intention, and to the right person is magical. If you like a girl, you can convey your feelings or interests through the use of words. There are different kinds of stuff to text a girl you like that will actually get her attention. Nothing beats waking up in the morning to pick up your phone to read cute messages from someone you like. To get your dream girl, you can actually get her attention by sending cute messages to her. If you don't know what to text a girl you like randomly, below are a few.
I really can't keep your thoughts out of my head.
I've been happier since you started to pay attention to me.
I feel delighted whenever I'm with you.
Mere words can't describe how amazing you are.
I miss you; I can't wait to go out on a date with you soon.
Nothing or no one can change my opinion of you.
Words are very powerful, and the right words can brighten up your crush's day and therefore gain her attention. Try sending any of the above cute texts to that girl you like.
Conclusion
Getting a girl's attention in the chat is very simple, as you can see. It is not a difficult task as you have always pictured. Just try as much as possible to be yourself while following some of the tips listed above. You can say lots of things to spark a girl's interest, and there are funny texts and cute messages you can send to a girl that will get you her attention. As long as you follow the tips given in this article, you are good to go. You can utilize them in achieving your aim of getting a girl's attention over text.
Check out related articles: