Chappy – We Review the Popular Dating Sites of 2020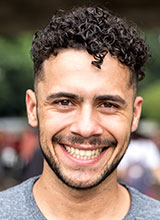 Owned by Bumble, ChappyApp is a gay male dating app and the fastest growing gay dating service in the UK, looking to expand more globally soon.
Looking for a Dating Site? Read a Review of ChappyApp.com
Five facts about Chappy
Fully redesigned and updated interface
Fast registration with just one-click
Create your account directly from Facebook
Match suggestions created based on your location
Merged with the Bumble platform in 2020
The Idea Behind ChappyApp.com
How does ChappyApp.com work? The process is simple; create an account directly from your Facebook profile, and import your basic profile info and photo. The ChappyApp.com experience is geared towards making matches with gay guys in your nearby area, and so relies on your GPS and location services being turned on! Through our dating site review, we will share our conclusions about how well the app works, and whether it is your best option to meet gay dates.
The Pros of Chappy
Very fast registration process direct from your Facebook profile
Free app download
Dedicated gay dating site
Works with an advanced GPS algorithm to match you with men nearby
Features a unique Chappy Scale to help rate matches and refine your results
The Cons of Chappy
Profiles don't contain as much detailed information as some sites
You can't create an account if you do not have a Facebook profile
No search options as the app works on location matching
Member Structure
ChappyApp.com works using your location to find gay men closeby and prompts you to rate potential matches on the Chappy Scale. The majority of ChappyApp.com single gay men are in the UK or US, although the brand hopes to be expanding the app to other countries soon. As a dedicated gay dating site, ChappyApp.com features solely gay men, so you won't find any irrelevant matches here! Most users are in a younger age bracket, although the app mainly features profiles of men looking to date or find a relationship partner, rather than a quick hookup.
Registration
The sign-up process couldn't be easier. Chappy recently joined Bumble, so you might find the app under their new name. To create a profile, you simply enter your mobile number or log in via Facebook, and your dating profile and photo are automatically completed with details from your Facebook profile. You can add more information as you register, although there is limited space for details, and add profile questions to help make your searches more relevant. As a mobile web app, Chappy works through your mobile device with a simple mobile login. Once your account is live, you can use your member login at any time to update your profile, chat with matches or check out any new suggestions.
Functionality
How to Search on ChappyApp.com? If you are a new user and are figuring out how to use the ChappyApp.com search function, you'll be pleasantly surprised by how easy this is! The app uses the Chappy Scale, which is a clever tool to help manage expectations and allow you to define what sort of matches you are looking for. The scale features three options; 'cute', 'sexy' or 'who knows'. These indicate whether you are looking for a hot date, or a serious relationship – with a wildcard thrown in if you're not sure! Location matches can be somewhat random, and you can't run a separate search by city since the app does this for you and identifies men nearby to make suggestions. When you receive prompts, you can use the suggestion to search the profiles of the recommended guys, and then decide whether to swipe right to match with that person. Their info will automatically be sent to your inbox, so you won't need to search by username to track them down!
Making contact
Once the matching system has sent you a suggestion, and you both swipe right to say you are interested in each other, your details will be sent to your inbox so you can start chatting as soon as you like. ChappyApp.com is a rather direct site, so you won't find gimmicks like virtual gifts, but if you need some first message tips you can check out the dating advice at the Bumble BeeHive to get started.
The App
One of the plus points of the Bumble and ChappyApp merger is that the app is now available on both Android and iOS! If you can't find the app in the Google or Apple app stores, that means that it isn't yet available in your country. There is a tonne of app features such as SuperSwipe to indicate that you are extremely interested in somebody, and the BeeHive is a space full of advice, tips, and suggestions. The app design itself is user friendly, easy to navigate and an intuitive interface so it doesn't take a lot of time to get used to.
Special Features
Our favorite feature was BumbleBizz, where you can meet people in the local area as business contacts rather than romantic interests. Likewise, BumbleBFF is designed for users who are looking to meet new mates or find a new social circle, which makes the app multi-purpose whether you are single or not.
Pricing Plans
BumbleBoost subscription prices:
1 week - $8.99
1 month - $24.99
3 months - $49.99
Lifetime subscription - $139.99 one-off payment
Free services
Registering and creating your profile
Receiving match suggestions and swiping left or right
Messaging and chat service
Fee-based services:
Extended connections with extra time to respond
SuperSwipe function
Recovering expired connections (or if you've changed your mind!)
Check out who swiped right on you
Payment methods – the subscription is payable through the App Store or Google Play and can be paid with any card, PayPal, GooglePay or wallet depending on which operating system you have on your mobile device.
Common questions and their answers
Who owns ChappyApp.com?
As of 2020, ChappyApp has merged with Bumble to create a larger and more inclusive dating platform. However, this remains free to use and has kept all the best app features as well as keeping all the messaging services and matching available on a free subscription.
Is ChappyApp.com legit?
Bumble, the new home of ChappyApp.com has fewer fake profiles than nearly all dating apps. It is a secure site, although you should note that your profile photos are public, so any users can see them. Using your Facebook account data means that accounts are verified at the point of registration, and a site with over 900,000 visits per month, it is definitely legit!
Is ChappyApp.com a free dating site?
This is one of the biggest selling points – all Bumble dating services, including the incorporated ChappyApp.com gay dating platform – are free to use. There are options to upgrade to access additional features if you wish, but the main services are all free to use so most users will probably decide not to add any paid subscription services.
How to delete a ChappyApp.com account?
The customer service support on Bumble, the new home of ChappyApp, is very responsive and most tasks such as deleting your account can be done online. You can opt to Snooze your account temporarily or Delete your profile completely. Both options can be accessed through the Settings menu at the top of the app.
How to contact ChappyApp.com?
Bumble doesn't have a phone number, but they do have a support service available around the clock. You can contact support directly through the app, using the 'Contact & FAQ' button. Alternatively, you can email the support team through their contact page on the website, or message them directly through either Facebook or Twitter.
Summary – do we recommend ChappyApp.com ?
ChappyApp.com might have changed their branding, but the dating site remains one of the easiest and most reputable apps for gay dating. The search function lets it down a little, but if you create your profile carefully and take the time to select all the important preferences, you should receive at least some suitable matches. These are based on GPS location, so if you are traveling or moving around you will continue to meet new people on your journey! The system is a really simple swipe left or right, and with all the matching and messaging options available on a free subscription, it offers great value for money!
Most Popular Sites

Benaughty.com lets you get right into the fun dating experience. It encourages a naughty community of singles and couples. Its selling point is simplicity and delivering results with its search functions and communication features.

Cupid.com is one of the leading gay dating sites that successfully brings single gay men together around the globe. If you are searching to date or love a lifetime partner, this is the best platform for you.

A large chat dating site, QuickFlirt is like a speed dating service for online flirting!