Read this Review for EasySex, the Top Casual Dating Resource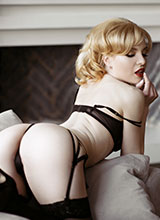 Easysex.com is an adult dating site where singles come to find people who have the same hookup goals. Its open to straight, gay and lesbians. Everyone is thus sure to meet someone they can chat and embark on a journey of their desired fantasies.
Five Facts about EasySex
Free and easy registration
Site members sign up to seek out partners for hookups, not partnerships
Wide range of services available to basic members
Webcam chatting enabled
Newsfeed to keep you completely up-to-date with relevant headings
About EasySex
If you're seeking a prospective partner for a relationship, you would be best advised to avoid EasySex. This website is all about casual encounters and one-night sex, introducing kindred spirits so they can enjoy get-togethers with minimal hassle. So how does EasySex work? It provides an informal platform that allows people to meet potential mates by using appropriate search parameters and checking out their profiles. This EasySex dating site review will give an overview of this site in terms of its main functions and services. How do we rate the EasySex experience?
The Pros of EasySex
Free to register and browse, and you can check out lists of hottest members as often as you like
Newsfeed allows you to keep tabs on activity on your page
High-quality mobile version
The Cons of EasySex
Some users disclose less key profile facts than others
Member Structure
EasySex is a popular casual dating site, with around 290,000 active members from the USA. There are almost 60,000 active weekly users, and the gender ratio is about 56% male to 44% female.
Registration
The registration process is simply a case of completing a question. The first question covers the options: Are you a man looking for a woman? A man looking for a couple, a man looking for a gay partner, a woman looking for a man, a woman looking for a couple, a woman looking for a lesbian, a couple looking for a woman, a couple looking for a man, or a couple looking for a couple?
When you click on 'next,' you are taken to the second question - What's your preference from the following choices? Young and legal, milfs, sugar babies, Caucasian, Black, Latino, or bi-racial/multi-racial?
Question three covers body type. Are you attracted to muscular, curvy, skinny, fit people, or it doesn't matter? Then a question about the kind of hookup you are looking for. Is it no-strings-attached, affair, one-night stand, a friend with benefits, a long-term relationship, a casual hookup, or a sugar relationship? The fifth question covers your preferred location for a hookup - your country, state, and city. Question six invites you to input your email address and choose a username. Here you must also agree to the various disclaimers listed at the bottom of the page about terms and conditions, and you also agreed to receive promotional emails. As soon as you have completed these questions, you need to input your credit card details, with the proviso that your card will not be charged for free access membership. A list of free upgrade features is provided for your information.
Functionality
Search tools
When you go to the main page, a series of profile photographs emerge. These are headed up 'cam.' When you click on these profiles, you come to several escorts.
The left-hand panel is headed 'members.' There is a homepage, then you can click on local matches or find who's on cam. You can also search through member's videos or check out hottest members, new members, or friends, or you can also enter the hookup forum.
To assist your search, you can consult the basic profile of the models. This contains personal information such as their age, birthday, and details about appearance, and location. An 'about me' section is written by the model. It includes pictures to entice you to look further, as well as paragraphs about what the model's preferences are, and the type of performance you can request. There are four broad categories here - turn-ons, turn-offs, kinky attributes, and fetishes. You also have the opportunity to peruse a model's reviews. Star ratings are given by members of the site, as well as comments that will provide you with an even more exciting understanding of their attributes.
Models can be presented with a virtual gift at any time. Another useful function is being able to view a display of all the gifts any model has received for her performances. Further insight can be gleaned by checking out the model's activities. Have they uploaded a recorded show or any recent photos?
Making contact
The model profile contains various contacting buttons - chatroom, tipping, and accessing photo galleries. This information is readily accessed at the top of their profile details. When you decided you'd like to contact a model using any of these methods, your first option is the join the chat room. Here you can exchange messages, not just with the model, but also with fellow site users. If you'd like to get involved in a private chat, this is easily done. All you have to is pay the required amount of tokens. These chats will generally commence at a rate of 50 tokens for one minute of private chat. An even more interactive way of making contact with a model is to use any of the interactive toy options. Here you can take control of the action directly, using tokens to get their vibrator to buzz or controlling the frequency.
Tipping and the exchanging of virtual gifts are also central to the ethos on EasySex. This is where you can develop a strong rapport with models, earning a reputation as a reliable customer, and encouraging your model to go the extra mile with the show. The amount of tokens you choose to use is entirely up to you, the only aspect of this you need to keep your eye on is that your supply of tokens remains topped up. When you give them gifts, this will be noted in the appropriate part of the page.
App
Yes, there's an EasySex app available to download, but via the site rather than conventional app stores.
Features
As well as choosing the sexual orientation and personal sex preferences of prospective partners, you can access text chat or video chat with your subject at a couple of clicks. Not only can you reach out to make connections in this way, but EasySex also has lots of scintillating hot videos of users for you to check out.
Pricing Plans
List of EasySex pricing:
Standard membership
100 credits - $12.00 ($0.12 per credit)
250 credits - $26.00 ($0.10 per credit)
500 credits - $50.00 ($0.10 per credit)
1,000 credits - $99.00 ($0.10 per credit)
Premiere membership
One month - $19.99
Three months - $13.99 (total $41.97)
Free services:
Browse profiles of live models
Watch free live shows
Enter chat room
Add models to favorites
Account registration
Free services
One-on-one private chats
Browse member's photo gallery
Watch recorded shows
Interact on live videos
Watch nude shows
Payment Methods
Credit cards.
Common questions and their answers
What is EasySex?
As the name implies, EasySex is a platform for people who want to get together to enjoy instant passion rather than seek long-term partners.
Who owns EasySex?
Kamparri Trading Ltd., Nicosia, Cyprus.
Is EasySex legit?
Yes, this is a legitimate site, operating with the full consent of its tens of thousands of satisfied members.
Is EasySex a free dating site?
Certain functions are free, but like most dating sites, you need to go professional to make maximum use of the functionality.
How much does EasySex cost?
Prices for one month start at $19.99, which is very reasonable.
How to delete the EasySex account?
Go to your account settings and choose the appropriate command. After clicking this button, you are required to confirm your action as it cannot be undone.
How to cancel the EasySex subscription?
Before at least five days, your subscription is due for renewal, write to the support@EasySex.com and inform them you wish to cancel your subscription.
How to contact EasySex?
Use the email contact details published on the site – support@EasySex.com.
Summary
EasySex is clear about its intentions from the outset. There is what is called a 'warning' on the landing page that this is not a traditional dating site. The further proviso is that ex-members have been found within 10 km of your location the subtext is that this is the best and completely free hook up site. You can check out the headings at the top of the page before you have even signed up to become a member.
Most Popular Sites

A large chat dating site, QuickFlirt is like a speed dating service for online flirting!

Together2night.com rewards singles looking to get frisky for a night. It's a viable platform that offers good search and interactive features that help you connect with like-minded people.

Onenightfreind.com is best for the bisexual singles searching for both quick hookups and long-term relationships. It claims that about 82% of its users are educated, thus are precise about what