Gays – We Review the Popular Dating Sites of 2020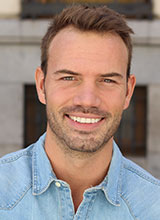 You might have guessed from the name – Gays is focused on gay dating and is an inviting and open platform for all gay singles.
Looking for a Dating Site? Read a Review of Gays.com
Five facts about Gays
Suitable for casual gay dating and flirting
Live chat available around the clock
Various subscription deals available
A diverse user base
No mobile app available
The Idea Behind Gays.com
Gays.com is fast becoming a popular dating platform for gay men around the world. It belongs to the network of sites managed by IdeaWise Limited so that you can expect good quality service. What' interesting about this dating site is that it leans more towards networking than traditional dating. It means you'll find it more like a social media website where you're encouraged to connect with other members for regular communication and interaction. It gives rise to a highly supportive community where you can connect with other gay men while getting a chance to find your soul mate. So, the question is, "Should you be putting your money on this gay dating site?" Here's our review to help you decide.
The Pros of Gays
It's a great place to meet young gay men
It has a large database of men from the US
It's more suitable for casual dating
It works quite like social media platforms
It offers several unique features
The Cons of Gays
It is mainly for gay men and not gay women
It's hard to find serious daters for long-term relations
Member Structure
You won't have to worry about finding a likeminded person because the site has millions of registered users. While it has visitors from all over the world, most of its users are from the US, Germany, Australia, and the UK. While there is a chance for gay women to find some fun-filled interactions, the site is mostly geared towards men, so you're going to find more males than females on this dating site. If you're looking for some gay fun with young folks, you'll like on this site because the average age of users is between 25 and 34 years. As it works quite like other social media sites, it's naturally more popular among the younger population in their mid-20s and 30s. It also means that you'll get a chance to meet gay members who are single and mostly ready to mingle as well. As it's a casual dating site, you'll also find most members mainly interested in a one-time date or friendship.
Registration
The registration process is nothing complicated, and you need to complete a medium-length form. You're likely to be done in 4-8 minutes. To avoid going through all the hassle, you may want to join through your Facebook account. But, before you sign up, keep in mind that you need to be at least 18 years old to join. The good thing is that you can sign up for one account if you're a couple. Quite like many top-rated dating sites, Gays.com also requires email verification before allowing you to explore its database. It takes a few minutes to confirm your email, but it goes a long way in lowering the risks of having fake profiles.
Once you've created an account, you need to create your profile before you could start looking for partners. In your profile, you'll have to provide information regarding your status, date of birth, country, and the type of partner you're currently looking for. We like the fact that the site doesn't restrict you when ticking preferences in the "Looking for" and "Interested" sections.
Functionality
After you've created your profile and activated your account, you can browse through the database of gay members on the site. Many users like how the site has arranged all the profiles as they're on popular social networking sites. Even though you need to be a paid member to enjoy most features, you can check profiles and read details for free. Just like viewing profile, you don't have to pay anything to send messages. There are many search filters available, which you can use free of cost. The feature of speed dating will also help to make the whole searching experience a lot easier.
What's more, all members can have access to a chat room where they can connect for as long as they want. There's also a gay forum in place, which serves as a safe place to participate in discussions started by other gay men. It may help if you've just discovered your sexual orientation and want to explore more about your sexuality.
Overall, getting in touch through the site is never going to be a huge issue. The only issue is that you don't get a dedicated mobile app for this dating site. However, you can still access the mobile version of the site through your devices. You will find the same features and functions on the mobile version of Gays.com. Even though it lacks in the mobile connectivity department, it still manages to serve you well by offering some special features. For instance, you can use the feature called "Browse Tab," which will help you identify members offering escort services. It will also help you if you're currently looking for parties, events, and places to mingle with other gay members.
Similarly, the Community Tab feature will keep you interested even when you're not up for a chat with other members, as the tab includes gay forum, photo competition, Top 100, sexual preferences, and activate photos. What's more, you can also use the "Personal Ads" feature to increase your chances of finding a mate. It works like the classified ads section you usually see in a newspaper. Overall, it works reasonably well to increase your chances of learning what it means to be gay and how you can find new gay partners using the platform.
Pricing Policy
You can join free of cost, and it's usually enough to get you started while enjoying several interesting features, but paid members are going to have a better dating experience on Gays.com. For instance:
Free services
Sign up
Profile creation
Messaging
Message filtration
Around the clock access to live chat
Advanced search filters
Forum access
Paid services
Better visibility in top results
New chat room option
Browse anonymously
Adult content access
Ad-free browsing
Photo contests
VIP forum access
To enjoy paid services, you'll have various options to choose from, as you can buy credits or choose monthly subscriptions too. For instance, premium members can choose from the following plans:
1-month plan: $9.90 /month
3-month plan: $7.50 /month
6-month plan: $5.98 /month
12-month plan: $4.49 /month
You can also opt for a VIP plan, which is going to cost you a little more but gives you the chance to enjoy special services. For instance:
1-month plan: $16.90 /month
3-month plan: $11.97 /month
6-month plan: $9.98 /month
12-month plan: $7.49 /month
In terms of modes of payment, you won't face many issues because they accept credit cards, bank transfers, and direct debit as well. Unfortunately, you can't pay through PayPal.
Common questions and their answers
Is Gays.com Legit?
Yes, it is. This Hong Kong-based company is in business for quite some time and is likely to help you find a partner soon.
Is Everyone on Gays.com is a gay man?
Yes, there are gay people on the site, but even though most of them are gay men, you can also find gay women as well as bisexuals and transsexuals on the site.
Is it possible to have multiple profiles at Gays.com?
No, you can't. If you try, you'll be violating the rules of the community.
Summary – do we recommend Gays.com?
The fact of the matter is that Gays.com offers various interesting features with accommodating membership plans, so it makes good sense to try it if you're looking for some flirting and dating fun with other gay men. Not having a mobile app is surely downside of using the service, but it surely doesn't prove as a deal-breaker in any way, as you can still use the mobile version of the website. Overall, it's a great place to start if you've just discovered about your sexual orientation.
Most Popular Sites

Benaughty.com lets you get right into the fun dating experience. It encourages a naughty community of singles and couples. Its selling point is simplicity and delivering results with its search functions and communication features.

Cupid.com is one of the leading gay dating sites that successfully brings single gay men together around the globe. If you are searching to date or love a lifetime partner, this is the best platform for you.

A large chat dating site, QuickFlirt is like a speed dating service for online flirting!