Read Our Unbiased Review for BuddyGays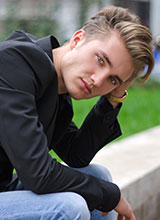 Male gay dating site BuddyGays is best for men looking for gay friends or relationships.
Five facts about BuddyGays
This gay dating site is aimed at men looking for love and long-term relationships
Every member undertakes a personality test on joining
Reliable security features mean you are less likely to encounter any fake profiles
There's a fun Cute or Not matching game available
New member list allows you to scope out new members
About BuddyGays
Aimed entirely at gay men, BuddyGays is a platform on which men can come together to flirt and find love online. To make this as easy as possible, BuddyGays has worked on adding several features to its dating site that makes it easy for its members to find that special someone that they might want to spend the rest of their life with. Generally, to make the most of the site, such as messaging other members, you will need a premium account. However, you can browse profiles and photographs on a free account, which allows you to decide if there are enough attractive or interesting people online for you to want to use a paid subscription.
The Pros of BuddyGays
There are only gay men on the site
Free members can view profiles and member photographs
Reliable website security means you're unlikely to find spam accounts
The dating site is aimed at love and relationships
All profiles have a main photo
The Cons of BuddyGays
You can't message other members unless you're a paid member
There is no app available
Member Structure
When it comes to members, BuddyGays only allows 'men looking for men' profiles. However, you will see the occasional profile of someone who is transgender. For the age range of BuddyGays, you will find that the members are usually either young men or middle-aged men, with these members being based all over the world, although many members are from the USA or the UK.
To help its members meet each other, BuddyGays encourages its members to choose a Tribe with which they identify. For instance, you would select the Bear tribe. You are saying you are a larger and hairier man who is very masculine. Other tribe groups include geek, twink, daddy, BDSM, and jocks. This makes it much easier for you to easily find men that are into the same interests as you or are of your desired physical stature with very little effort on your part.
Registration
Getting started on BuddyGays is very simple and fast, although you will need email verification to use the dating site. When you go to register on BuddyGays, you will be automatically listed as a "man looking for a man," and this cannot be changed. Otherwise, you just need your email, location, and email to sign up. You can leave adding more information and a photograph to your profile at a later time. For the email verification, you will need a four-digit code that will be sent to the email you added at registration. This can take around 5-10 minutes, so you'll need to be patient.
Functionality
BiggerCity Search tools
The search function on BuddyGays is free, so even if you haven't signed up for the premium service yet, this can allow you to see if there are any men actively using the site that you would like to chat with. This search function is very advanced, allowing you to filter your searches for a vast number of filters. This includes the tribes mentioned earlier but can also include ethnicity, education, religion, income, and physical features.
BiggerCity Making contact
To get their members chatting and falling in love, BuddyGays has implemented a lot of flirty features to help users make that first contact. This includes a "hot or not" gallery where you look through lots of photos deciding who you're attracted to or not, a flirtcast, instant messaging, and private messaging. This variety in chats makes it easier for you to find a man you'd like to date.
BiggerCity App
BuddyGays doesn't currently have an app available for its members. However, this might change in the future. It's not a massive downside, though, as the BuddyGays mobile browser has all the features of the main site that you can use on the go.
BiggerCity Special Features
FlirtCast
This fun BuddyGays special feature allows men to send a flirt to multiple members at the same time, giving you the best chance at getting a reply from some men you find attractive. Keep in mind that you'll need to have your own profile photograph to use FlirtCast.
Like Gallery
If you like to decide who to date based on looks alone, you might be interested in the BuddyGays Like Gallery, where you can decide if someone is cute or not based on your photo. You'll get a notification if that guy also thinks that you're cute too.
Satisfaction Policy
If you'd like to try out the premium membership on BuddyGays for free, you can get yourself a free trial that will last three days. You just need to email the support team to ask for your trial.
Pricing Plans
To get a premium BuddyGays membership, you will be charged the following:
One month: $29.70 per month
Three months: $23.40 per month
Six months: $14.40 per month

Free services

View profiles
Flirting game "Hot or Not."
Create your account

Paid services

Sending private messages
Browse photo albums
Instant messaging

Compared to other dating sites, BuddyGays is pretty inexpensive. Even better, it comes with a 100% money-back guarantee, which means if you have problems with the site or find it's not up to your standards, you can get a refund. The billing for BuddyGays will be discreet on your banking, coming under Dvcfree.com.

Common questions and their answers

How to Delete You BuddyGays Account?

If you wish to stop using BuddyGays, you have two options – either deactivating or deleting your account. If you choose to deactivate your account, your profile and information will be taken off of BuddyGays, and you will not show up in searches. However, your data will be stored, and you'll be able to reactivate your account at any time by simply re-signing into your account. If you choose to delete your account, it will be permanent, and all your data will be deleted. You can both deactivate and delete your account in your settings.

Is BuddyGays free?

BuddyGays can be used for free to look at profiles, and however, if you want to be able to message and chat with other men, you will need a paid subscription. The good news is, though, that BuddyGays is pretty cheap in comparison to other dating sites on the market. Plus, as the site is so widely used, you are likely to find a relationship pretty quickly before you spend too much money on your subscription.

How to Contact BuddyGays?

If you wish to contact BuddyGays, you can either email them at support@buddygays.com or phone them on +1800 764 9523.

Summary

Overall, BuddyGays is the ideal website for men that are looking for a serious relationship or love with another man. There are lots of members online every day, with new men joining every week, meaning there are always attractive men for you to chat to and invite out on dates. Plus, with such stringent security features in play, you are very unlikely to come across any fake or spam profiles, and if you do, just report them, and they'll be removed quickly. So, if you really are a gay man looking for love, BuddyGays is one of, if not the, best dating site out there.
Most Popular Sites

Hornycontacts.coms is open to straight, gay, lesbian and bisexual singles to find and date other like-minded individuals for casual hookups, love and even lasting connections. With good search functions and interactive features, the platform is just full of fun.

Igetnaughty.com site is open for the singles and couples looking for bisexual relationships or any other types of connections that can quench their varied fetishes. It is known for being the most liberal dating site resource as it satisfies the needs of its members.

Naughtydate.com is a dating site where you can hang out, flirt and mingle with like-minded hot singles, whether gays or other sexual orientation. With a huge membership base, the website is just a hotbed for casual hookups and flirty encounters.