GirlfriendsMeet – We Review the Popular Dating Sites of 2020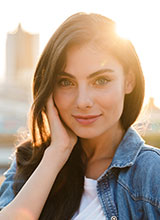 Girlfreindsmeet.com is a platform that will help you find a serious relationship and move out of spiral meetups. Its interactive features make it fun to connect other users, share light moments as you build something more attaching.
Looking for a Dating Site? Read a Review of GirlfriendsMeet.com
Five facts about GirlfriendsMeet
A smaller and more select base of lesbian and bi women
Enjoy special perks by using "coins" which you can earn by being active
Fast registration process
Great for those new to online dating
Unrestricted communication system
The Idea Behind GirlfriendsMeet.com
There are so many lesbian dating sites on the market, but should you always pick the biggest one around? GirlfriendsMeet isn't the largest dating site you'll ever find, but it's got a range of excellent features that mean it's more than worth a look. This dating site has been created to meet the needs of women who are lesbian, bi, or just bicurious. The operators already run a similar site for men - but wanted to make the same facility available for females. Unlike many other dating sites, this one is genuinely free of charge, which means you won't need to hand over any of your hard-earned cash to enjoy chatting to other women online. For those who are entering into the world of online dating for the first time, being able to access services for free makes a very big difference.
As a free site, it's perhaps not the greatest surprise to discover that it's not filled to the brim with cutting edge technology. But although you won't find an enormous amount of innovation, it does fulfill the criteria for a lesbian dating site very well. Some might say it performs better than other sites that you have to pay for! The site is deliberately designed to be easy to use, which is a welcome relief for new and experienced members alike. There's no extensive registration process, and it's simple to navigate around. It describes itself as a casual dating site, but some members are looking for long-term romance; it's not just for hookups. That said, you will find a large number of members who are looking for more casual fun. This can sometimes be evident from the profile photos uploaded as there are no restrictions on nudity. You can also choose to create private albums with explicit photos and share them with selected members. You can't set different privacy levels for individual photos; they must be added to an album that has been set as private.
The Pros of GirlfriendsMeet
Genuinely free of charge
You can earn credits by simply being active on the site
A sense of community
Great search options
Ability to upload private photos
No restriction on explicit photos
The Cons of GirlfriendsMeet
The lower overall number of members means that you might not find a local match
No automated match suggestions
No mobile app available
Member Structure
This is a much smaller community than you might find on other dating sites, but it's geared exclusively towards lesbians, bisexual and pansexual women. You can find others who share the same interests and start a conversation based on shared likes, which is a great icebreaker.
Registration
The registration process is very simple, with just a short form to fill in. New members can describe themselves as lesbian, bisexual, bicurious, or pansexual, but it's not set up as a site to include couples looking for a third person. To make the process even quicker, you can opt to use your Facebook account. This auto-fills the fields and logs you in, without posting anything to your Facebook wall. Once you've created your initial login, you'll have the option to describe a bit more about yourself. This includes choosing how you identify; this ranges from pillow queen and lipstick lesbian right through to boi, stud, and diesel dyke. If you don't feel defined by any particular category, you can choose to tick the "not a stereotype" box. During this process, you can also choose the type of relationship you're looking for, including friendship, dating, long-term and casual hookups. Helpfully, you can tick more than one box.
Dropdown boxes also provide you with the option to reveal much more about yourself, from your physical attributes such as hair and eye color through to your personal beliefs, including politics and religion. The final step in the process provides a free text area where you can let your personality shine through and use your own words to describe what you're looking for, and who. Once you've finished creating your profile, you'll have the option of selecting the attributes you find attractive in a partner. You can specify almost everything that you've filled in, except how you identify. For some reason, this isn't included, which means if you particularly want to hook up with a lipstick lesbian, there's no way to indicate this on your search criteria. Other than this minor criticism, there's an excellent level of detail, which makes the search results more accurate. Other than uploading a photo, the final step is verifying your email address. This two-step identification provides some protection against spammers looking to infiltrate the site.
Functionality
Search tools
The search tool is as simple or as complicated as you want to make it. You can either opt to find profiles near you, new profiles, or those which are popular, online or that you're already following. If you want to narrow down the results, there are dropdown boxes that allow you to select any or all of the criteria from the original profile application to find what you're searching for.
Making contact
There are no restrictions on making contact once you've uploaded a photo so you can message as many other members as you choose. However, members can specify their requirements for receiving contact, and if you don't match with their criteria, you won't be permitted to send a message. This is a useful facility as it prevents members from being bombarded with messages from unsuitable matches. You can change your preferences in your profile at any time.
The App
Unfortunately, there's no app currently available for this dating site.
Special Features
GirlfriendsMeet uses special on-site coins which don't cost any money to provide access to extra features, such as sending virtual gifts or highlight your profile (read more about this below under Pricing Plans). You can also add interests to your profile and join groups that share your interest; this is another way for members to comment on each other's profiles.
Pricing Plans
Unlike lots of other dating sites, GirlFriendsMeet is free for everyone, with no premium features that you need to pay for. You can access every aspect of the dating site from the start with no restrictions on messaging that you might find elsewhere. The only stipulation you'll find is that to chat with other members, you'll need first to upload a photo. This is a step that GirlfriendsMeet has taken to discourage fraudulent interactions. Although you don't need to pay for anything, there are some extra features on GirlfriendsMeet, but these won't cost anything - at least not in conventional cash. Instead, you can earn GirlfriendsMeet "coins" by being active, completing your profile, and generally being part of the community.
These coins aren't mandatory, but if you earn them, you can use them in different ways. You can "purchase" a gift for another profile or use them to feature your own profile and help it stand out. You can also opt to make your profile at the top of another member's search results for a limited time - giving yourself the best possible chance to be noticed! Using GirlfriendsMeet coins doesn't involve any real cash at any point, and no real money ever changes hands. It's just a fun way to elaborate on the main GirlfriendsMeet experience, and it encourages members to stay active, which benefits everyone on the site.
Common questions and their answers
What is GirlfriendsMeet?
GirlfriendsMeet is a dating site for women who are lesbian, bisexual, bicurious, or pansexual to chat and meet up. It is described as a casual dating site, but some members are searching for longer-term romances too.
How do I delete my GirlfriendsMeet account?
You can choose to either deactivate or hide your profile from your account settings in the dashboard. This will mean other members won't see you in any search results. It's possible to reactivate your profile for six months, after which it will be permanently deleted. If you want to delete it permanently right away, you can contact customer service to request this.
Is GirlfriendsMeet a free dating site?
Yes! Unlike many other sites that have hidden costs, you can access the full functionality of this lesbian dating site without having to pay a single cent.
Summary – do we recommend GirlfriendsMeet.com?
GirlfriendsMeet shouldn't be dismissed because it's not as big as other dating sites. If you're in a city or other popular area, you should still find lots of local girls who are looking for women to date and hook up with. With online chat, private photos, group likes, and the ability to follow your favorite profiles, there's a lot of solid functionality, all of which are completely free of charge!
Most Popular Sites

Benaughty.com lets you get right into the fun dating experience. It encourages a naughty community of singles and couples. Its selling point is simplicity and delivering results with its search functions and communication features.

Cupid.com is one of the leading gay dating sites that successfully brings single gay men together around the globe. If you are searching to date or love a lifetime partner, this is the best platform for you.

A large chat dating site, QuickFlirt is like a speed dating service for online flirting!