Hornet – We Review the Popular Dating Sites of 2020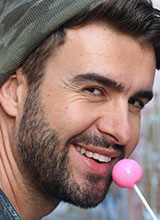 This gay male dating app caters for gay and bisexual men looking for genuine long-term relationships, with a fun social aspect to the app.
Looking for a Dating Site? Read a Review of hornet.com
Five facts about Hornet
Quick and easy sign-up
Access to support at any time, for free
Free to search profiles and send messages
Hashtags for convenient searching for like-minded individuals
VIP membership for as little as $4.67 per month
The Idea Behind Hornet.com
So how does Hornet work? We'll provide you with a Hornet dating site review, assessing the positives and negatives of this gay dating app. Our report will allow you to consider the finer points of the Hornet experience.
The Pros Hornet
An extremely popular dating site, with millions of members worldwide
You don't need to upgrade to a fee-based membership to send messages – this is a basic right for all members
There's a vibrant chatroom facility
You can add to your profile over time, although you'll receive more interest from other users once your profile is completed
App version has a separate page for your message inbox
The Cons of Hornet
Member profiles are sometimes lacking in content
There are a lot of intrusive ads
Once you've sent a message, with/without attachments, this cannot be recalled or deleted
Member Structure
Hornet is a popular dating resource, with over four million active users per month, the majority of whom are aged between 18 and 35. There are fast approaching one million UK members. Overall, somewhere in the region of 250 million messages are sent between Hornet members every week.
Registration
Fast and easy registration
Facebook or Google sign-up verification is required
You can edit your account anytime
To create your Hornet account, all you have to do is complete a basic web form on the website's landing page. The fields consist of your email address, your chosen password, and confirmation of your password. By signing up for Hornet, it is implicit that you have agreed to the Terms of Service (a link to this documentation is provided, along with a link to the Hornet privacy policy.)
You need to have an existing Facebook or Google account before accessing Hornet. Once you've selected either, you'll be directed to the Hornet landing page with access to the standard member functionality.
You are under no immediate obligation to complete your profile, although the Hornet team likes to remind members that those who have taken the time to complete their profiles are far more likely to grab the attention of potential suitors. You'll be provided with a link to your profile in case you are suddenly inspired to follow the management suggestions. Here you can edit details such as your full name, the type of guy you are seeking, your profile headline, your age, your role, weight, height, ethnicity, relationship, and your STD status. (Important point in case you're feeling a little apprehensive about having to reveal sensitive medical information – displaying STD status is not a mandatory requirement.)
Functionality
Search tools
Hornet employs a neat search tool – the search bar is 'sticky,' meaning it moves along with you as you scroll down the page, enabling you to narrow down searches. While searching, you are also able to see when a particular user was last online, as well as discovering if sent messages have reached their target.
You can place yourself in different locations to widen the parameters of your search – ideal if you're going on vacation or traveling and hoping to arrange a rendezvous.
Hornet users can also refine searching by checking out various hashtags, discovering guys who share your interests and passions.
Making contact
One of the most attractive features for newcomers to Hornet is the way you can contact other site users without restriction. Even as a standard (non-paying) member, you are free to message whoever you wish. Of course, the downside to this is that there's no filter to receiving messages. There's nothing more off-putting than being deluged with unsolicited messages sent by people you haven't connected with in any way.
Usernames of people you've had conversations with will accumulate at the bottom of your home page. That means that you have to browse through them one by one to find out which will be worth replying to, and not seeing these messages in full-screen mode is an obvious disadvantage.
The App
Downloadable on the Apple App Store or via Google Play.
Special Features
The Events feature receives wide acclaim from site users and illustrates the app's potency for transcending a dating site and tapping into a social network. If you happen to be traveling to a different city or perhaps holidaying abroad, Hornet can be your very own pocket events organizer, enabling you to discover exciting festivals, clubs or whatever, then arrange to meet like-minded individuals there.
Stories are like an online magazine within the dating app. Here you can read articles penned by a diverse range of individuals, each with a subject to captivate Hornet members. Some random examples: "these seven bisexual male celebrities fully embrace their sexuality," or "don't judge your relationship's success by its longevity, and quit searching for 'the one.'
Other ways in which site users are made to feel part of the overall community include a Forum, where ideas can be shared and help sought.
Pricing Plans
List of Hornet pricing:
One month - $9.99
Three-months - $25.99 (monthly rate of $8.66)
12-months - $55.99 (monthly rate of $4.66)
Free services
Search profiles
View photos
Upload public and private photos
Send/receive messages
Unlimited blocks
Fee-based services
See who has been taking an interest your profile
All filters available for the search option
Upload unlimited profile photos
View unlimited profile photos
Free of ads
Payment methods:
Common questions and their answers
What is Hornet?
Hornet is a hugely popular social network for gay guys.
Who owns Hornet?
Hornet Network, Los Angeles, USA.
Is Hornet legit?
Yes. Hornet is a legitimate dating community embrace by millions of gay guys across the world.
Is Hornet a free dating site?
Hornet has a lot of free functionality, but a VIP membership gives access to more powerful communication features.
How much does Hornet cost?
The monthly charge is $9.99, but if you commit to a year's membership, this amount drops to under $5.00 per month.
How to delete the Hornet account?
Go to the top-right of the web page and click on the drop-down beside your username. Now select Account, before scrolling to the bottom and clicking on Delete Account. Note that once you've taken this step, it can't be reversed.
How to cancel Hornet subscription?
Search for Subscriptions, then click on Cancel Subscription.
How to contact Hornet?
At the top of the web page, you'll see the About option. Clicking on this will produce About/Support information. Here you can meet the Support Team, check out a list of FAQs, or seek support by completing the Community Web Form. Support is provided in various languages - English, Russian, French, Portuguese, Spanish, Turkish, Thai, and Chinese. Hornet uses online translation websites to help to translate into all other languages.
Summary – do we recommend Hornet.com?
Hornet doesn't advertise itself as a straightforward dating application, but rather a network for gay guys, a method of touching base with kindred spirits right across the world. At times, it's less like your average matchmaking website and more like a gay version of Facebook, giving you access to all sorts of social events that you can then include in your calendar.
As well as reaching out to new friends and prospective sexual partners, you are invited to contribute to discussions with community leaders on a diverse range of current topics and learn about the hottest trends – all curated by a team of editors and a 'worldwide network of influencers.'
There are several downsides to Hornet, not least the fact that adverts can often clutter pages. There's also a bit of a discrepancy in how the access to information about new members gives priority over messages from your existing contacts.
Most Popular Sites

Hornycontacts.coms is open to straight, gay, lesbian and bisexual singles to find and date other like-minded individuals for casual hookups, love and even lasting connections. With good search functions and interactive features, the platform is just full of fun.

Igetnaughty.com site is open for the singles and couples looking for bisexual relationships or any other types of connections that can quench their varied fetishes. It is known for being the most liberal dating site resource as it satisfies the needs of its members.

Naughtydate.com is a dating site where you can hang out, flirt and mingle with like-minded hot singles, whether gays or other sexual orientation. With a huge membership base, the website is just a hotbed for casual hookups and flirty encounters.