Grindr – We Review the Popular Dating Sites of 2020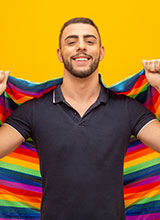 One of the most active dating apps in the world, Grindr is a gay dating app using location-based services.
Looking for a Dating Site? Read a Review of Grindr.com
Five facts about Grindr
Dating app dedicated to gay, bi or trans people
Free to use with all functions included
Matches are based on GPS location
The first gay dating app to be launched
Has over 27 million users worldwide
The Idea Behind Grindr.com
Learning how Grindr.com works is straightforward. We looked at the messaging system during our Grindr.com dating site review, and found a whole host of features! The Grindr.com experience is visual, so many users send photos before starting a messaging thread, and the matches are based on your geographical area so suggestions will pop up showing users nearby. If you run a search for members near you now, you can either send a message or a 'tap' to let them know you are interested. The app is free to download, free to use, and can be integrated with your social media accounts. Much of the communication is photo-based, and users can send each other image messages or use the Grindr 'Gaymojis' in the private messaging service should they run out of any inspiration of what to say!
The Pros of Grindr
An active and engaged membership – your phone won't stop buzzing!
Messaging services are free
Edit and update your account at any time
Setting up an account is very quick
Matches you with users nearby
The Cons of Grindr
No email verification process for security
Only one photo is allowed at a time
Live chat is only available on a paid subscription
Member Structure
Grindr.com is available around the world including the UK, US, Australia, New Zealand, Singapore, and Hong Kong. One of the selling points is how active the membership is, which Grindr boasts has higher levels of engagement than any other dating app – so it's unlikely to have messages not be replied to, or not to receive any matches in your area. The app caters to all sexualities outside of the mainstream, so it is used by gay, transsexual and bisexual people as well as those identifying as other sexualities.
Registration
To register with Grindr.com, download the app for free – it is available for either Android or iOS. To create a member login, you can choose to use either your Facebook account or an email address and then proceed to create your profile. Other profile questions are not mandatory, so you can enter as much or as little detail as you wish, although only one photo is allowed at a time. Once you have created your mobile login, you can receive alerts at any time as to whether there are any users near you, and the app will tell you how far away they are.
Functionality
If you're looking for how to search on Grindr.com, you need to look out for the Explore function. This will search by city or area to find Grindr members nearby. You can't search profiles as such but can start messaging or send a tap to anyone who pops up on your search mobile. You can choose to send a photo instead of or as well as a message and can search by username through your messages to restart a conversation where it left off.
Making contact
Once the matching system has found a user nearby and you have started chatting, you can't send gifts but you can send Gaymojis. These are seriously funny Emojis designed for the gay dating community. For any first message tips, you can check out the Community Guidelines or the Help section; or just send a photo and take it from there!
The App
Grindr.com is available on either iOS or Android and is free to download from the Google Play Store and Apple Store. The app design is created for mobile use, so is easy to navigate and learn, and app features such as Gaymojis have been specifically designed for mobile use.
Special Features
There are lots of app features; Favorites lets you bookmark profiles you are interested in and come back to them later. Taps are a quick and easy way to connect with someone nearby and let them know you are interested and Explore search function scans your local area for users close to your location.
Pricing Plans
Grindr EXTRA subscriptions:
$24.99 1 month
$20.97 3 months
$29.84 6 months
$47.88 12 months
Free services
Registering and creating a profile
Sending and receiving messages
Explore search function
Viewing up to 100 matches
Creating a group chat
Fee-based Services:
Removing ads from the app
Receiving push notifications
Viewing up to 600 matches
Save and use pre-saved chat messages
Unlimited Favourites
Payment methods
Grindr.com subscriptions are paid through the app service via Wallet, Google Pay or the applicable mobile payment options provided by your operating system. Please note that this means that any changes to your subscriptions need to be processed through your mobile payment service, rather than through the Grindr app.
Common questions and their answers
What is Grindr.com?
Grindr.com is a dating app available throughout most of the world. It focuses on matching users by locality through GPS location and is aimed at gay, bi or trans users. The app is free to download and works on any mobile device with options to pay for a subscription for upgraded services.
How much does Grindr.com cost?
Grindr is free to use, register, create a profile and message. Most of the features and functions are completely free! If you choose to update to a paid subscription, these start at $24.99 for a one-month subscription. This removes ads from the app and opens access to additional features and extended limits on the number of matches you can receive.
How to cancel a Grindr.com subscription?
If you choose to cancel a paid subscription during the period, you can do so easily through the Google Subscription store, and cancel your payments at the same time. This is all done through your mobile settings rather than on the app, and the same applies if you are paying via any mobile payments platform. Make sure to cancel a renewing subscription if you don't wish to keep it running, as renewals will happen automatically if you haven't canceled.
How to delete a Grindr.com account?
If you decide to delete your profile, you can do so through the Grindr.com app. Go to your Grindr profile, and click on the gear icon in the left-hand corner which takes you through to your Settings. Select Deactivate, and then select Delete Account. You will need to give a reason for deleting your account and verify your details to confirm it is the genuine user removing their profile from the app. Please note that if you subscribe to Grindr.com through XTRA or another service, you will also need to cancel the subscription renewal separately to avoid being charged.
Summary – do we recommend Grindr.com?
Grindr.com is still up there with the best gay dating apps. The extent of free services means that unless you end up using the app over a long period, the free subscription service gives you plenty of ways to search for and meet new guys. With a huge membership all around the world, it is one of the largest dating apps and makes it pretty easy to find members locally, or to take with you and seek out matches on your travels! The interface is slick, simple and easy to use with the swiping features we're all used to, so quick to learn even for a dating app beginner.
Most Popular Sites

Benaughty.com lets you get right into the fun dating experience. It encourages a naughty community of singles and couples. Its selling point is simplicity and delivering results with its search functions and communication features.

Cupid.com is one of the leading gay dating sites that successfully brings single gay men together around the globe. If you are searching to date or love a lifetime partner, this is the best platform for you.

A large chat dating site, QuickFlirt is like a speed dating service for online flirting!