Happn – We Review the Popular Dating Sites of 2020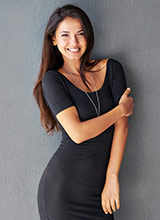 Innovatively, Happn Relationship dating app works to recreate missed opportunities by using location tracking to match users very close to each other, and who may already pass each other regularly.
Looking for a Dating Site? Read a Review of Happn
Five facts about Happn
The app is very location-centric
You can find people that you have crossed paths with
Millions of users worldwide
Easy signup on the app with import possible
Dating between many genders and sexual identities
The Idea Behind Happn
Happn is an online dating app that poses the question, how do you find people after you have already crossed paths? Every member that is on this app can look into the history of a given area and see if a user has crossed paths with them or is still in the area. In that sense, this is the ultimate location-based dating service on the web today.
It's designed to help you find those missed connections and start a positive dating experience. However, it's also important for you to learn how does Happn works? Well, we're going to show you everything that you need to know about the app from the way you sign up to the way that you meet people to date online today. Learn all about the Happn experience that you can expect from the moment you sign up.
The Pros of Happn
As with most dating apps, there are some outstanding elements of the app and some things we wish they did better. Here are the things that you need to know.
You'll find people from your immediate location
Easy to import data from Facebook or Instagram
Many free options on the app
Invisibility mode gives you security from unconfirmed profiles
Voice messaging is possible
The Cons of Happn
The best features are all hidden behind a paywall
You can only date local people on the app
Member Structure
It is always important to know the people that are going to be on the dating app. The member geography is more significant than ever when you're using this app. After all, the app has just been designed to aid you in meeting people from your area. You'll be dating people that are miles away or less. So, you'll find that the majority of people that use this app are from English-speaking areas of the United States and Europe. However, the app is used worldwide.
Supposedly, there are tens of millions of members on the web app, but that number is difficult to pin down since the app is locally based in every area. The gender ratio on the app is almost evenly split, with men and women using this app at a similar rate. That means you'll have the chance to meet attractive people no matter who you are and what you're seeking. The app offers you the chance to meet people no matter if you're straight or part of the LGBT community.
Registration
Before you start using the app, you need to download it. Presently, this can be found on the Apple App Store or Google Play Store so that you can use it with either Apple or Android products along with Google products in many cases. Registering for Happn is rather simple. Most people can import their data from their other social media profiles. That means you can enter your Facebook or Instagram and then use that information and photographs to fill in your profile on this app. Once you are finished adding information manually or through the other apps, you can begin filling out your profile. You can add information about where you work and what kind of person you're looking to meet along with other basic backgrounds. That way, people know if you are from the area in which you were spotted or just visiting. Other functions on the app include voice messages that let you communicate with people and adding "I'm up for" options like "going to the park" or "having a date."
Functionality
Search tools
Finding people on this app does not happen in the usual fashion. You enter the preferences for a date that you want like a male, female, age, and other information. After that, you can start looking for people that have come into the same areas as you throughout the day. So, if you're standing on a specific corner and open up the app, you can sift through the profiles and see if any of the people on them stand out to you.
Once you like someone's profile, they'll have the option to like you back, and only then will you have the chance to talk.
Making contact
Contacting the members of this app happens when two of you decide that you have a mutual interest in each other. The app has several ways of talking, either through typical messages or through using the app's voice chatting. All in all, the interactive map shows you a lot of people that you can meet in your given area, but you have to be somewhere with a decent population to find a partner.
Pricing Plans
1 month: $24.99
6 months: $89.99/li>
12 months: $ 119.99
Free services
View the profiles of members
Post a status to let people know what you're thinking
Send the "likes" to people and have basic matches
Have regular chats
Paid services
Voice capability
The Crush Time Game
Use the app invisibly
Extra privacy settings
Payment Methods accepted
Direct Debit
Credit Cards
PayPal
Using the phone's payment line
Common questions and their answers
How much does Happn cost?
According to the breakdown we have posted, Happn has the following costs:
1 month: $24.99
6 months: $89.99
12 months: $ 119.99
As you can see, the app is a little more expensive than some of the others that are on the market today. Yet, you get a lot of different benefits for being a part of the app, too.
How to delete the Happn account?
You can delete your Happn account by following these steps. Go to your account settings and go to "delete my account." You'll be prompted to confirm the fact that you're ready to delete your account, and then you'll get the chance to delete it for good. If you have any problems, then you can reach out to the app representatives for a final deletion.
How to contact Happn?
You can contact Happn by reaching out to the app operators in several ways. For one thing, you can contact support@happn.com. From there, you can also send in a mailed letter to the company. Unfortunately, they don't have a method of reaching out for customer support where you can have a live chat. Fortunately, the app is very responsive, so you can expect results on your account shortly after you fill out the support sheet.
Summary – do we recommend Happn?
All in all, Happn is a very unique and interesting app. After all, what happens when you and your potential date cross paths but never get to speak to each other? That is the question that drives this app. Therefore, they provide everyone with the opportunity to use an interactive map to meet people that they would not have met otherwise.
The local elements and focus of this dating app are extensive. You can always find people that are nearby and looking for fun, as long as you are in a place that has a high or moderate population. Yet, the fact remains that this is not a great app for people that are in a rural area. You won't be able to enjoy the best parts of the app, unfortunately.
Overall, Happn is a very effective way to meet people from your area if you're tired of having missed connections. It's a little more expensive than others, but it also has many features that you can't see anywhere else.
Most Popular Sites

Male gay dating site BuddyGays is best for men looking for gay friends or relationships.

Cupid.com is one of the leading gay dating sites that successfully brings single gay men together around the globe. If you are searching to date or love a lifetime partner, this is the best platform for you.

The sister site of BuddyGays, GaysGoDating, is a fun and quirky gay dating site for men.