HotOrNot – We Review the Popular Dating Sites of 2020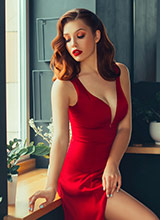 Originally a networking site, HotOrNot was launched as a popular dating site, with users ranking their photos out of ten. Now, this has extended to including match services as a casual dating site, with an easy layout similar to Badoo.
Looking for a Dating Site? Read a Review of hotornot.com
Five facts about HotOrNot
An app that uses picture ratings to tell you if someone is hot
The app and associated app have been around for decades
Millions of members from all across the world
Can automatically sync with Facebook social media
Relies on a matching system to help you meet singles
The Idea Behind HotOrNot.com
The HotOrNot app is the product of an app that was developed back in 2000. Since then, it has grown into a casual dating app and now an app that people use to find partners for all kinds of dates, primarily hookups and casual dates. Throughout this HotOrNot app review, we'll help you discover the features that keep you involved and interested in the app.
We're going to start with the pros and cons and then go into the specific functions of the dating service. The HotOrNot experience will be deeply examined so that you know whether this app is right for you. The long and short of the system is that if you're familiar with modern swiping apps, this one can work for you.
The Pros of HotOrNot
Every dating app in the modern day has some things that make it really effective and some elements that should be reworked. In the case of HotOrNot, we're going to show you how the app works well and what parts should be fixed if they want to become even more popular as a dating service.
Millions of members
Easy swiping actions
Many of the app features are free
Extra security features for paying members
You can upload as many pictures as you like on the app
The Cons of HotOrNot
The former owners let the brand stagnate, and it lost popularity
The app needs new extra functions
Member Structure
The most important thing when considering a dating app is the number of people that use it. After all, if you're using one that doesn't have enough people, then you have virtually no chance of landing a date. However, when you use HotOrNot, you'll be happy to find that there are millions of members on this app from across the world.
According to some estimates, there are over 100 million members on the app, and many of them are in North America. Beyond that, it is also important to consider the number of people that are from each gender on the app. Based on the available information, it would appear that the majority of the users on this app are male from a 60% to 40% margin, which is reasonable considering the number of people on the app.
All in all, you have a very good chance of meeting someone that has the gender and dating desires that you want in a partner when using HotOrNot.
Registration
The first thing you need to do is obtain the app for your mobile device. You may find the HotOrNot app by going to the Apple App Store or the Google Play Store. You'll be able to download the app for your device there. Signing up for HotOrNot is made to be very fast and simple. You can sign into the app through Facebook or populate your app with information that you enter on your own. This information is very simple and asks things such as your age, gender, location, email, and what kind of partner you are seeking on the app.
From there, you upload your pictures. This is considered a very important step since everyone that you meet will appoint a hot or not rating to your pictures. So, choose ones that highlight your best qualities and could attract potential partners. You'll also fill in your profile with more personal information, and you can even upload a video so your partners can learn more about you. After you have uploaded your pictures and your information, you'll be taken to the section of the app where you can start seeking out new partners.
Functionality
Search tools
The search tools on the app were revolutionary in the time that they were first made, but not so much anymore. The primary way of finding partners is through a swiping game where you will express interest in someone. If they swipe for you, too, then you're able to start chatting. You're not able to just reach out and chat with random people on the app because people only want to talk with users that have been verified. That being said, this method of meeting people is effective.
Making contact
Making contact on this app relies on you and a partner finding out that you both think the other is attractive. You'll talk in a standard messaging area of the app. This is called the Encounters section of the app, and there is not a whole lot that goes into it.
Pricing Plans
Pricing
Premium services to add functionality to the app cost money per month, including:
1 week: $3.99
1 month: $12.99
Six months: $47.99
Free services
Profile generation
Match with partners through Encounters
You can engage in chats with friends or date
Look at all of a member's photos
Paid services
Provide gifts
Use the stickers
Browse privately
You get shown first in the Encounters
Credits for gifts:
100 credits: $1.99
500 credits: $9.99
1250 credits: $19.99
Payment Methods accepted
PayPal
Credit Card
iPhone Payments
Common questions and their answers
Who owns HotOrNot?
HotOrNot is owned by Badoo Trading Limited. This is a social media and dating company that has several unique properties under their development. They make apps and apps that will help people meet one another for friendship or for relationships depending on their desires.
Is HotOrNot legit?
Yes, HotOrNot is a legit app. The company was originally just a place to judge others, but then it took on a social media mentality and added dating. While the app has undergone many different changes in recent years, the fact of the matter is that it's a real and fun place for people to find partners.
How much does HotOrNot cost?
Based on the information that we have already provided about this app, the following are the costs:
1 week: $3.99
1 month: $12.99
6 months: $47.99
Credits for gifts:
100 credits: $1.99
500 credits: $9.99
1250 credits: $19.99
Summary – do we recommend HotOrNot.com?
HotOrNot is an interesting dating app that is also used as a social media platform. Like many of the other apps that are combining each of these elements, it can be difficult for the users to decide what to make of it. Is this an app that is dedicated to helping you find partners, or is this a place where you should go for a lover? That question is one that plagues the online community as some people use this as a resource to judge others and find friends while others want legitimate dates. While everyone can make what they wish from this app, it can be difficult for people to find matches that have what they are looking for in a partner. The lack of ability to reach out into the community and find someone on their own also diminishes the effectiveness of this app in many ways. All in all, there are some elements of the app that are good and will yield positive dating results. However, the unwillingness of the app developers to decide on a cohesive direction makes this a less-than-perfect place to find a date.
Most Popular Sites

Male gay dating site BuddyGays is best for men looking for gay friends or relationships.

Cupid.com is one of the leading gay dating sites that successfully brings single gay men together around the globe. If you are searching to date or love a lifetime partner, this is the best platform for you.

The sister site of BuddyGays, GaysGoDating, is a fun and quirky gay dating site for men.