Hookup Dating with a Difference | New Review for Bumble.com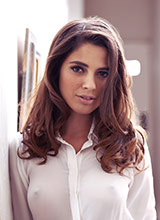 Created in a bid to give control over online dating back to women, Bumble is an empowerment dating site helping women choose who they chat to, and avoid spam messages.
Five Facts about Bumble.com
Register through Facebook or a mobile number
Profile information can be imported from your Facebook account
Over 6.3 million monthly visits worldwide
Free Bumble magazine can be requested through the app
Focus on dating safety
About Bumble.com
Our Bumble.com dating app review looks at the pros and cons of the app, what sort of membership it attracts, and what features the dating service offers for new users. If you're looking for how Bumble.com works, in a nutshell, the big difference is that it emphasizes women being in control of their Bumble.com experience of online dating. Female members can request contacts, and then male members can choose whether or not to respond. This means that men cannot send direct messages or contact requests to women through the site, but need to wait for an invitation to be able to spark up a chat. However, this feature seems to work well and not be a turn off for single guys since the site is used by 40% men, so is almost an even split! Whilst Bumble doesn't offer search functions. It is mandatory to include some basic location information since you will receive suggested matches, which will be based on connecting you with compatible users in your local area.
The Pros of Bumble
Easy registration process
Profile import from your Facebook account is available
Large membership base
Suggested matches are generated immediately on completing sign-up
The Bumble magazine is available free of charge to all users on request
The Cons of Bumble
There is a 24-hour limitation on responding to a connection request
User preferences are quite basic
Profiles don't contain a huge amount of information
Member Structure
The gender split on Bumble is quite even – it tends to be around 60% women compared to 40% men. This was quite surprised when we first started our review, but it seems that allowing female members to have control over initiating connection requests isn't a deterrent to single men joining the app! If you are looking for networking contacts or making friends as opposed to a romantic relationship, you can select these settings on registration, which allows different connection functions. The average age of Bumble users is between the mid-20s and mid-30s, so it is a fairly young user base. As you might expect from an app with over 6.3 million monthly visits, Bumble is available in lots of areas, including Canada, Japan, Australia, Germany, the UK, and Us, amongst others.
Registration
Creating a member login on Bumble is simple, particularly if you choose to import your profile information directly from your Facebook account. The installation is fast and free and available to download for both Android and iPhone operating systems. To register, you only need to provide some basic details and profile questions such as your age, location, sexual preference, and what sort of relationship you are looking for. Once you have created your profile, you will start to receive match suggestions immediately, although you will need to upload a profile photo before your mobile login is complete if you are choosing not to use your photos from Facebook. There are some great app features, and we especially liked 'backtrack' – the perfect 'undo' button for when you have swiped in the wrong direction by accident! Profiles aren't very well detailed, although you can go back to your profile at any time and add profile questions or change your photo if you wish.
Functions
Search Tools
There isn't an option to search profiles on Bumble.com, as the app is based on generating suggested matches against the preferences given when you register with the site. However, you can update your preferences and add as much detail to your profile as possible to refine the search results you receive. Messaging is free, although if you are a man, you will need to wait for a connection request from a female member who has matched with your profile before you can choose whether to respond!
Making Contact
The matching system is simple and familiar; when you receive a suggested match, you just decide whether to swipe left to indicate that you are not interested, or right if you are. Once a woman swipes right on a man's profile, they have a 24-hour time limit to respond – whichever way! If they don't respond within 24 hours, the connection request is removed. Once a connection has been requested and approved, and a mutual connection is found, messaging is not limited or restricted in any way so you can keep chatting as much and for as long as you like.
Pricing Plans
Additional features can be accessed through purchasing Bumble Credits, or by upgrading to a BumbleBoost subscription. This costs:
$8.99 for 1-week
$24.99 for 1-month
$49.99 for 3-months ($16.66/month)
Credits are available to purchase from $1.99 for one coin, or $24.99 for 20 coins ($1.25 per coin).
Free services
Creating a profile
Receiving your match suggestions
Messaging and live chat services
Paid services
Connection requests extended beyond 24-hours
SuperSwipe to indicate definitive interest
Rematches with expired connections
Questions & Answers
What is Bumble.com?
Bumble.com is a modern dating app, which also offers other app versions for networking, making business contacts, or meeting platonic friends. The Bumble network includes added extras, such as Bumble Hive events that members can attend, and the Bumble magazine, which is free to members and can be requested through the magazine.
How much does Bumble.com cost?
The Bumble app is free to download, and registration and creating a profile are free of charge. There are additional features and functions available to download by purchasing credits, or upgrading to a BumbleBoost premium subscription. The features available include an extension to the 24-hour time limit to respond to connection requests before they disappear, and are available for durations from one week at the cost of $8.99.
How to cancel a Bumble.com subscription?
It is easy to cancel your subscription – although make sure that you have amended your renewal settings through your payment provider to ensure this doesn't automatically renew! If you log in to Bumble, select the menu icon, which you will find at the top left-hand side of the app. If you select Bumble Boost, which is displayed just underneath your profile photo, you will see a 'Manage your Subscription' option. If you follow this link, you will find instruction on-screen to cancel your subscription, whether you wish to retain your profile as a free account or delete your profile from the app completely.
Summary
Bumble doesn't do anything groundbreaking or revolutionary in terms of features or functionality. However, we found the app more fun to use than many dating apps, with quirky graphics and a cool design, which makes the experience enjoyable and pleasant. The emphasis on allowing women to control their dating experience is the most powerful aspect of Bumble, and judging by the gender split, it isn't a problem for male users either! This makes Bumble one of the safest dating apps, and although the verification process at sign-up could be more robust, it is far less likely to attract any spam accounts since the functionality they would have would be so limited. An all-rounder – and with additional features and app options for networking and making friends, a great modern way to meet new people.
Most Popular Sites

Hornycontacts.coms is open to straight, gay, lesbian and bisexual singles to find and date other like-minded individuals for casual hookups, love and even lasting connections. With good search functions and interactive features, the platform is just full of fun.

Igetnaughty.com site is open for the singles and couples looking for bisexual relationships or any other types of connections that can quench their varied fetishes. It is known for being the most liberal dating site resource as it satisfies the needs of its members.

Naughtydate.com is a dating site where you can hang out, flirt and mingle with like-minded hot singles, whether gays or other sexual orientation. With a huge membership base, the website is just a hotbed for casual hookups and flirty encounters.