Lesbian Personals – We Review the Popular Dating Sites of 2020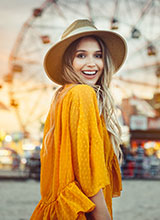 LesbianPersonals.com has several lesbians waiting to find a local date. By just conducting a simple search, several options or suggestion will spring up to your contentment. You can try it to flirt, mingle and hang out with like-minded singles.
Looking for a Dating Site? Read a Review of LesbianPersonals.com
Five facts about Lesbian Personals
Primarily US members
Great for casual relationships and naughty fun
Suitable for couples and pansexuals as well as lesbians and bi women
Very active and responsive membership
Lots of ways to contact members
The Idea Behind LesbianPersonals.com
As an incredibly diverse dating site, you can even find couples who are looking for a third person. Sound like your idea of a good time? Check out the essential facts about this dating site before signing up. If you've been looking for a dating site for lesbians and bi women, that's just a little bit on the naughty side. Lesbian Personals could be just what you need. An enormous database of sexy women - mainly in the US - who are looking for all types of casual fun, Lesbian Personals has no strings attached. Lesbian Personals is described as a dating site for bi and gay women, but in reality, it's more akin to a hook-up site. Lots of the members are looking for adult fun, and this is evident from some of the more explicit content and photos you'll find.
The whole process of signing up is kept deliberately simple, and you won't find the heavy levels of checking and moderation here. There's a clear adult vibe to this dating site, which is perfect for singletons who are just looking for fun. As well as online meets, there's the ability to check out explicit photos and adult videos via the site, but you'll need a paid subscription membership to access this type of content. As well as being able to browse profiles, there is a forum and chat room too. You can send other members an IM as well as a regular message or just an ice breaker. The site uses intuitive algorithms based on your searches to find matches that it thinks you might like. This kind of intelligent matching doesn't always work but provides an extra dimension to your online search for a date!
Pros and Cons
Although there's a myriad of dating sites online, they are all very different, and it's important to pick the one that meets your individual needs. Here are the best and worst bits of Lesbian Personals:
The Pros of Lesbian Personals
Great if you're looking for no-strings or casual relationships
Lots of choices if you're in the US
Can be used for couples looking for a unicorn
The simple and quick registration process
You can create your blog on the site
The very high response rate
Live member webcasts
The Cons of Lesbian Personals
You can't view explicit content without a paid subscription
Moderation is low so that some profiles may be male
It's not set up for serious relationships
Member Structure
Although Lesbian Personals is described as a global site, there's a very strong bias towards the US. The majority of members are located in the US, so if you're looking to move towards a real-life meet, you'll have a much better chance if you're US-based. There's a high number of US users, and they describe a very high response rate to requests for casual fun. Therefore, if your profile matches what other members are looking for, there's a very good chance of being successful.
Although this is a lesbian dating site, many profiles are belonging to men, couples, and pansexual women. It's not as restricted to exclusively gay women as the title of the site would imply. If you're searching for a casual relationship and you're open to different possibilities, this could be a real advantage. Around a third of the women registered on this site are aged over 40 years old.
Registration
Although this is a site that is designed for lesbian dating, there isn't any moderation in the registration process. This contrasts with other sites where more robust checks are done on the identity of members to check their gender. This more relaxed registration process is one of the reasons why there's a much more diverse crowd on Lesbian Personals and a much greater range of relationships being sought. You'll have the option to choose whether you're looking for a relationship with another woman, a couple, or a group when you register. This will help the site return the most suitable matches for you.
Functionality
Search tools
Lesbian Personals provides a range of different options to search for that special someone - whether that's for romance or adult fun. You can use a range of filters to get the results that you're looking for, including the type of relationship, distance, and physical preferences.
Making contact
If you like to start cautiously, you could always just use the icebreaker to test the water. Alternatives are to find someone who's online and send an instant message, or send a regular message to another member who you want to get to know. Chat rooms are another alternative and allow you to take a relaxed approach. Join a chat room and see who's online and looking for some fun!
The App
Not currently available.
Special Features
There is an area to keep private photos and videos on your profile; you can grant other members access to these if you so choose. Many members use this facility as a way to share naughty photos and explicit videos with others without putting it on their public profile.
Other ways to use the site include sharing your blog, rating photos, or uploading erotic stories for others to read. There are also live model shows with explicit content available.
Pricing Plans
You can sign up to Lesbian Personals for free, and continue to access a range of basic functions without upgrading to a paid subscription. However, you won't be able to enjoy the full functionality of the site on a basic membership package.
Free services
View full profiles
Add a photo to your profile
Send friend requests
Create a favorites list
Search profiles
Read emails from free or subscription members
Send icebreakers effortlessly
Use instant messenger
Upload videos
See who's browsed your profile
Use matchmaking tools
Take the personality test and receive matches
Rate photos
Access chat rooms and forum
Paid services
Extra data storage
Ability to send emails to both free and subscription members
Used advanced search tools
Save your favorite searches
Appear first in searches
View private photos
For the privilege of accessing the extra features, a Gold subscription package will cost $30.95 for one month, $59.89 for three months (equivalent to $14.95 per month), or $179.10 for 12 months (equivalent to $9.95 per month). Also, you'll receive one free month when you choose a three-month subscription and six free months when you choose a 12-month subscription.
Payment Methods
You can pay with PayPal, credit/debit cards, money orders, checks, Ukash, and SMS payments.
Common questions and their answers
How to delete Lesbian Personals account?
You can delete your account at any time by navigating to your "manage account" section and selecting "close account."
Is Lesbian Personals a free dating site?
You can sign up for free, and compared to many other sites, there is an enormous range of free features. However, to be able to send messages, use the advanced search tool, or view private and explicit photos, you'll need to upgrade to a paid subscription.
Is Lesbian Personals legit?
This site is one of the largest casual dating sites for lesbians and has a huge membership in the US, as well as the UK. You will need to be careful to verify the identity of anyone you speak to as this isn't done by the moderators. Still, plenty of members have reported having very positive experiences with this site.
Summary – do we recommend LesbianPersonals.com?
Lesbian Personals is a site that's all about having fun. Don't expect tight moderation, and you won't be disappointed! However, what you will get is an enormous number of active members with lots of different types of content and ways to engage with others. From simple chatting and flirting to watching live erotic shows, anything goes on this site as long as it's fun!
Most Popular Sites

Benaughty.com lets you get right into the fun dating experience. It encourages a naughty community of singles and couples. Its selling point is simplicity and delivering results with its search functions and communication features.

Cupid.com is one of the leading gay dating sites that successfully brings single gay men together around the globe. If you are searching to date or love a lifetime partner, this is the best platform for you.

A large chat dating site, QuickFlirt is like a speed dating service for online flirting!