Mate1 – We Review the Popular Dating Sites of 2020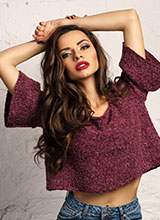 Mate1 is an open, inclusive online relationship dating site for women and men of all preferences, sexualities, and orientations – the only requirement is that you are over 18!
Looking for a Dating Site? Read a Review of Mate1.com
Five facts about Mate1
Claims to have 40 million members on the website
The site lets you have unlimited likes
Supports LGBT dating
The app is available for iOS and Android
You can record voice messages for your partners
The Idea Behind Mate1.com
Mate1.com is an online dating site that has gotten a lot of attention in recent years. Part of the reason for this is the fact that it has millions upon millions of members. Another reason that it is so popular is that it allows you to have any kind of dates that you want. People of all backgrounds are welcome to join this dating service, and it has a large community of LGBT individuals online.
Our Mate1.com site review is going to answer all of the basic questions that you have about this dating service. We'll show you the bright spots and the things they need to work on if they want to gain more members. Without further ado, here are the pros and cons of Mate1.com.
Pros and Cons
Mate1.com is like any other dating site in that it has some good elements and some bad parts, too. Here is what we found about the website.
The Pros of Mate1
Vast numbers of members, around 40 million
The website emphasizes connections with local people
The website supports LGBT dating
Your user profile can be very detailed
The site has many special features that make finding matches easy
The Cons of Mate1
Many profiles on the website are probably fake
You get a lot of messages, not all of them legit, when you join
Mate1.com has a lot of great benefits to joining and becoming a member. However, the site has a lot of people online, so they need to do a better job of controlling people's messaging so that new people don't get scared away.
Member Structure
When you join Mate1.com, you'll be one person in a veritable ocean of millions of people throughout the world that are looking for dates. According to the available member information, there are some interesting trends to follow. For example, a lot of the users are from the United States, but it's hard to pin down an exact number.
Another interesting thing about the site is the number of men and women that are using it to find their match. There are more women than men on this site, with roughly two-thirds of the site being women and one-third of the website being men.
With so many people on the website, it's hard to track how many people are online daily, but estimates are that several million people are online each day. That means everyone has the opportunity to meet thousands of people that align with their needs and wants all the time, day or night.
Registration
Registering on Mate1.com is a simple enough task for most people. You have to make your profile on the website by going through just over a dozen different questions like what is your date of birth, what kind of match you are looking for, where you are from, and what email you wish to use for the website. You can also sign up for the website through Facebook. Once you're signed up, you have the chance to answer some open-ended questions about yourself, like specific kinds of people you want to meet and about yourself.
Of course, you will also get to take time to upload a profile picture that shows off your best assets. The site doesn't take time to review your pictures, but people can report any illicit content on your profile, so it's a good idea to stick with profile pictures that you would share on a social media website. Another thing that you will want to do when joining this site is to set up a voice profile. You have to call the site's hotline and set up the service before you can use it to contact people. It doesn't take very long to get registered on the website, though. All in all, the site's profiles are very detailed, which comes into play for finding partners.
Functionality
Search tools
There are numerous search tools available for people that are going to enjoy Mate1.com. For example, there is a fully-fledged matching system. The site uses "My Matches" to suggest people that would work well for you based on your responses to questions when you join the site. You can say yes or no to those. There is also the ability to use searching filters to find people based on complex features like their lifestyles and occupations.
Making contact
Contacting members on the website is very simple to do, and it can happen in many ways. For example, the website lets you have live chats, record voice messages, and use the app to reach out to people. One of the best tips for using this website is to use the mobile app because people tend to be much more responsive to it.
The App
The app for Mate1.com helps connect the members from around the world. It can be downloaded and used on devices that support iOS and Android. It has many of the same features of the website, but it is a little rough around the edges. Still, you can chat, make voice recordings, and swiftly browse for new dates online.
Special Features
There are numerous special features on the website that make it worth using. Namely, the My Matches system is a good way to meet people, and it gamifies the dating process. Moreover, you can use the "hotlist" to organize the people that you find most attractive on this website.
Pricing Plans
As you might imagine, there are some free things you get on the site and some things that you have to pay to get a better experience. Here is what you need to know:
One month: $44.95
Three months: $74.97
Six months: $119.94
Free services
Join the website
Make your profile
Browse profiles
Fee-Based Services:
Full messaging
Matching services
Hotlist access
Voice messaging
Payment methods
Credit card, iTunes, PayPal
Common questions and their answers
How much does Mate1.com cost?
One month $44.95
Three months $74.97
Six months $119.94
Is Mate1.com legit?
Mate1.com is a legit site, that much is certain. The only thing that seems out of sorts is the fact that they have so many members on the website. While they may have millions, the chances are there are some less savory people making profiles on the website, too.
Who owns Mate1.com?
Mate1.com is owned by Mate1.com Inc. They own and run the website as an independent company that is registered in Canada.
How can I contact Mate1.com?
It's possible to contact Mate1.com by calling their toll free phone number at 1-888-688-4760 and also at the email address: support@Mate1.com.
Summary – do we recommend Mate1.com?
Mate1.com is an interesting online dating service. On the one hand, this site has more members than most other sites out there today, or at least that is how many profiles they have. While it's loaded with a complete app that can be downloaded and a ton of features, there is something about the site that seems a little overwhelming. With so many choices for dates, even in the LGBT community, how is it possible to find "the one." Fortunately, the site doesn't make you dwell on this as you have multiple options for meeting people. While local dating will always be important on this site, you have a lot of tools at your disposal for meeting someone that is right for you.
Most Popular Sites

Benaughty.com lets you get right into the fun dating experience. It encourages a naughty community of singles and couples. Its selling point is simplicity and delivering results with its search functions and communication features.

Cupid.com is one of the leading gay dating sites that successfully brings single gay men together around the globe. If you are searching to date or love a lifetime partner, this is the best platform for you.

A large chat dating site, QuickFlirt is like a speed dating service for online flirting!