OnlineBootyCall – We Review the Popular Dating Sites of 2020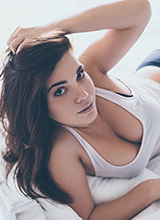 OnlineBootyCall.com provides fun and lightheaded approach to meeting local singles who love casual dates. Forget the startling marriage promises, OBC lets you find what you sensually admire with a simple sign-up.
Looking for a Dating Site? Read a Review of OnlineBootyCall.com
Five facts about OnlineBootyCall
Over 8 million members worldwide
Website is more than 17 years old
Very simple web design
Every profile must have a profile picture
TThe site features its own '10 Commandments'ext
The Idea Behind OnlineBootyCall.com
If you were tasked with creating an adult dating platform in its simplest form, you are likely to have come up with OnlineBootyCall. This is a true no-thrills design that offers nothing remotely modern about its features. OnlineBootyCall's success relies on being able to match up horny members with other like-minded users all looking for no-strings-attached casual fun. There is absolutely no one looking for anything serious and, if you take the time to look through the website, you will see that OnlineBootyCall actually discourages anything of the sort.
The '10 Commandments' of OnlineBootyCall call on users to remain discreet about their encounters, keeping all activity on the down-low. Not all members are single with many users attached and looking for either a one-night-stand or an affair. It is up to you whether you are comfortable playing a part in any of that but, if you are, OnlineBootyCall's discreet nature will mean that any messages or action will remain between the two consenting parties.
The Pros of OnlineBootyCall
Easy navigation
Cheap premium subscription options
Every profile has a picture
Straight to the point
The Cons of OnlineBootyCall
Outdated web design
Many inactive profiles
Lots of adverts
Member Structure
The website features a diverse range of members signed up to its service, with both young single and mature attached men and women all seeking casual fun online. Whatever you a looking for, the chances are that you will find someone to match with either locally or online from around the world.
Registration
Registration is relatively straightforward, however, you cannot expect to complete the sign-up process and search through the website without a profile picture. All profiles are required to have a minimum of one picture, so you must be willing to upload a photo (less than 15mb in size). Once you have answered the general questions (such as your name, age, sex and location), you will then be asked to describe yourself by answering a series of questions about your appearance.
You must verify your email address by clicking through the activation URL found in the verification message sent to your inbox. Altogether, it only takes a couple of minutes to complete the process in its entirety, leaving you to browse through your user area and begin your search for a match.
Functionality
Search tools
Very, very simple search functionality that does the job it is designed to do. Nothing more and nothing less. The entire website's design feels very outdated and, with that, meaning that its features aren't quite up to scratch with the functionality offered by other dating and hookup sites. Of course, that isn't to say that OnlineBootyCall's search facility doesn't yield good results because it does, and much of its success is dependent on the information you put in.
Making contact
Only premium members are able to make contact with other users on OnlineBootyCall and the only way of doing so is by sending a private message. This website does not offer any instant messaging service, live video/audio chats or other forms of communication for its members, again owing to the site's design. Free members can still receive and read messages from premium users, they just cannot respond without first signing up for a paid account.
The App
OnlineBootyCall does not offer a dedicated mobile app on either Android or iOS devices.
Special Features
Booty Call List

Members can make arrangements for a booty call by inviting and/or accepting an invitation from another user. These are then saved in your Booty Call List in what is essentially an online address book. This is an incredibly simple feature, of which there are not many in all honesty and one that probably isn't a necessity.

Get Lucky

The Get Lucky feature throws up a random profile of a local user that may match your search criteria. If the first profile does not take your fancy, you can choose to skip and view another profile. If you come across a user that does interest you, the feature allows you to send an invite to add to your Booty Call List.
Pricing Plans
One-month subscription - $20 a month
Three-month subscription - $10 a month billed as a single payment of $30
12-Month subscription - $5 a month billed as a single payment of $60
Lifetime subscription - One-off payment of $99
Free services
Read messages
Invite other members to you Booty Call List
Get Lucky feature
Search members
View profiles
Premium Services
Send messages
View online members
View explicit content
Premium profile placement in search results
Payment Methods
OnlineBootyCall accepts payments via credit card.
Common questions and their answers
What is OnlineBootyCall?
OnlineBootyCall is a casual dating website designed for users, both single and attached, to seek out no-strings-attached encounters with like-minded members. The platform offers a discreet service for all of its members, of which there are eight million signed up from around the world. If you are looking to find a serious relationship, this is not the matchmaking service you are looking for and should certainly look elsewhere but, if a one-night-stand is something that you are interested in, signing up to OnlineBootyCall is something that you should consider.
Who Owns OnlineBootyCall?
OnlineBootyCall is owned by Mobeze, Inc, a company that features several dating sites and social networks in its portfolio.
Is OnlineBootyCall Legit?
OnlineBootyCall is a legitimate dating website with over eight million members signed up from around the world. Fake profiles are kept to the bare minimum with all users required to upload a photo to their profile as part of the registration process. The site's admin team monitor the usage of its site and are prepared to take action to prevent fake and/or abusive profiles.
Is OnlineBootyCall a Free Dating Site?
OnlineBootyCall does offer free membership for users, however, the features open to those with a free account are extremely limited. Standard members cannot send messages or view online users, making it difficult to match with anyone through the service without purchasing a premium subscription and unlocking all of the features offered on OnlineBootyCall.
How Much does OnlineBootyCall Cost?
There are various subscription options open to members of the website, beginning from a one-off fee of $20 for a one-month membership to $99 for a lifetime subscription. When we conducted our review of the dating site, we were immediately sent through an offer of signing up to a one-month subscription with an additional 11 free months for just the initial fee of $20.
How to Delete OnlineBootyCall Account
To permanently delete your account on OnlineBootyCall, users should head to account settings found in the 'My Profile' section. Scroll down to the bottom of the section to find the 'Delete My Account' option and follow the instructions on the screen.
How to Cancel OnlineBootyCall Subscription
To cancel any subscription, users should head to the 'Subscription Status Page' and follow the instructions on the page. Note that all subscriptions are paid for in full upfront so any cancelled premium membership will remain active until its expiration date.
How to Contact OnlineBootyCall
Users can get in contact with the OnlineBootyCall by emailing support@onlinebootycall.com or via the support request contact form found here: https://www.onlinebootycall.com/support-request.
Summary – do we recommend OnlineBootyCall.com?
If you are more concerned with the results of your time spent on a dating website as opposed to the actual user experience on the platform, then we recommend signing up to OnlineBootyCall. There is no getting away from the fact that the website's design feels incredibly outdated and a few more features would be welcome but, at the end of the day, the most important for any dating or hookup site is its userbase. OnlineBootyCall boasts more than eight million members signed up to its service worldwide and, with all users required to upload at least one image before completing the registration process, there are few fake profiles to be found on this website.
Users should also like the relatively cheap subscription options, including the lifetime membership that can be purchased for just $99. If you know that you will be utilising the capabilities of OnlineBootyCall for a prolonged period, this is something for you to consider. We would highly recommend opting for an initial month-long subscription to test the water, but you might find the dating site has offers on that include free months on top of your subscription. For example, during our review, we received an offer of an extra 11 months completely free with the purchase of a one-month subscription.
Most Popular Sites

Benaughty.com lets you get right into the fun dating experience. It encourages a naughty community of singles and couples. Its selling point is simplicity and delivering results with its search functions and communication features.

Cupid.com is one of the leading gay dating sites that successfully brings single gay men together around the globe. If you are searching to date or love a lifetime partner, this is the best platform for you.

A large chat dating site, QuickFlirt is like a speed dating service for online flirting!