HornyMatches – We Review the Popular Dating Sites of 2020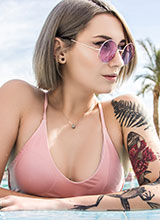 HornyMatches.com has clear search and browse functions. Users are matched based on personal preferences, location, age, sexual orientation and unique lifestyle. Although the websites design is outdated, it's straightforward and user-friendly.
Looking for a Dating Site? Read a Review of HornyMatches
Five facts about HornyMatches
No mobile app
Claims to have 20 million members worldwide
Live sex shows
Recently updated website
Launched in 2004
The Idea Behind HornyMatches.com
HornyMatches claims to be the number one sex personals website with thousands of new members signing up for its service each and every day. On the homepage, the site states "Hornymatches.com was created because we were looking for sex dates on the Internet, and a lot of people were looking for the same thing - so we decided to create this site. It had a lot more success than we anticipated and it grew really quickly to millions of members."
With such an introduction, it leaves little doubt to anyone that may have otherwise not had already guessed by the name alone that this is not the place to be if you are seeking out a serious relationship. Here, you will only find members interested in engaging in no-strings-attached casual fun both online and in person. If this is what you are looking for from your online dating experience, then press ahead and join the site.
The Pros of HornyMatches
Easy to use search functionality
Quick and simple registration process
Established website launched in 2004
Large user database
The Cons of HornyMatches
No mobile app
Pop-up adverts
Free members cannot send messages
Member Structure
Most of the website's traffic comes from the United States of America, with Canada and the United Kingdom coming in second and third. Over one million of HornyMatches members are based in Great Britain, making this a more than suitable adult dating site for any singles looking to engage in no-strings-attached fun. You can expect to find up to 40,000 members online worldwide at any one point, so you can make full use of HornyMatches' instant messaging feature.
Registration
The registration is quick and simple requiring little detail to get started on the website. You are asked to confirm your sex and your sexual preference as well as where you are located. This is the only set of details you absolutely have to input before pressing ahead with the registration process, which gives you the option of completing your profile at a later time. You do not have to activate your account via a verification email, which does open the website up to fake profiles being created, but also means you can advance to the user area of the website without flicking between windows. As soon as you are registered, HornyMatches will push you to sign up to one of the service's premium memberships which you can get past by pressing the website's logo in the top left-hand corner of the desktop site, taking you to your user dashboard.
Functionality
Search tools
Searching on HornyMatches is made simple by the fact that the user dashboard provides everything that you could need and more to begin browsing through potential matches. Here, you can see who is online, new members that have just joined the site, the members that are live streaming and members that have viewed your profile. At the top of your dashboard is a simple search bar that allows you to search for other members based on a basic criteria of age, sex and location to get you started. Under the search button in the navigation bar, you can find an advanced search option allowing you to go into an excruciating level of detail if you so wish.
Making contact
Members can initiate contact by sending a standard message that will drop in a user's inbox or via the website's instant messaging function. Additionally, members can also communicate inside of chat rooms and video chat, where members broadcasting can communicate with members within their live streams.
The App
HornyMatches does not offer a standalone app, but its website is responsive and fits the shape and size of your smartphone screen. It would be better if HornyMatches offered a dedicated mobile site for its users, especially considering the trend of internet users browsing on mobile devices - this does let the dating platform down, sadly.
Special Features
Live Streaming

HornyMatches offers a live streaming platform for its premium members where they can either get in front of the camera and show off to the community, or watch on and flick through the various members broadcasting live. Free members cannot view live streams and are required to sign up for a premium membership subscription to do so. As with other adulting dating sites that offer similar services, this is a hugely popular feature amongst the website's users with those willing to step in front of the camera and engage with other users quickly becoming very popular.

Who's Cute Game

This is a game that is very much based on the dating app Tinder, where users are encouraged to give a rating to other users' pictures. The only stipulations that exist are that you must upload at least one photo of yourself to play the game and that you can only rate 50 users in a single day. This feature is designed to help your profile get noticed by other users, therefore increasing your chances of receiving a message and hooking up with someone. If nothing else, it makes for a good bit of playful fun on the website.
Pricing Plans
Three-day trial subscription - £2.95
One-month subscription - £29.95 a month
Six-month subscription - £11.66 a month billed as a single payment of £69.95
12-Month subscription - £9.99 a month billed as a single payment of £119.95
Note: HorneyMatches offers a three-month guarantee paid members, offering three months free membership if you fail to hook up with another member. To qualify for this offer, you must not have an active membership for at least three concurrent months, not met up with another member, have had a profile picture for the full three months and have sent and/or responded to a minimum of five messages per week. Members can only claim this offer once.
Free services
Upload pictures
Receive messages
Tech support
Limited view of other profiles
Search functionality
Premium Services
Advanced search
Send messages
Favourite other users
Send winks
Faster profile and photo reviews
X-rated movies
Access to live streams
Payment Methods
HornyMatches accepts payment via credit card and Bill Pay.
Common questions and their answers
What is HornyMatches?
The website is an adult dating platform design specifically for those looking to explore their sexuality. Whether users want to meet in person or engage in online text, audio or video chat, HornyMatches offers the lot and more.
Who Owns HornyMatches?
The website is owned by Global Personal Media, who feature several dating sites within their portfolio.
Is HornyMatches Legit?
HornyMatches is a legit online adult dating site that was launched in 2004 and has over 20 million members signed up from around the world.
Is HornyMatches a Free Dating Site?
Users can register for a free account on the dating site, however, they are strongly encouraged to sign up for a premium membership to get the most out of their experience with HornyMatches.
How Much does HornyMatches Cost?
Users can sign up to a three-day trial membership for a one-off payment of £2.95 which will then automatically upgrade to £29.99 one-month membership. A 12-month subscription will cost you £199.95 as a one-off payment.
How to Delete HornyMatches Account
HornyMatches members cannot actually delete their membership on the website, instead, being redirected to gpnethelp.com where users are asked to confirm their details to delete their account. Users can choose to make their profile inactive via the profile settings option on HornyMatches' website, although this will not cancel your membership and your profile can be reactivated at any time.
How to Cancel HornyMatches Subscription
HornyMatches subscribers must cancel their membership by heading to gpnethelp.com and following the instructions on the screen.
How to Contact HornyMatches
Members can contact the support team either by heading to gpnethelp.com or by sending an email directly to support@gpnethelp.com.
Summary – do we recommend HornyMatches.com?
HornyMatches does exactly what it says on the tin; it connects members looking for no-strings-attached adult fun with others seeking the same. With premium users benefitting from features such as advanced searches, adult videos and access to live streams hosted by members, there is real value for money in signing up for a premium membership. Other casual dating sites offer similar services but, with over 20 million users signed up worldwide with around 40,000 online at any one time, the action quite literally never stops. If you arent completely sold by using the website as a limited free member, the £2.95 three-day trial is a welcome option.
Most Popular Sites

Benaughty.com lets you get right into the fun dating experience. It encourages a naughty community of singles and couples. Its selling point is simplicity and delivering results with its search functions and communication features.

Cupid.com is one of the leading gay dating sites that successfully brings single gay men together around the globe. If you are searching to date or love a lifetime partner, this is the best platform for you.

A large chat dating site, QuickFlirt is like a speed dating service for online flirting!