Our Review for Passion.com will Help You Decide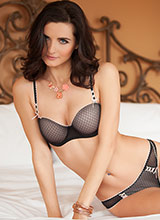 Passion.com is for those who are out to explore one-time sex encounter. It's also for finding friends with benefits those not looking for something serious. Join the site to meet like-minded individuals and even a thrift of adventure.
Five Facts about Passion.com
A free dating site for finding passionate singles
Special features for members to enjoy
A huge worldwide membership of active members
There is a mobile site but no app
Sexy, playful and seductive photos to enjoy
About PASSION.com
Sexy Personals for Passionate Singles" is the tag line for this dating site which gives users a good idea of what they can expect. It is in fact, a free dating site for those adults that want to enjoy more adult romantic experiences. It is more focused on those that want to arrange casual hookups or flings and perhaps not where you will find the love of your life.
The Pros of PASSION.com
A huge membership of 90 million with 36 million in the US
Members are very active
Quick and simple to sign up
Lots of special features to enhance the experience
The Cons of PASSION.com
No app for either iOS or Android
Not a great mobile layout
Females outweigh men 5:1
Fake profiles
Member Structure
There is no doubt that this dating site has a huge membership with 90,000,000 members registered worldwide. While 36,000,000 of these are in the US, the site is also very well used in countries like Canada, the UK, Thailand and France. This membership is really active with hundreds of thousands of users logging on every day. One downside of this could be the fact that so much of the membership is female. This is great news for men who will find 5 women for every male member, but perhaps not so great for women looking to meet guys. The site is not purely a heterosexual site either with a diverse array of members from all backgrounds and preferences.
Registration
To register a Passion.com account, users must be over 18 and will be required to verify their email. There is only the option to actually register through the site and no way to speed up the process using Facebook for example. That said, registration only takes a few minutes. Members will be asked to enter specific details starting with their gender and sexual preference. Next you will be required to enter your age and location plus an email, user name and password. You then answer a few more questions, verify your email and you are good to go.
Functions
Search tools
Due to the questions that you are asked to complete upon registration, there are a number of filters you can use to help you with your Passion.com search. Obviously, the major ones are location, age and the sort of experience members are looking for. Using Kink Search means that you can also search by the type of sexual experience you are seeking. The beauty of Kink Search is that you can explore some things that maybe you are comfortable discussing when dating someone you meet offline. It certainly allows you to live out your fantasies discreetly with like-minded singles.
Making contact
Once you discover someone that you want to get to know better, you can then make contact. Of course, you are going to need to upgrade to a Passion.com Gold membership to use contact features. Once you have subscribed, you do have access to instant messenger and group chats and you can send flirts and view videos/photos as well as using webcams.
App
The mobile side of Passion.com does need some improvement. For a start, there is no app which for those who want a casual dating experience, could be viewed as an issue. Because there is so much to display, the mobile version of the site is quite busy and not as intuitive as you might hope. It really could offer a huge boost to the experience if there was a more user friendly mobile version.
Special Features
There are some stand out special features of Passion.com which will enhance the dating experience. One of the greatest is Kink Search. This feature allows you to search for members by sexual experience. Let's say you want to explore something taboo or that you normally feel embarrassed or nervous about, using this site, it is somewhat of an 'anything goes' scenario. There is a voting feature which allows members to vote for What's Hot – those members with the most votes will then be featured. Users can also write and read blogs and use live webcams.
Pricing Plans
There are a few pricing plans to be aware of including the main Gold membership
Gold membership
1 month - $31
3 months - $73
6 months - $198

You can also pay for private chat, adult movie subscriptions and purchase additional credits.
Free services
Registration
Basic search
View profiles
Fee-based services:
View photos and videos
Unlimited access to live webcams
Access to Instant Messenger and Chatrooms
Sending flirts
Payment methods:
Credit card and cheques
Common questions and their answers
What is Passion.com?
Passion.com is a casual dating site for passionate singles who are looking for fun, friendly and romantic liaisons. Those that want to explore their sexual fantasies, can find like-minded singles that will be happy to oblige.
Who owns Passion.com?
Passion.com is a dating site owned by Friend Finder which is a dating network that own and operate a number of the Finder dating sites.
Is Passion.com legit?
Not only is Passion.com obviously legitimate by the number of members that use the site, it also has the backing of a huge network of dating sites with members across the globe. As part of the Friend Finder network, there is no doubt as to its validity.
Is Passion.com a free dating site?
It is free to sign up to Passion.com and to create a profile. Free members can browse the site but not make contact with others. This requires an upgrade to the Gold Membership.
How much does Passion.com cost?
There are a few subscription options with Passion.com. First is the main premium option which is the Gold membership at a cost of $31. There are other options to choose to subscribe to adult movies and to join private chat rooms. You can also purchase credits to spend on other features.
How to delete Passion.com account?
In the top right-hand corner of the site, you will see your name. Click on this where you will be taken to your account settings. Find the "Manage Accounts" section and then click on "Close Account". Click "Please Close My Account" and then re-enter your password to confirm.
How to cancel Passion.com subscription?
As with many dating sites, subscriptions will automatically default to auto-renew. To switch this off, follow the "My Account" link, click "Billing History and Credit Card Info". You will see "Product Status" at the top of the page where you will need to click it to "OFF".
How to contact Passion.com?
Contacting Passion.com is not entirely easy. You can either fill in the contact form on the site or you can send correspondence by postal address to either their UK or US address. There is a contact number for the Friend Finder network or there is a Live Help button to chat with agents however this is run by a third party.
Summary
There is some suspicion around the validity of some of the initial messages that you might receive within a few minutes of signing up with Passion.com and that these may be used to encourage you to sign up for a premium membership. That said, once you do sign up, these messages become less. The site has a huge membership which is very active and the site does offer the experience that some actively sexual people are seeking. While it could do with an overhaul, specifically for mobile, the site does have a lot of positive points for those that are looking for casual sex and fun flings.
Most Popular Sites

A large chat dating site, QuickFlirt is like a speed dating service for online flirting!

Together2night.com rewards singles looking to get frisky for a night. It's a viable platform that offers good search and interactive features that help you connect with like-minded people.

Onenightfreind.com is best for the bisexual singles searching for both quick hookups and long-term relationships. It claims that about 82% of its users are educated, thus are precise about what