What Are Some Good Ways to Keep a Conversation Going?
Sometimes or the other, you must have experienced the terrible and uncomfortable silence when attempting to converse with someone you like. Not having to fumble for the best things to say is a talent, and the art of communication requires some constant practice. Starting a conversation is good, but keeping it going can be quite a challenge. Here are few ideas on keeping a dialogue going and scoring a fantastic date and maybe a better second date soon. To start with, be sincerely interested. Are you even listening to your date chat, or are you really too self-absorbed even to note that she is beginning to inch towards the door to flee? Sure, you have a lot to say, but odds are, so does your date. Don't ruin the mood, and be alert enough to feel whether your date is really enjoying herself or maybe you need to shut up for even just a minute. However, don't be a statue as your date yammers on about her life. It takes two to tango, so be similarly interested. Time to unleash your juggling act. Don't hoard the whole conversation but don't sit still like roadkill. Make it a two-way operation!
How Can I Keep a Conversation Going with This Lovely Person?
Have you asked someone out on a date recently? Have you already chosen what clothes to wear that will make you look the best? Are you still thinking about ways to keep her engaged and how to keep a conversation going during your date?
Going on a date for the first time will get you anxious. The first dates are the make or break kind. Being allowed a second date would depend on how the first date played out between you. How do you tell that a date has been successful? During the date, you have to make her more interested in you. You should dress up to look attractive, but you will have to have something more than your looks to make her say yes to a second date. You must be able to communicate with her by having a fantastic discussion. There would be moments when you can unexpectedly run out of words to say, leading to an uncomfortable pause. To keep a dialogue alive, there are a lot of things that you can do.
Speak About Hobbies
Chatting about your hobbies can be a good start and can help keep a conversation going. If you're anything like a typical guy, you'd want to chat about the things you like doing, such as football. You can never run out of words when it comes to the games you enjoy. During the chat, you can talk about your hobbies, and you can ask her about her own. Before you know it, it's already past 9, and you have already been chatting for more than an hour.
Be Attentive
When you are on a date, refrain from texting or calling anyone. Many men make the mistake of entertaining a text message while half-listening to their date's talk. This will certainly annoy your date, and she will stop chatting all of a sudden once she realizes that you are not attentive at all. To keep a conversation going, turn off your cellphone and give your date all the attention she wants. Being attentive to your date would mean that you appreciate her, and you can listen to what she is talking about.
Enjoy the Date
Make the best out of your date and enjoy every minute of it. Girls admire guys who know how to enjoy a date. You may not need to be in a fancy restaurant or at a party to enjoy a date. Having only a simple chat when strolling through the park is already enjoyable if you know how to keep a conversation going. Girls want easy dates too.
Be Spontaneous
You have to be spontaneous if you don't want to bore your date. Girls are alert, and once they see the slightest sign of boredom in their dates, then they will lose interest right away. Refrain from going to a routine type of date. Suggest something enjoyable and different to do – other than having dinner and going to a movie – while engaging her in a fun discussion and making sure that you keep the conversation going all throughout the date.
I Can't Keep a Conversation Going – What Can I Do?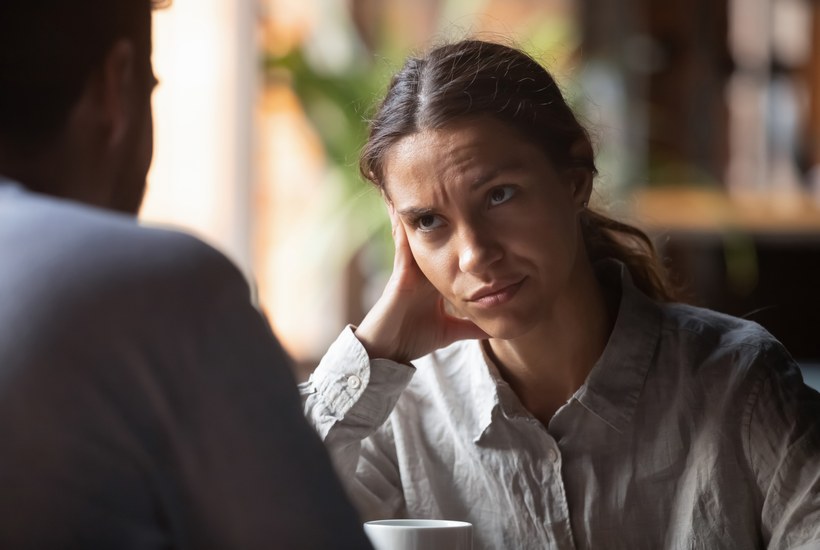 Would you want to please your date but just couldn't find the right words to say? Do you hate it when both of you run out of stuff to chat about and just end up nervously looking at each other? Are you looking for opportunities to be a h3 conversationalist? All women hate it when a date that started fantastically is now about to join the endless pause scenario.
Thirty seconds of quiet will feel like thirty minutes. Have you ever experienced this? What exactly is one supposed to do to keep the dialogue going forward? First of all, you will need to learn how to broaden the chatter so that you never have to deal with that moment of awkwardness again. When the other person is talking, look for hints of what they are talking about.
So how can you crack the silence?
There are a lot of easy things that you can do to avoid getting yourself in an embarrassing situation like this. Being conversational doesn't take any specific ability - what you need to do is study the following tips on keeping a conversation going. But are these tips easy? Are these techniques effective?
Here are some of the things that you can do to keep your date light and candid.
Tip #1: Ask the Correct Questions
Asking the right questions is really important if you want to keep a dialogue going. This will result in a friendly and free-flowing discussion. Your date will find you easy to get along with and will trust you straight away. Mind that your goal is to learn more about your date, and asking the right questions would give you all the things you need to explore.
Tip #2: Get a Sense of Humor
Do keep a new collection of jokes on you. Women quickly fall for men with a great sense of humor, and they want someone who will brighten up their day. Telling jokes can do a ton of good in your date - it will save a dull evening, make her fall in love, and will bring you out of the "Uhm...." pause scenarios. Some women also think that men with an intelligent sense of humor are very clever.
Tip #3: Be Yourself
You need - and deserve - to please your date; however, you have to be yourself and behave naturally for you to do that. Avoid sentences and words that would make you seem smug. Women don't want to be with men who seem arrogant and pretentious. Be sure you speak in all honesty and do not claim to be someone you're not.
Tip #4: Seeking the Right Conversational Topics
Don't settle for questions that can be answered with a yes or no. Look for the right subjects you can chat about. You can analyze the new movies, for instance. If you are into cinema, so you have a massive advantage as women just absolutely enjoy films. You could use it all evening to chat about your favorite actor, and she'll probably ask for another date. You can easily keep the talk going if you can find a shared interest.
These tips are useful not just for first-timers but also for any man who is having a rough time holding a conversation. You can't charm your date if you just stare and wait for her to launch a conversation. You need to loosen up and start small talks. She will like your company more that way.
What to Say to Keep a Conversation Going the Right Way
Do you know how uncomfortable it feels to be in the midst of a conversation, and out of nowhere, there is silence? You're sitting there looking at one another and contemplating what to say. Don't panic because the other person is still thinking the same thing as well. Are you thinking about how to get past that moment of silence? If so, then you can continue reading this post about how to keep a conversation going.
Do you know how we get past the silence? Basically, in our opinion, we should have a list of regular questions that we should ask the other person to keep the conversation going. Whenever you feel the moment of silence coming out, just automatically throw out the question. However, you should know how to ask the right questions. You do not want to ask a yes or no question. For example, inquire about her taste in music. This could relate to many other items such as iPods, concerts, and MP3s.
What do we expect when we tell you to listen for clues? Okay, for example, when you say, "I like your shirt. Where did you get it?" and their answer is, "I picked it up at the animal shelter. They had an event this weekend." So, when it gets silent, you obviously realize that they like animals since they went to an animal shelter event. Doesn't it make sense? How to keep a conversation going all revolves around how much of a listener you are.
What are the wrong questions to ask? Okay, the wrong ones will be some closed-ended questions. What is duller than questions answered with a straightforward yes and no? And worst, it sounds like a criminal report! So be a bit imaginative when being curious. Use prompts starting with how or why. But don't make it sound like a career interview. Only be honest. It keeps the talk lively, plus it opens the gateway to more discussions and subjects that'll have you both glued and hooked for hours.
Learn how to listen. A good conversationalist is simply one good listener. You will never be good at conversation if you're not going to listen first. Let your date chat about herself too. We all love to chat about ourselves so take care of your date's preferences, hobbies, and passions, and odds are, she'll be curious about yours just the same. Don't get too jumpy as well. Savor and enjoy the chat like a cup of steaming coffee. You will feel comfortable and cozy until the very last sip.
Check out related articles: