Our review for CheekyLovers Checks out a Top Flirty Dating Site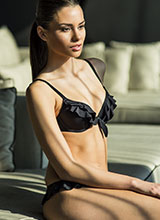 Cheekylovers.com has plenty of good-looking members who mostly are from USA. The site has great tools for easier communication. It however lacks a mobile app.
Five Facts about CheekyLovers
Quick and easy signup
Search results arranged according to proximity to your location
Discount deals for membership rates
Activity panel allowing you to keep abreast of daily messages
Five free chats
About CheekyLovers
CheekyLovers is a dating site that advertised itself as being free to join and gives access to a range of singles who are keen to connect with kindred spirits. The algorithms operating behind the interface ensure you are presented with a list of potential partners who are claimed to be living within a five-mile radius. Of course, to check out the accuracy of the geography you'll need to upgrade your account status so you can unlock further details of that person's profile. The site does seem to have a relaxed vibe, so how should the CheekyLovers experience be rated? We've looked closer at some of the pros and cons of this resource and put together our CheekyLovers dating site review.
The Pros of CheekyLovers
Signing up to become a member is straightforward, and can be done in a few minutes.
Even before taking out a membership, you can browse through the site to get a hint of what might be in store.
An app version is available.
The Cons of CheekyLovers
From the get-go, you are bombarded with messages from other users who appear eager to connect, even before you upload your profile picture.
A lot of the profiles are lacking in substantive details, and you'll have to upgrade your membership to 'fill in the blanks' or to get to see more photos.
Member Structure
Members come from a wide area of geographic backgrounds, and judging by the number of matches that arise living less than five miles distant, the site must be well subscribed to. There are members of every age demographic. As far as the gender split ratio is concerned, if you sign up as a male looking for females, these are the only profiles that will appear on your screen so it's difficult to tell. Going by comparable sites, the ratio is probably fairly balanced.
Registration
The process of creating your member login is nice and easy. You complete a web form stating your topic of interest (i.e. man looking for a woman), age, email, chosen password, and location. It's free to register. After your email has been verified you can start setting up your dating profile. You are asked for your status, ethnicity, body type, and hair color. You can also add a profile photo.
Functions
Search tools
Once you've created your member login and added your profile, you come to the crucial question: how to search on CheekyLovers? The search facility can be readily accessed from the top-left corner of the main screen, next to your Like Gallery. Clicking on search brings up the profile photos of a range of prospective partners, based on your age parameters, and as previously mentioned, geographic location. At this stage, you also have the opportunity to chat with any of these individuals, or simply to 'like' what you see.
Search filters you can apply include age from and age to, location, as well as advanced parameters – sexual orientation, ethnicity, hair color or eye color.
You need to be wary of adverts appearing in the side column that are not directly related to CheekyLovers, but will instead navigate you away to a different site, clickandflirt (tagline – huge choice of single moms.)
To take full advantage of the search facility, you need to upgrade your membership so that you can check out the complete portfolio of photographs, not to mention gain a fuller impression of background information. You can certainly begin messaging until you've taken this step, but you are only allowed a maximum of five free messages which is a bit restrictive.
Making contact
Although you can send up to five messages if you want to establish a good rapport with one of the other site users you should upgrade your membership. The system will do a certain amount of matching in that you will find yourself presented with singles living nearest to your location, courtesy of postcode matches.
App
The CheekyLovers app is available to download from Android. It has many features in common with the website version, including the ability to wink or send chat requests to other site users. There's a location-based search tool allowing you to check out singles in your area, or within a certain radius – ideal when you're out and about with your smart device.
Pricing Plans
List of CheekyLovers pricing:
1 Day 0.99 USD / Day 0.99 USD
1 Month:36.41 USD / Month -36.41 USD
3 Months:20.41 USD / Month -61.24 USD
6 Months:16.50 USD / Month - 98.99 USD
Free services
Search for potential contacts
Send up to five messages, with photos
Send Flirtcasts
Fee-based services:
Unlimited chats
Big photos
'Looking for' info
Extended search
Premium support
Share photos and videos in chat
Bonus - free trial access to getnaughty.com
Payment methods:
Credit/debit cards, Diners International, Amex, Discover
Common questions and their answers
What is CheekyLovers?
CheekyLovers is a dating site that is free to join and will give you access to check out the profile details of other site users, join chat rooms, check who has browsed your profile, or add other members as friends to your personalized list.
Who owns CheekyLovers?
The domain is owned by Together Networks Holdings Limited.
Is CheekyLovers a free dating site?
It's free to create a member login, browse through the profiles and send up to five messages. For anything else, you'll need to upgrade to a paid membership.
How much does CheekyLovers cost?
Depending on how many months you sign up, membership fees can be as low as $09.99 per day.
How to delete CheekyLovers account?
This can be done in two ways. You can click on your profile picture at the top-right of the screen, then select My Settings from the drop-down. On the My Setting page, scroll down until you see the 'remove account' tab. At this stage, you'll be prompted for your login details. Then hit 'remove my profile, contact and personal information.' After this, you'll be asked for a reason for deciding to quit the site. Once you've done this, you confirm the deletion, and the job's done.
A shorthand way of deleting your account would be to send an email to support@CheekyLovers.com, with 'request to delete my account' in the subject bar. Then you would quickly compose a message containing your reasons. Include your username and email address in the body of the email so the admin staff can verify your details and action your request more quickly.
How to cancel CheekyLovers subscription?
Your subscription will cancel when you no longer have an account.
How to contact CheekyLovers
You can contact CheekyLovers by using the email address stated above
Summary
CheekyLovers is easy to sign up to, and its navigate is user-friendly. Because you are asked to provide your location details at the outset, this information is stored in the system to ensure you are presented with a list of singles who are most local to you. You have the opportunity to drill right down and consult a list of singles within a mile radius, but when you click on this link it merely takes you off to a different site, where you can get to meet single moms.
The interface is straightforward (to the point of being a little dull and uninspiring compared to many comparable dating site that can be more eyecatching) but it's designed for convenience and easy of operation. The most obvious thing to strike you when you browse through the personals is that although the photograph might attract your attention and they might live within five miles, there is a singular lack of details about any of the individuals. To unlock this information you need to upgrade your membership.
Another aspect that was irritating was that as soon as you've registered, even prior to uploading a photograph, your inbox starts filling with messages. This leads you to speculate if any of these might be spam
You'll need to subscribe to do pretty much anything interestingon the site, from viewing complete profile details to filling in the blanks of the profile details. But the more positive news is that subscribing to CheekyLovers is relatively inexpensive compared to some of the dating sites out there. For instance, taking out a six-month membership will only cost you 48p per day.
Most Popular Sites

A large chat dating site, QuickFlirt is like a speed dating service for online flirting!

Together2night.com rewards singles looking to get frisky for a night. It's a viable platform that offers good search and interactive features that help you connect with like-minded people.

Onenightfreind.com is best for the bisexual singles searching for both quick hookups and long-term relationships. It claims that about 82% of its users are educated, thus are precise about what