Growlr – We Review the Popular Dating Sites of 2020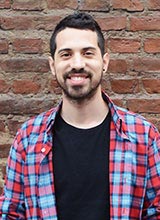 If you are into gay bear dating, this is the best dating app for you!
Looking for a Dating Site? Read a Review of GrowlrApp.com
Five facts about Growlr
Events and meetups are regularly organized for users – these are called Bear Runs
Created as a social network for the gay community
Free registration and quick sign up
No social media integration is required
Free search functions
The Idea Behind GrowlrApp.com
We looked at how Growlr works and found the app perhaps slightly simple, but really easy to use and refreshingly simple to navigate. Our Growlr dating site review looks a little deeper at which functions are available, how the GrowlrApp.com experience compares between a free and paid subscription, and how likely you are to meet the man you've been looking for using this app. What makes this app a little different from other dating oriented apps is the focus on being a social network, so perhaps more opportunities to meet and network than solely to date. There are around 10 million users to date, with the majority based in the US.
The Pros of Growlr
Available on either Andriod or iOS
Free to download and register
Intuitive interface and easy to navigate
Large range of networking options to group chat, private message, and attend events
Free and varied search functions
The Cons of Growlr
The sign up is very simple, so there do tend to be a few fake profiles out there
Members use either a first name or a nickname, so might be using an alias
There are no integrations or logins possible through existing social media accounts
Member Structure
GrowlrApp.com members come from around the world, although the local search functions allow you to filter through who is online now, and which members are nearby. The app is designed for gay men, so the membership you will find here are guys who are looking to make friends, arrange hookups, seeking a relationship or just be a part of the gay community. The average age varies, so you are likely to meet men – or bears as they are known on Growlr – of all ages and backgrounds.
Registration
Creating a member login couldn't be easier; to register takes only a couple of minutes and once you have your mobile login created you're pretty much good to go. To create your dating profile you only need to enter basic information, although you can go back and add more details later, and you can upload your profile photo straight away without needing to go through an authentication process. How much information you add to your profile questions is up to you; either you can leave this blank or add as much detail as you would like – it's very much open! Users are shown by their chosen moniker at sign up, so this can either be your first name or a nickname as you prefer. Remember though that your profile photo and any other photos you choose to upload are public to all other Growlr members.
Functionality
Search tools
Finding out how to search on Growlr is simple; the app is very straightforward and how to use the search is quickly explained in the Help section. Messaging is free and is ordered by messages read and unread in order of priority. The search mobile functions allow you to search by city and find bears in your local area, search by username if you're looking for somebody specific, or to search by online status to find members who are online now that you can chat with.
Making contact
Growlr doesn't have a matching system as such but allows you to search and connect with other users by either their location, online status, or by searching your saved favorites. You can also use a global search to make connections with bears in different countries, so there aren't any limitations to how far afield your searches are run. Chatting is free and included in the basic membership, and you can respond to or create meet requests in your area. There aren't so many features in terms of sending gifts or online flirts, but for first message tips the app works very much like an exclusively gay social network, so it isn't hard to get started.
The App
The GrowlrApp.com is available on both iOS and Android and is free to download, install and register on. The app is perhaps a little bit outdated, but then the app design is very easy to use and understand. App features include the facility to send photos, message online, check your inbox, run searches and respond to event requests that you might be interested in attending.
Special Features
What makes Growlr stand out is the emphasis on networking and the Bear Run events that you can either organize or be a part of. This encourages members to be an active member of the gay community, so it is up to you if you want to get involved, or purely wish to use the app for the online dating experience.
Pricing Plans
Growlr Pro pricing:
1 month: $9.99
3 months: $8.00 per month
6 months: $7.50 per month
12 months: $6.00 per month
Free services
Online chat functions
Registering and creating a profile
Running searches on members and profiles
Fee-based services:
Viewing private access photos
Video chatting
Reusing your saved searches
Removing ads from the app
Payment methods
GrowlrApp.com subscription upgrades are paid for via your mobile phone payment system, such as Google Pay or Wallet. Please note that this means if you upgrade to a paid subscription and would like to cancel, you'll need to do so through your mobile phone payment service rather than through the app to ensure you don't continue to be charged.
Common questions and their answers
Is GrowlrApp.com a free dating site?
Yes, and no! Growlr is free – most of the features you're likely to need are included in free membership. It is a gay dating app but is also a social network so you'll find more content here than on other dating sites. If you decide to upgrade, there are several options that remove ads, remove any restrictions on using the special features, and provide access to functions such as SHOUT, which allows you to highlight your profile to all bears within a five-mile radius, or FLASH which boosts your profile right to the top of any searches being run.
Is GrowlrApp.com legit?
The app is authentic, and currently has around 10 million users around the world. You don't have to enter much detail at all, nor do you have to verify your account with any external social media platforms so there is a minimal potential to have to worry about disclosing information you don't wish to share. However, background checks are not run, profile photos are not verified and there are guidelines in place for members who choose to attend events, so we'd recommend reading these carefully to make sure you practice safe dating and safe networking with anyone you have met on Growlr who could be using a nickname, a false name, and might not match their profile photo if they are one of the small minority that abuses the site.
What is GrowlrApp.com?
Growlr is a hybrid between a gay dating app and a gay social networking site. It intends to help gay men, or bears, meet other gay men although it isn't exclusively for dating albeit that dating and hookups are the main reason users join the site. It has been running for ten years now, so it is an established app service with over 10 million users all around the world.
Summary – do we recommend GrowlrApp.com?
GrowlrApp.com is a pleasant surprise. It offers opportunities to date, and to connect with members nearby so it is primarily a gay dating app. However, the humor and fun personality of the app makes up for the outdated appearance, and with such an easy to use interface is far less complicated to understand than other gay dating apps. The option of getting involved with events and meet-ups is ideal for any single men looking to meet lots of the local gay community, although with limited verification checks it is wise to be cautious about fake profiles.
Most Popular Sites

Benaughty.com lets you get right into the fun dating experience. It encourages a naughty community of singles and couples. Its selling point is simplicity and delivering results with its search functions and communication features.

Cupid.com is one of the leading gay dating sites that successfully brings single gay men together around the globe. If you are searching to date or love a lifetime partner, this is the best platform for you.

A large chat dating site, QuickFlirt is like a speed dating service for online flirting!