Explore our Review for Meet2Cheat.com – a Dating Site for Affairs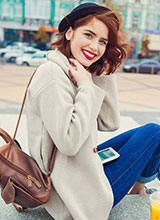 Meet2Cheat is an affair dating service for married people looking for sex hookups.
Five Facts about Meet2Cheat.com
It's a basic site that makes dating very simple
There is no need for a verification email when registration, which makes the process super quick
The site is American; there is only the opportunity to meet people there
Many of the photos on the site are blurred, which protects privacy
Meet2Cheat is a site for people who want to indulge in affairs, hookups, and casual dating
About Meet2Cheat.com
To provide a simple and fast way to send messages, flirt, and arrange one-off dates with like-minded people.
The Pros of Meet2Cheat.com
The site is easy to navigate
Your basic stats and appearance details are required on registration, so search results will be more effective
Privacy can be ensured with the blurring of profile photos
All members are on the site for the same reasons, which means there is no need to explain yourself, and no-one will judge you
The Cons of Meet2Cheat.com
It is unlikely that you will find a long-term, committed relationship on Meet2Cheat.com
Many members will choose a numerical or alphabetic username and will blur their photos, which doesn't give you much of a clue as to who you are messaging
The site is not completely free; some paid services are required to make the most of the site
There doesn't appear to be much attention paid to security and identity verification
Member Structure
Geography
Location is key on Meet2Cheat.com as fast, and convenient dating will only happen when your partner is close by. It is possible to change which US state your search covers easily.
Activity
Meet2Cheat.com is a simple site on which you can:
search for compatible members;
browse through profiles;
message the people you're interested in.
Gender
Gender and sexuality are both questions that are asked in the registration phase. Everyone is welcome on the site, and your matches will be based on your preferences, but they can easily be changed in the profile section.
Registration
There are several small forms to complete as you go through the sign-up process. These cover your age, gender, state, sexuality, and appearance.
A valid email address is required, but no activation email is required to access the site. This may lead to numerous bots and fake profiles.
Logging in
A password that is easy to remember but tough to guess is required
Your password can be changed and retrieved if forgotten
Profile questions and details needed
In addition to basic statistics, your profile can be populated with the following:
physical appearance and looks;
any tattoos or piercings;
your sexual preferences.
There is no requirement to complete any part of your profile, and there are no emails or messages from the site team to remind you. Tell a bit about your personality, hobbies, and interests.
Photos
Photos can be blurred for privacy, and access to those photos must be requested via an instant message.
Profiles with photos will do well on Meet2Cheat.com as so few member profiles have them.
Functionality
Search tools
The 'Search Criteria' tab is where you can change your search parameters. The options are basic but can be changed at any point:
gender preferences;
appearance preferences;
the age range within which you will date;
your relationship status;
the type of relationship you're looking for.
Searching by profile/username
There is no way of looking for a particular username or profile. Many members create monikers that are difficult to remember, so if you see someone who looks beautiful and you'd love to chat to then seize the moment.
Searching by city
The state within which you wish to search can be changed. There is no facility to narrow the search down to an individual city or zip code.
Making contact
How to send a message
Sending an instant message is super simple, especially if that member has a green dot on their profile to show that they are online at that moment.
First message tips
Use the instant message service to prevent having to give out your email address or mobile number to someone you have only just met.
Never share your home address, email, or workplace with someone you are not sure you can trust. Give it time!
Check out the profile of a member you're about to message or respond to. Do they seem a good match?
The matching system
Your matches will appear in the top right hand of your screen and will feature people who are compatible with the details you gave when signing up to the site.
Finding someone who fits your needs exactly is easier with an advanced manual search.
App
Availability
There is no mobile app; however, there is a mobile site with the same design and features as the desktop site.
Pricing Plans
3 Month:14.9 USD / Month - 44.7 USD
6 Months:9.9 USD / Month - 59.4 USD
12 Months :4.9 USD / Month - 58.8‬ USD
Free services
Registration and account creation is free
Most of the services on Meet2Cheat.com are free for women
Fee-based services
Sending and receiving messages is a billable service for men
Payment Methods
Messaging services are charged 'per click' and will be charged to a credit card on an auto-renewal basis.
Common questions and their answers
What is Meet2Cheat.com?
Meet2Cheat.com is a US-based casual dating site for men and women of all sexualities.
Who owns Meet2Cheat.com?
The site is owned by a US media company and has lots of members in the USA.
Is Meet2Cheat.com legit?
Yes, it is a legitimate site, but there are few security measures in place. This leads it open to abuse from bots, fake profiles, and scammers. Common sense and wariness are needed while using the site.
Is Meet2Cheat.com a free dating site?
Registration, profile creation, and all services for women are free.
How much does Meet2Cheat.com cost?
Messaging in all forms is chargeable for men. The amount paid depends on how many 'Clicks' a member makes.
How to delete an Meet2Cheat.com account?
It is possible to delete an account in the Members area of the site.
How to cancel an Meet2Cheat.com subscription?
Cancelling payments for messages must be done by contacting the customer care team.
How to contact Meet2Cheat.com?
There is an email through which it is possible to contact the customer care team. Issues will be responded to within 24 hours.
Summary
We would recommend the site to people who want a fast and simple way to meet people in their state for casual dating. We would suggest a high level of common sense while using the site, however. Make sure the people you contact are trustworthy.
Most Popular Sites

Male gay dating site BuddyGays is best for men looking for gay friends or relationships.

Cupid.com is one of the leading gay dating sites that successfully brings single gay men together around the globe. If you are searching to date or love a lifetime partner, this is the best platform for you.

The sister site of BuddyGays, GaysGoDating, is a fun and quirky gay dating site for men.