Surge – We Review the Popular Dating Sites of 2020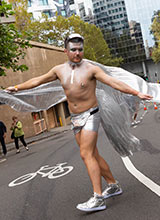 A male dating app with a difference! Surge does not identify any particular sexuality, background, or type of preference; it is a male dating app for men of all types, without using any labels.
Looking for a Dating Site? Read a Review of Surge
Five facts about Surge
Images and videos are only displayed on a transitory basis
Free to download to Android and iOS devices
Fingerprint security
Members are presented as individuals with certain tastes rather than categorized
You can edit your profile to attract more attention
The Idea Behind Surge
How does Surge work? This Surge dating site review will examine various aspects of this socializing and hookup platform, providing our assessment of how meaningful and recommended we find the Surge experience to be.
The Pros of Surge
Popular dating site with an informal and welcoming approach
Over four million registered members
No ads
The Cons of Surge
Limited options for standard members
Member Structure
Surge is a hugely popular dating app, with worldwide membership and approximately 3,000 new registrations on a daily basis. In total, there are around four million registered members for what claims to be the top gay dating app.
Registration
Age verification is required
Straightforward sign-in process
Requires email verification
You can attach your Instagram, Facebook or Spotify accounts
Surge is a dating app that is free to download to your smart device. You can access this app in Google Play and the Apple App Store. Once you've downloaded the software, you are good to go. You need to be 18 years old or over to create your registration. Creating a member login is a straightforward process that you can easily accomplish in a matter of minutes.
To create your account, you only have to input your email address, first name, your chosen password, and your birthday. Once you have input your email, you refer to your inbox for the corresponding verification. For a seamless registration, you can opt to use your Facebook login details, which will be automatically synced. This connection with your social media is invaluable when it comes to adding further layers of identity. Since you can also link to Spotify, you can get an idea of the musical tastes of another site user, giving you a fuller impression of their personality, as well as providing you with ready conversation topics. In an instant, you can discover what you like to listen to in common.
You specify your location, and this will allow your phone's GPS to be used to establish your proximity details when it comes to establishing matches.
When creating your dating profile, you need to ensure you use a clear headshot. If this is not the case, your application is likely to be rejected by the Surge admin team. You can upload five photos for public display, and three, which will be utilized in more private settings. When you compile your profile, you can connect through any of your social media accounts – Instagram, Facebook, or Spotify.
You can alter the location listed in your profile, so you have the potential to connect with members who are located further away.
There are strict rules about profile pictures. These are carefully reviewed by site administration, and if they fall below certain standards of decency, they are liable to be rejected, and you'll have to choose an alternative that does comply. Profile photo must consist of headshots, set against an unobtrusive background. It will improve your chances of finding a suitable match if your profile image is clear and well-lit, rather than a blurry selfie with distracting elements.
Functionality
Search tools
Free services just cover the basics: registration and viewing profiles. For the ability to undertake a more comprehensive search, you need to upgrade. You can search through guys who are close by as the app relies on GPS technology. However, matching requires you to have swiped in sync at the appropriate point. If you enter a new location, you can 'teleport like a boss' and check out the talent further afield.
Making contact
When you choose to get in touch with another app user, you need to be aware you can't just message anyone. The sub-text of this dating app is exclusivity, so before you make contact, you need to swipe left or right, indicating whether you are interested in someone or wish to pass and move on to the next choice. Once a reciprocal like has been established, and you have therefore been successfully matched, you can start to chat. This ensures that a degree of compatibility is established – if only based on the physical attraction at this stage.
You are only allowed to chat with site users you have been matched to, but you can also send photos or videos. The excellent aspect of this is that these media vanish after a few seconds. This attribute makes for exciting viewing, as you both appreciate the instant nature of this exchange.
Once you've made contact, you can't delete messages after they've been sent. If you decide you'd like to explore the possibilities of connecting with someone else and erase the message trail you've been pursuing, you'll need to unmatch with the user in question. This will delete your entire conversation. You have to exercise caution when doing this, as this action cannot be reversed.
The App
Surge is available from the Apple Store or Google Play Store.
Special Features
One of the standout features of this app is the 'Power Like' facility. Because it can take time to match with someone (with all the permutations of swiping left and right). Not to mention going through the drawn-out process of chatting with guys you've matched with, using the Power Like feature is a way of being far more emphatic when stating how much you are drawn to someone in particular. Once you've employed this potent 'shortcut,' is the feeling is reciprocated, then you have established the basis of a strong degree of chemistry with minimal effort.
Pricing Plans
List of Surge pricing:
One-month premium membership - $4.99
Three-months premium membership - $5.66 per month (total $16.99)
12-months premium membership - $5.00 per month (total $59.99)
Power Likes
5 credits – $1.75, 50 credits - $13.16
Free services
Registration
Complete profile
Like and view profiles
One 'Power Like'
See matches
Fee-based services:
Only visible to people you like
See everyone interested in you
View locked photos
Search/edit likes
Amend your location so you can see other men
Payment methods:
Credit card or via mobile phone
Common questions and their answers
What is Surge?
Surge is a trendy and popular dating app aimed at the gay community worldwide.
Who owns Surge?
Surgeapp.com is a privately-held company located in Prague, Czech Republic.
Is Surge legit?
Yes, Surge is a legit app that has been running for several years, with an active membership running into millions.
Is Surge a free dating site?
Yes, the site is free, but far more powerful functionality is available for subscribed members.
How much does Surge cost?
A one-month membership starts at £5.99 per month.
How to cancel the Surge subscription?
Go to Subscriptions and select Manage. Select Surge and set the auto-renewal slider to off.
How to contact Surge?
Select the email contact listed at the foot of the pages on the website, help@surgeapp.com.
Summary – do we recommend Surge ?
Surge is a contemporary-looking and highly user-friendly dating app that has been embraced by the gay community. The interface is slick and easily navigable, and within a few taps of your keyboard, you will immediately be put in touch with a host of available guys in your neighborhood.
It utilizes a concept that has become well-worn in dating circles but is eminently convenient. You swipe right if you like the look of a guy, and swipe left if you don't. As soon as a mutual connection has been established, you can start the flirty conversation.
Unlike other dating apps or websites favored by the gay community, Surge prides itself on not following rigid labels. So don't expect to be able to conduct searches where you specify you are exclusively seeking bears or jocks. The idea is that Surge will certainly offer you a choice of matches based on basic criteria. Still, if you want to discover truly how suitable a particular site member is for your attention, this will naturally evolve as you converse online and get to know them better.
Most Popular Sites

Hornycontacts.coms is open to straight, gay, lesbian and bisexual singles to find and date other like-minded individuals for casual hookups, love and even lasting connections. With good search functions and interactive features, the platform is just full of fun.

Igetnaughty.com site is open for the singles and couples looking for bisexual relationships or any other types of connections that can quench their varied fetishes. It is known for being the most liberal dating site resource as it satisfies the needs of its members.

Naughtydate.com is a dating site where you can hang out, flirt and mingle with like-minded hot singles, whether gays or other sexual orientation. With a huge membership base, the website is just a hotbed for casual hookups and flirty encounters.