Upforit – We Review the Popular Dating Sites of 2020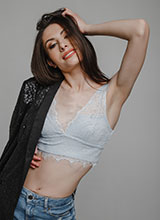 Sign up on upforit.com is free and very quick. It's not mandatory to finish your profile there and then. For just one dollar, the site offers a 3-day premium membership to new users.
Looking for a Dating Site? Read a Review of Upforit.com
Five facts about Upforit
Adult dating site for heterosexual singles
3-day free trial to test the paid for version
Avoid potential fake profiles and bots with Safe Mode
Free users can enjoy 5 messages before subscribing
Matching service
The Idea Behind Upforit.com
Upforit.com is a dating site with many members in countries such as the US, UK and Australia. It is a casual, adult hookup site where single men and women can meet members of the opposite sex for fun and maybe more. Launched in 2007, it has played alongside it's larger competitors with TV advertising campaigns and other forms of marketing. This user-friendly dating site will help you to find singles in your local area.
The Pros of Upforit
Quite niche to heterosexual singles
Quick and easy sign up process
Mobile friendly dating site
5 free messages for FREE members
3-day trial to test the site
The Cons of Upforit
No app for either iOS or Android
Fake profiles/bots
No unlimited messaging for free members
Member Structure
With 2,000,000 members worldwide, Upforit.com has been in operation since 2007. The site is quite specifically aimed at heterosexual singles with no option to categorize yourself as gay or lesbian, transgender or other. It is essentially a place where single men and women can meet and arrange to hookup. The numbers seem to be about 2000 singles that log in each day seeking some fun. It is not the place to be if you are looking for love and a more serious relationship.
Registration
When signing up for the site, you will be required to enter your email address and a few other basic details. Unlike other dating sites, there is no option to use your Facebook and Google login details to sign up. To try and avoid fake users and bots, the site requires members to verify their email address. Once you have completed verification, you will then be redirected to the site where you can start browsing and looking for your hot date. The next step is to create your profile, upload your photos and make sure that you are attracting the right members.
Functionality
Search tools
Marital status, age, eye color, hair color and ethnicity, and more details are included in Upforit.com profiles so that members can get the most out of their browsing experience. If you have specific tastes in wither men or women, the more information available, the more effective your search will be. To benefit from the extensive search features, you will need to purchase a subscription to upgrade your membership.
Making contact
Members can make contact by sending messages but this is a paid for feature of the site so you will need a premium membership. There are however 5 free messages available to members that don't have a subscription. If you want to talk to someone specifically when you join the site and 5 messages isn't enough, by taking advantage of the 3-day trial, you can send unlimited messages in that period. In addition to the message function, users can also send winks as an ice breaker to show their interest in someone. There is a safe mode to ensure that you only talk to people that they want to talk to.
The App
While there is no Upforit.com app, for either android or iOS, you can take advantage of their mobile friendly site. while this won't have the benefits of notifications, it does mean that you can enjoy arranging hookups with matches wherever you happen to be and whatever you happen to be doing.
Special Features
There are a few special features of Upforit.com that make this site more interesting than just a boy meets girl site. Safe Mode is one of these features that you can use to choose who you want to view and who views you. The match-function feature is something that is like Tinder where you swipe to choose if you like someone or not. You can vote if you find someone cute.
Pricing Plans
If you wish to upgrade past the £2.97 for the 3-day membership, you can buy a monthly subscription. Choose one month at £29.99 up to 6 months at £81.12 which makes it £13.52 per month.
Free services
Register, verify and create your profile
Add site members to your favorites
Upload photos
Upload videos
Send 5 messages
Fee-based services
Unlimited messaging
Finding location
Looking for info
Viewing member photos
Viewing member videos
Extended search benefits
Payment methods
Credit cards can be used to purchase subscriptions – they must be cancelled 3 days before auto renewal.
Common questions and their answers
What is Upforit.com?
Upforit.com is a dating site for heterosexual singles to meet and arrange hookups. Single men and women can use the site to find their ideal date either for casual fun or for something perhaps a little more serious although be warned that in the main it is very much about having casual fun.
Who owns Upforit.com?
The dating site is owned by Alcuda Ltd which is based in Nicosia, Cyprus and has been around as long as some of its competitors with the site being launched in 2007. There are correspondence addresses for different countries depending where you are based.
Is Upforit.com legit?
Upforit.com has been round long enough to prove its legitimacy and has used marketing campaigns in very visible forums such as TV to market itself against some of the bigger competitors.
Is Upforit.com a free dating site?
While there are a number of free features when using Upforit.com and you can benefit from a 3-day trial, you will need to pay for a monthly subscription to enjoy the full features of the dating site. Some free features exist to get started like 5 free messages.
How much does Upforit.com cost?
A one-month subscription costs £29.99, reducing to £13.52 per month with a 6-month subscription. For a 3-day trial you will pay £2.97. Subscriptions will auto-renew unless cancelled 3 days prior to the renewal date.
How to delete Upforit.com account?
If you decide that the site is no longer for you, you can either cancel your subscription or delete your profile entirely. You can do this in account settings. Once removed, you will also cease to receive emails from the site.
How to cancel Upforit.com subscription?
If you decide you wish to cancel your subscription, you can do so without deleting your profile. If you have paid up front for a 6-month subscription you will not be entitled to a refund and you must ensure that you cancel any subscriptions in the future that might auto-renew.
How to contact Upforit.com?
You can contact Upforit.com by emailing admin-usa@upforit.com. There is also a customer support telephone number and a postal address where you can send correspondence. By clicking on "submit a complaint' you can fill in your details in a contact form and then send your complaint to the service team.
Summary – do we recommend Upforit.com ?
Upforit.com is an uncomplicated dating site for heterosexual singles to find someone to have some fun with. It is mainly used for hookups and casual dates although it may turn out that you quite like someone. While there is no app for Upforit.com, there is a mobile friendly site which means that you can use mobile or tablet to carry out your dating on the move. While there are other dating sites out there, the cost is not too prohibitive and the fact that you can try at a low cost for 3 days, it is a low risk to find out if it is the site for you. Enjoy your dating and meeting casual acquaintances for some adult fun when it suits you.
Most Popular Sites

Benaughty.com lets you get right into the fun dating experience. It encourages a naughty community of singles and couples. Its selling point is simplicity and delivering results with its search functions and communication features.

Cupid.com is one of the leading gay dating sites that successfully brings single gay men together around the globe. If you are searching to date or love a lifetime partner, this is the best platform for you.

A large chat dating site, QuickFlirt is like a speed dating service for online flirting!