Weareher – We Review the Popular Dating Sites of 2020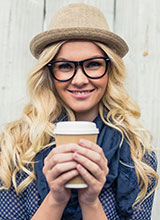 Her, or WeAreHer, is the world's biggest lesbian dating app, for gay women who are lesbian, bisexual, or queer.
Looking for a Dating Site? Read a Review of Weareher.com
Five facts about Weareher
LGBTQ Platform for Lesbian, Bisexual and Queer ladies
The Most popular women's dating site
Send unlimited messages
Women can send messages and chat for free
4,000,000 members already signed up
The Idea Behind Weareher.com
In this in-depth review of HER dating app, we will go into detail regarding how the website works, the features available to its users as well as the overall brand experience. There will also be some helpful tips and advice to help you kick start your dating life and meet the woman of your dreams in no time at all. So sit back, relax, and determine for yourself whether or not this is the dating site for you, or whether or not you should read another review.
HER claims to be the most popular dating platform for women globally, with over 1 million women in America already signed up to the site. The website was founded fairly recently in 2013 and has come on leaps and bounds since its inception. The company, previously known as Dattch, was rebranded in 2015 to combat the lack of LGBT dating opportunities for women. You are able to find women to chat with here and form both lasting relationships and friendships, with far less impotence placed on hookups than you would find with other dating sites.
The Pros of Weareher
Free to add friends
Every profile has a photograph attached.
Facebook/Instagram sign-up
Mobile App available for IOS and Android
The Cons of Weareher
The Mobile App can lag
You are only able to send messages to friends and contacts.
NO manual search options are available
Member Structure
All members HER are female, and strictly no men are permitted to sign up. Of all the countries who use this dating app, we found that most traffic comes from the USA, followed closely by the UK and Italy.
Registration
You can only sign up from Facebook or Instagram (they grab your main info
Additional information can be added later
Android and IOS App available
Becoming a member of HER is largely different from other dating sites in the respect that you can only become a member by having a Facebook or an Instagram account that you are able to link. With this practice, the website can ensure that all accounts are real people and not bots, improving the overall user experience for everybody who uses the service. Once you have linked either account to your profile, your pictures, name, and birthday are automatically transferred to your dating account for you.
When you have added the above information, you are then able to fill in your profile with many more details about who you are and what you are looking for. The extra information in which you can add at this point relates to:
Age
Height
Gender Identity
Sexuality
Current Relationship Status
Add more photos
You can become a member similarly on the App or on the mobile version of the website. (The free Mobile App may lag during peak times due to server overload).
Functionality
Search tools
There are no manual search options available; you are only permitted to message people you have matched with previously. You can see other profiles if they are matched, as well as sending an unlimited number of messages.
Making contact
To best attract partners whom you are attracted to and ultimately hit things off with online, you must be seen as an approachable person. We find the best way to do so is to add as many different photos of you doing different activities that you enjoy and/or passionate about. IN general, photographs of you smiling go a long way to attracting more women online; after all, nobody wants to be with someone who is negative, and there is no better way to attract people for the long haul than with positive energy in abundance. The more pictures you add, the better. Weareher.com recommends adding eight photographs for the optimum level of exposure.
To increase the number of partners you are meeting in a shorter space of time, it is important to not be afraid to make the first move. Women look for confidence in their partners, and what better way to show you have lots of it than to send a flirty opening message expressing your feelings upon matching with somebody new.
The App
HER is available for download now free of charge both on IOS and Android devices and features a very smooth layout with messaging capabilities. Upon downloading the App, you are no longer tethered indoors; you can now make connections with lesbians whilst you are outside of the house. On the App, you will find links to social events taking place in over 15 cities in the USA.
The App is 100% free to download, and you can purchase a membership here, which will be charged to the payment method linked to either your Google Play Store account or your iTunes account, should you wish to do so. The App was developed by Bloomer Inc and is rated an average of 3.8/5 stars on iTunes. (707 ratings up until March 2020)
Special Features
Meet. See a list of users, who meet your age and distance preferences. You can then swipe left or right, similarly to tinder. If you both match with one another, you can then begin messaging.
Feed. The ability to interact with members even when you are not friends or previously matched. Using this feature, you are able to like or comment on posts while gaining more exposure online simultaneously.
Pricing Plans
There is a range of packages available, depending on how long you wish to have premium access.
The price of the premium membership is as follows:
1 Month - $14.99
6 Months - $59.99
12 Months - $89.99
Free services
Send and receive messages
View profiles
Special features "Meet" and "Feed"
Fee Based Services
See when your message was read
Rewind (Swipe back if you made a mistake)
Unlimited amount of swipes
Change Location
Online Now
Who liked me?
Payment Methods
The following payment methods are accepted:
Credit Card
iTunes Billing
Google Play Billing
Common questions and their answers
Who owns HER?
Dattch Ltd currently has ownership of HER and has done since the website was created.
How to delete my HER account?
To delete your account, go to the 'Me' section on the bottom menu and select the Settings icon in the top left-hand corner.
You then tap on "Support" then "Close Account".
How to contact HER?
You can reach the team on the following email address: support@weareher.com. All messages are responded to within 48; however, this may be slightly longer over the weekend.
Summary – do we recommend Weareher.com?
Upon reviewing HER, the most popular LGBTQ+ dating platform for lesbian, queer, and trans women, it became quickly apparent regarding how serious the company was about revolutionizing the industry. Previously the industry was focused on those of a straight sexual orientation, with little to no room for deviation. But, as times change, more and more people are flooding their website in the hopes of meeting someone special. With over 4,000,000+ members and counting, it is only going to get easier and quicker to meet highly compatible partners online here. The match system used works very well and largely prevents unwanted singles from sending unwanted messages. Only people you are matched with or are friends with can communicate with you. The Mobile App features a sleek design that is very easy to get to grips with whilst offering competitively priced membership packages to all users. If you are looking to meet women who share your love of other women, we strongly recommend this dating site to everyone. However, you may wish to bear in mind you need either a Facebook or Instagram account to sign up as a member here.
Most Popular Sites

LustyLocals makes local hookup dating easier, with nearby connections and casual dates.

Cheekylovers.com has plenty of good-looking members who mostly are from USA. The site has great tools for easier communication. It however lacks a mobile app.

Sign up on upforit.com is free and very quick. It's not mandatory to finish your profile there and then. For just one dollar, the site offers a 3-day premium membership to new users.